Henry Ruggs III Has Eerie Connection To O.J. Simpson, As Ex-Raiders Star Faces Felony Charges For Fatal Fireball Crash
Henry Ruggs III has an eerie connection to Orenthal James "O.J." Simpson.
More than just football, the 22-year-old recently dropped Las Vegas Raiders wide receiver and 74-year-old retired Buffalo Bills running back also have Justice of the Peace Joe M. Bonaventure in common.
Article continues below advertisement
If that name doesn't ring a bell, let us refresh your memory: Bonaventure was the no-nonsense judge who ordered Simpson to be jailed on a bail violation back in 2008.
At the time, Simpson had been convicted of kidnapping and robbery after an attempt to recover sports memorabilia that he insisted belonged to him. While it was another judge who ultimately handed down the prison sentence, Bonaventure was the one who oversaw Simpson's initial bond hearing.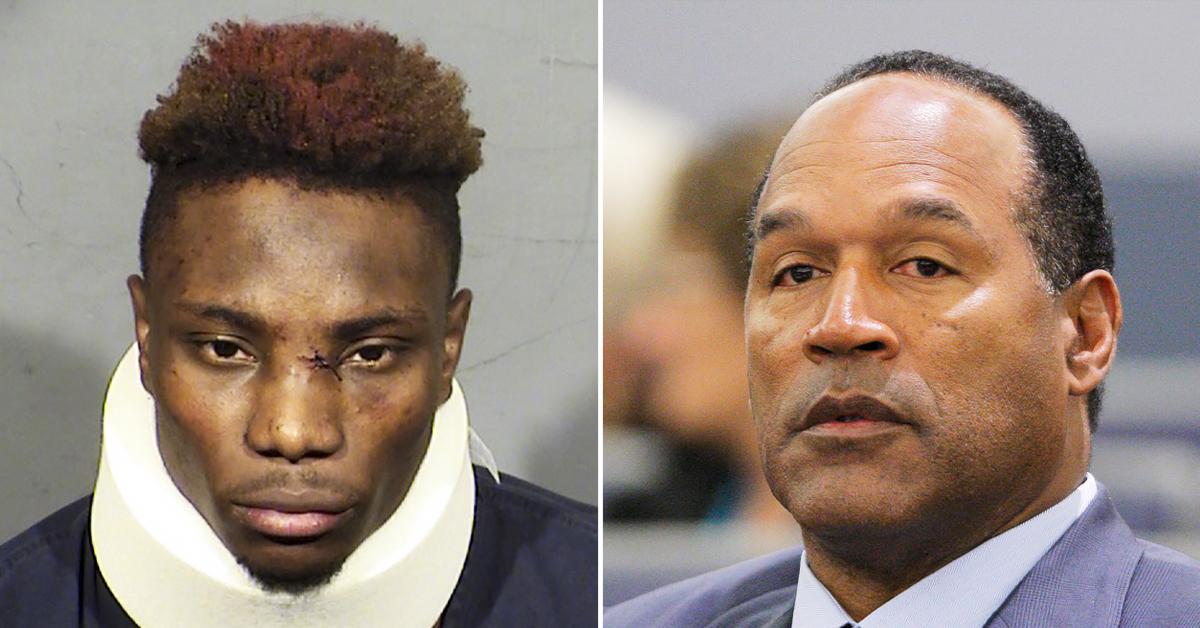 Article continues below advertisement
The Hall of Famer – who had already managed to escape conviction in the double murder of ex-wife Nicole Brown Simpson and her friend, Ron Goldman – was initially freed on a $125,000 bond in September of 2007, with Bonaventure delivering explicit instructions to have absolutely zero contact with anyone involved in the case.
"Don't use e-mail, telephone, mail, passenger pigeon, no whatsoever contact. Do you understand that?" Bonaventure said at the time, per ABC News.
But after Simpson was accused of using a bail bondsman to send a message to a co-defendant, Bonaventure had him put back behind bars while the allegations were investigated.
This is the same man who is overseeing Ruggs' case.
Article continues below advertisement
Earlier this week, the novice footballer was involved in a fatal car accident that took the life of a 23-year-old woman, Tina Tintor, and her dog, a 3-year-old Golden Retriever named Max.
Ruggs was charged with driving under the influence resulting in death and reckless driving after prosecutors said he slammed his Chevrolet Corvette at a reduced speed of 127 MPH into the rear of Tintor's Toyota RAV4, causing it to burst into flames. Both Tintor and Max were trapped inside the vehicle as it got overtaken by the fire. They died at the horrifying scene.
Article continues below advertisement
At the time of the accident, prosecutors believe Ruggs' blood alcohol content was "more than twice the legal limit, and a loaded gun was found in the car."
He was seen partying just a few hours before.
According to ESPN, Bonaventure said he was "troubled by his initial review of the case against Ruggs, adding that in 16 years on the bench he had never heard of a crash involving a vehicle traveling so fast."
He denied a request from prosecutors to have Ruggs' bail set at $1 million. Instead, he set it at $150,000 and imposed a series of strict rules.
Ruggs posted bond shortly after making his initial court appearance and will now be subjected to "the highest level of electronic monitoring," per Newberg.