Un-Glammed Erika Jayne Looks Unrecognizable Following Explosive 'RHOBH' Dinner, Embattled Reality Star Seen Holding ATM Card After Allegedly Not Using One For Decades
Erika Jayne does not appear to have gotten much in the way of beauty sleep following the most explosive episode of this season's Real Housewives of Beverly Hills to date.
Article continues below advertisement
The 50-year-old embattled reality star looked tense, tired and unlike her usually glammed-up self as she made her way into a gym in the West Hollywood area of California on Wednesday afternoon.
Sporting a black windbreaker with black leggings and black sneakers, the Pretty Mess performer had her platinum blonde locks up in a messy bun, dark sunglasses over her eyes, seemingly zero makeup on her face, and both a wallet and ATM card in her hand.
Article continues below advertisement
The credit/debit card is an interesting accessory to be flaunting, given that Erika has stated she never used one in all 21 years of marriage to her estranged husband, 82-year-old recently disbarred attorney Thomas Girardi.
Her prominently displayed bight neon yellow wallet is also quite questionable, given all the financial woes currently plaguing the former couple.
See the photos here!
Wednesday's episode of RHOBH saw the women pestering Sutton Stracke to tell an angry and tearful Erika to her face all of the things she had said about her ongoing embezzlement investigation behind her back ... all while at Kathy Hilton's mega-mansion for an inexplicably opulent dinner.
Kyle Richards and Lisa Rinna – in particular – demanded incessantly that Sutton "be honest" with Erika, prompting Jayne to break down and unload on her co-stars for once again making her divorce and legal woes the evening's topic of conversation.
Article continues below advertisement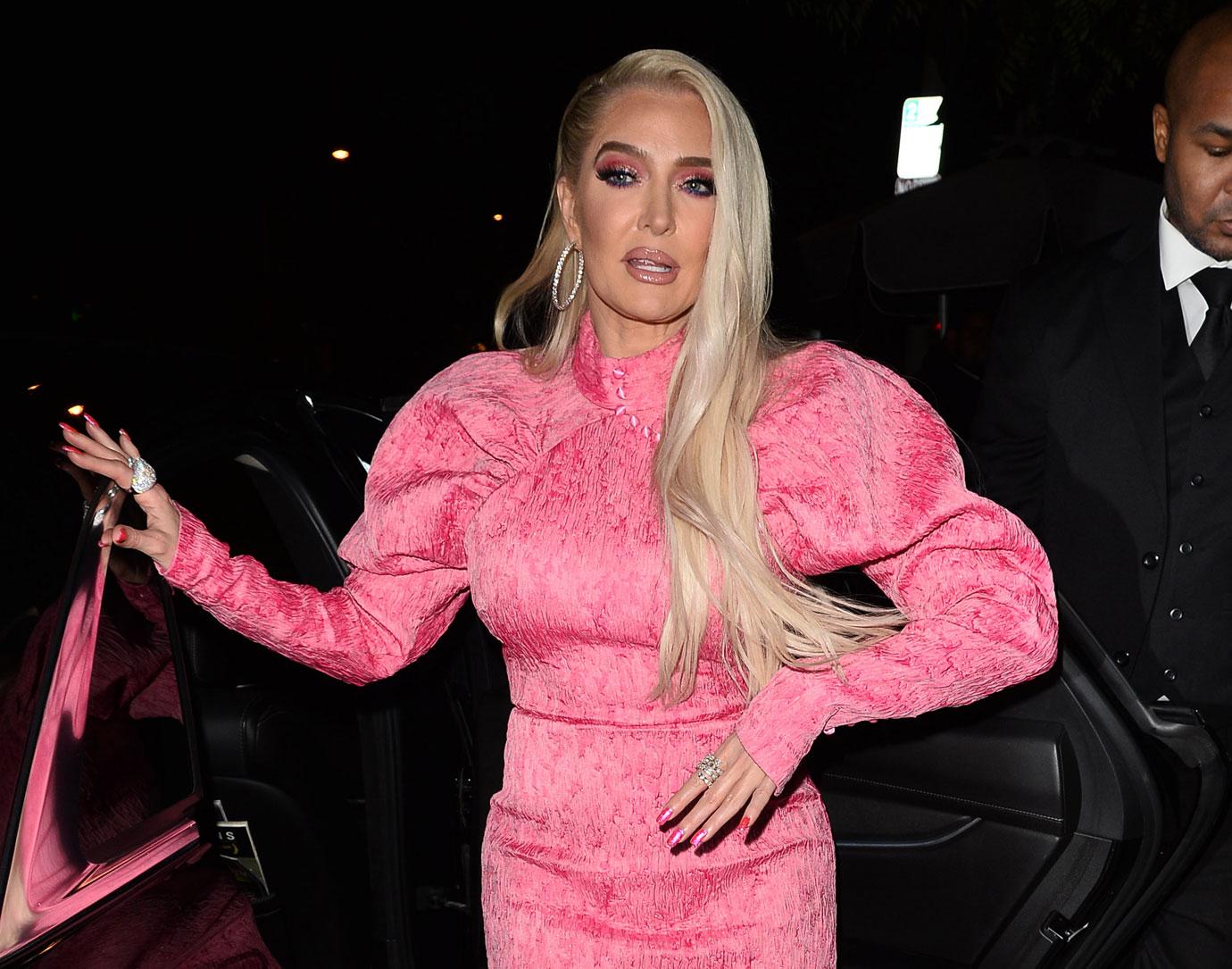 But fans online were quick to point out that Stracke – who bore the brunt of Jayne's terrifying outburst – was not the only Housewife who needed to fess up to expressing concern and casting doubt on the singer's tales when she was not in the room.
Article continues below advertisement
"You don't be fooled!!! KYLE TALKED SMACK ABOUT YOU TOO! SHE WAS IN AGREEMENT [WITH WHAT] THE OTHER LADIES WERE SAYING ABOUT YOU!" tweeted one invested viewer. "AND DORIT TALKED ABOUT YOU AND BACK PEDDLED IN FRONT OF THE WORLD!"
Erika replied back, "Don't worry, we'll get to that."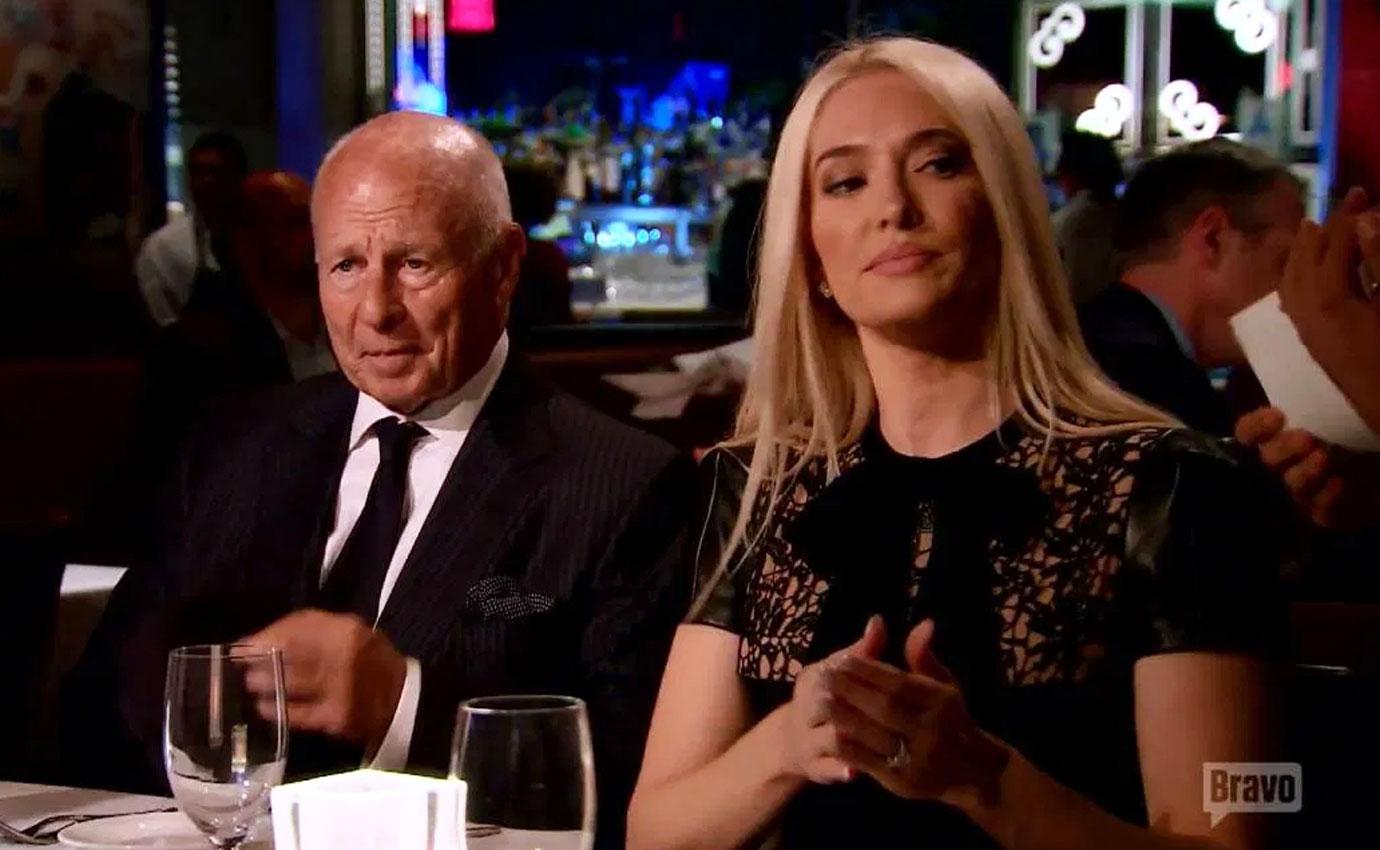 Article continues below advertisement
While Kyle and Dorit Kemsley have indeed been supportive of Erika since news of her divorce broke last November, they've begun to question the situation.
Since then, Tom has been accused of embezzling millions of dollars in settlement money from fire burn victims as well as widows and orphans who lost loved ones in a plane crash. Erika has been accused of helping him embezzle the funds.
Months after she filed for divorce, Tom's law firm – Girardi & Keese – was forced into Chapter 7 bankruptcy.
The trustee presiding over the bankruptcy case believes Tom used $25 million from his law firm's account to pay Erika's expenses and credit card bills, prompting almost all of her co-stars to wonder what she knew and when, and question whether their divorce was a sham.
Sutton – for one – wasn't "buying" that Erika and Tom were not in cahoots over what "story" they were going to present, given that a usually private Jayne has all of a sudden decided to divulge to her castmates tales of Girardi's declining mental state, which seems to be the very defense being peddled by his team.
Article continues below advertisement
Though no one was as up front about their worries as Stracke (who offered Jayne financial advice back when all she knew was the divorce aspect of it), Bravo cameras did capture various instances of Richards and Kemsley – Jayne's closest friends, aside from Lisa Rinna – questioning things.
Prior to the explosive dinner, Kyle was seen having a conversation with Sutton about how she would be eating "crow pie" if the allegations against Erika turned out to be true, only to throw Sutton under the bus once Erika was in her presence.
Garcelle Beauvais has tried to hold Dorit accountable, too, saying Kemsley has basically been echoing Stracke's concerns but showing only unwavering support to Jayne's face.
Article continues below advertisement
Op top of it all, Erika was sued just last month for $25 million by the trustee handling Girardi & Keese's bankruptcy case, alleging she knew the law firm was paying for her lavish lifestyle for over a decade.
Regardless of whether Jayne knew of the origins of said funds, the trustee is still demanding that she pay them back in full.