Donald Trump Goes In On 'Racist' And 'Nasty' LeBron James Over Ma'Khia Bryant Tweet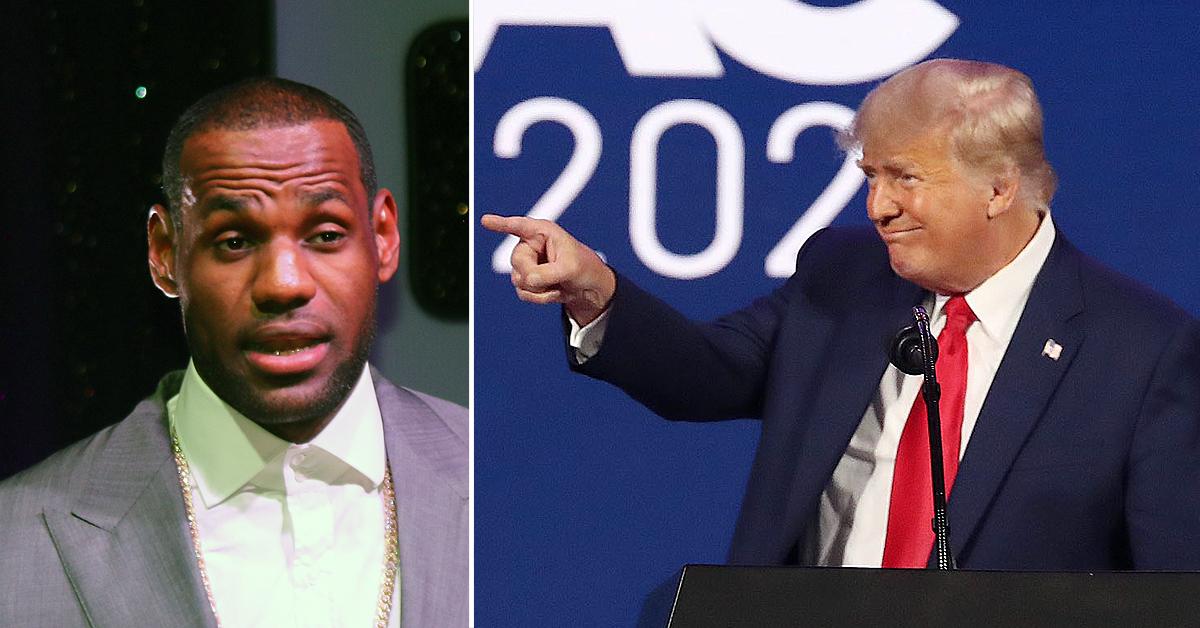 In #FlashbackFriday news of the day, Donald Trump has risen out of the depths of Mar-a-Lago's lavish golf courses to once again make headlines – this time, over his criticism of NBA star LeBron James.
Article continues below advertisement
"LeBron James should focus on basketball rather than presiding over the destruction of the NBA, which has just recorded the lowest television RATINGS, by far, in the long and distinguished history of the League," said the disgruntled former president in a statement regarding a controversial tweet James posted over the recent killing of a 16-year-old Black girl in Columbus, Ohio.
"His RACIST rants are divisive, nasty, insulting, and demeaning," Trump went on. "He may be a great basketball player, but he is doing nothing to bring our Country together!"
Article continues below advertisement
The tweet that ruffled Donnie's feathers actually did ruffle the feathers of many others – including The View star Meghan McCain – which is why the Los Angeles Lakers frontman deleted it shortly after posting it, explaining he felt it was being "used to create more hate."
Following the deadly police shooting that claimed the life of Ma'Khia Bryant just minutes before Minnesota ex-cop Derek Chauvin was found guilty of murdering unarmed Black man George Floyd, thousands of emotionally drained Americans cried out for "accountability."
Article continues below advertisement
Among those was LeBron James, who took the public plea one step further by including in his all-caps tweet a photo of Nicholas Reardon – the police officer who shot the albeit knife-wielding teenager four times in the chest – writing, "You're next."
"ANGER does any of us any good and that includes myself! Gathering all the facts and educating does though! My anger still is here for what happened that lil girl. My sympathy for her family and may justice prevail!" the basketball star tweeted after deleting his initial post, saying he was just "so damn tired of seeing Black people killed by police."
Article continues below advertisement
"This isn't about one officer," he added, "it's about the entire system and they always use our words to create more racism. I am so desperate for more ACCOUNTABILITY."
Article continues below advertisement
As for Meghan McCain – who expressed her opinion Thursday to her co-hosts – she felt LeBron's message, coupled with his influence, could incite more violence.
Article continues below advertisement
"No one without two brain cells in their head can't understand that police tend to treat African Americans and people of color a different way than they do white people, and it's just a fact we're all trying to reconcile and come to terms with," said the conservative daughter of late Senator John McCain.
"But when you have people like LeBron James posting pictures of this police officer before this has been adjudicated and litigated, you're also putting that police officer's life in danger," she went on. "And I would like more killing to stop in this country and violence to stop."
Article continues below advertisement
While she claimed to "understand everything" Sunny Hostin was arguing and noted that she heard her co-host "loud and clear," McCain ultimately felt Bryant's situation was different. "I don't think everything is always comparable," she said.
"I think that [Ma'Khia] was about to stab another girl, and I think the police officer did what he thought he had to do," Meghan argued, adding that she hopes the situation will be adjudicated in court.