Dog The Bounty Hunter Using 'Dark,' 'Demonic' Clues From Brian Laundrie's Instagram To Track Down Fugitive
Dog the Bounty Hunter says he is using Brain Laundrie's sinister social media posts as part of the professional fugitive finder's efforts to help track down the wanted 23-year-old.
Dog – real name Duane Chapman – joined the hunt for the North Port, Florida, resident last month, shortly after the body of his fiancée, Gabby Petito, was found in a Wyoming state park the couple was known to have visited while on a cross-country road trip.
The 22-year-old vlogger was killed sometime during the trek, and now Brian is nowhere to be found.
Article continues below advertisement
Dog – who has spent the past week scouring Fort De Soto Park, a campsite Brian was known to have visited with his family in early September – said he and his team have been looking at the fugitive's past Instagram and Pinterest activity in search of clues.
Appearing on The Dr. Oz Show on Tuesday, Dog said he felt Brian's accounts were littered with "pictures of what I would call demonic-looking things."
"Some of the books that he has read are very, very dark," he added. "I mean, this kid was not in a very good state of mind before and after this happened."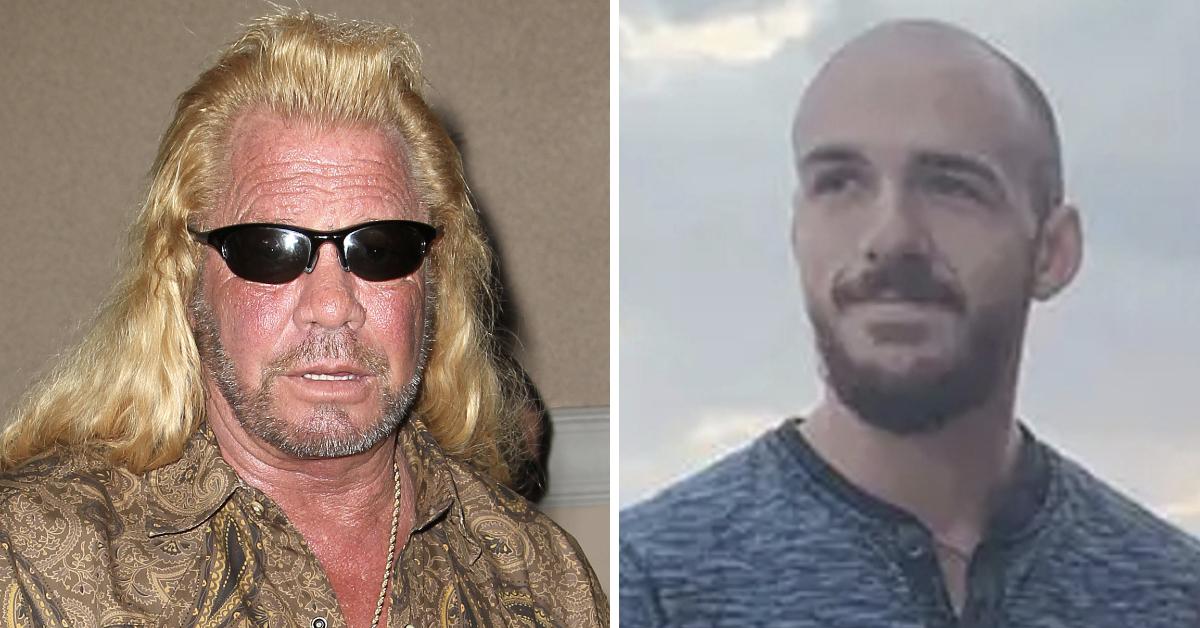 Article continues below advertisement
Leading up to Brian and Gabby's ill-fated adventure, which began on July 2, he shared a series of disturbing posts on Instagram.
One featured a man wearing a wolf mask, holding a bloody knife. He had blood splatters on his arms and legs.
The other showed a herd of sheep surrounded by skeletal figures holding scythes. "Grim Reaper leading sheep to the slaughter," Brian captioned the cryptic image.
He also used the social media platform to document some of his bizarre reading choices.
Of Chuck Palahniuk's horror-satire novel, Lullaby – which is about a man who "semi-voluntarily" becomes a serial killer after his wife and child die – Brian wrote, "The f--king craziest out of all of Chuck's books on my shelf. I can't fathom how he must have written this one! I'd love to preach all of the insane twists and turns but all I can say is that I'll never forget the name Rant Casey. Or Green Taylor Simms."
Article continues below advertisement
He also bragged about Rant, the story of the violent life of the leader of an urban demolition.
"Me and my fiancé read this one out loud together and boy oh boy I can't believe some of the stuff coming out of our mouths," he proclaimed proudly.
Also while on the couple's journey, Brian was seen reading Annihilation, a horror science fiction novel about women who go missing.
Article continues below advertisement
His Pinterest page is somehow more intense.
Saved to an album titled "things to burn off," Brian pinned a sketch showing ghosts, clowns and skeletons. In the center is a gravestone that reads, "My Baby."
"She'll never find a sweet man like me ... Let her go, let her go, GOD BLESS HER, wherever she may be" also appears around the headstone.
Right before his disappearance, Brian pinned an image that read, "The Opposite of Lost," which he saved to a folder titled "my Heart."
"Don't try to find me. I have finally escaped my 'master's' wicked clutches," the odd message went on. "To the others, I say: JOIN ME. Bite the hand that feeds you. Vive La Beberte - Pierre."
There are a number of quotes featured in that same album, one of which is from the movie Fight Club and reads, "It's only after we've lost everything that we're free to do anything."