Bindi Irwin Details Heartbreaking Family Fallout With Estranged Grandfather Bob Irwin, Father Of Late 'Crocodile Hunter' Star Steve Irwin
Bindi Irwin has revealed heartbreaking details surrounding her family's strained relationship with her grandfather, Bob Irwin, father of late Crocodile Hunter star Steve Irwin.
Article continues below advertisement
To celebrate Father's Day, the 22-year-old married mother of one took to social media to honor "the three most incredible fathers" in her life: her dad, Steve; her husband, Chandler Powell; and her father-in-law, Chris Powell.
Bob, 81, was not mentioned.
"These extraordinary men inspire me and I love them so very much," she wrote alongside three photos of the aforementioned guys, none of which showed her paternal grandpa.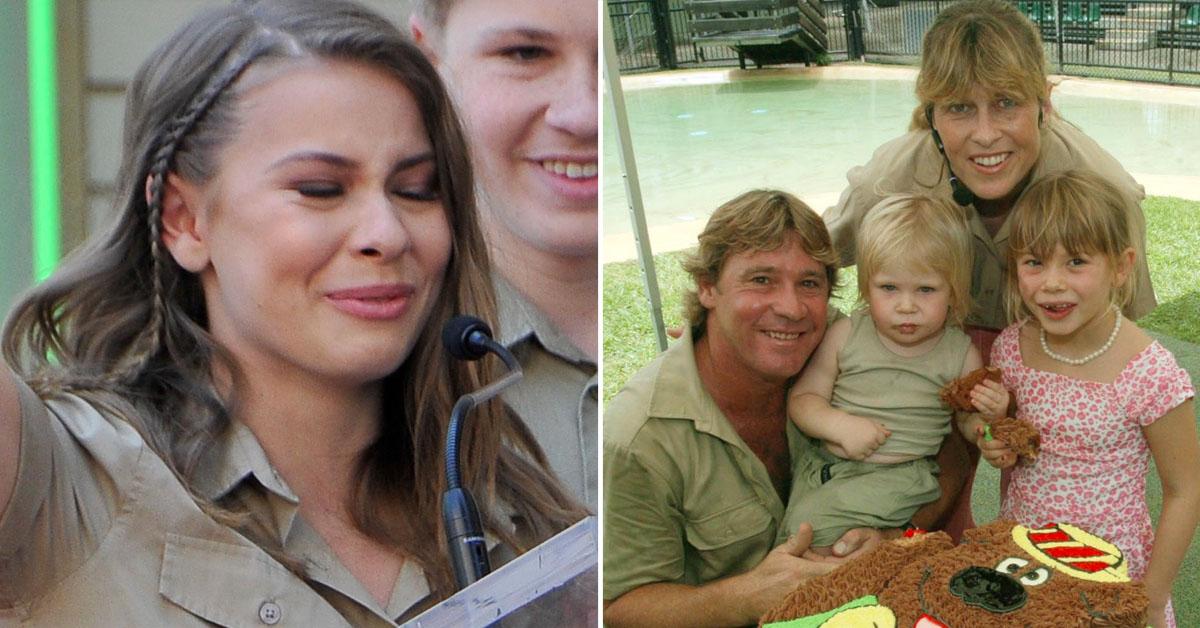 Article continues below advertisement
"My dad taught me the importance of strength when standing up for what I believe in and to have empathy for all living beings," Bindi shared.
"My husband amazes me every day with his kind and steadfast heart, his love for our daughter is infinite," she added.
And finally, Irwin explained, "My father-in-law works tirelessly for his family and is always there with a word of encouragement."
Article continues below advertisement
As for Bob, Bindi claims he has "shown no interest in spending time" with her or my family, despite what he says publicly.
It was in a lengthy response to a fan that the oldest child of the late Animal Planet star made the shocking claims.
Article continues below advertisement
"He has returned gifts I've sent him after he opened them, he has ignored my correspondence and from the time I was a little girl he has ignored me, preferring to spend time doing anything else rather than being with me," Bindi said, adding, "He has never said a single kind word to me personally."
Bindi explained that even though the situation "breaks [her] heart," she ultimately knows "it is not healthy to engage in an abusive relationship."
She also claims that her mother, Terri Irwin, "still writes to [Bob] and sends birthday and Christmas gifts to him with no response."
Article continues below advertisement
According to Bindi, the Irwins have financially supported Bob since 1992, "when he retired from Australia Zoo." She says they send him money weekly and even "built him a house on a beautiful property."
Despite her heartbreak and pain, Irwin says she and her family will "always do our best to ensure his well-being" and that she wants "Bob's happiness in life" but cannot fall victim to his alleged behavior any longer.
"I hope everyone remembers to be kind to one another but most of all care for your own mental health," she added. "I have struggled with this relationship my entire life and it brings me enormous pain. I have to choose to care for my own mental health now."
Article continues below advertisement
The last time Bob was photographed with his daughter-in-law and grandchildren was at a 2007 memorial service for Steve.
As RadarOnline.com previously reported, Bob has been on the outs with his family since battling Terri over how the Australia Zoo – founded by Bob and his wildlife-loving son – should be run.
Bob has claimed in recent years that he's written to Bindi wishing her well but that he and his wife, Judy, never received a reply. They also did not receive a wedding invite to Bindi's 2020 nuptials.