Amber Rose Back Together With AE After He Cheated On Her With 12 Women, Former Exes Party In Dubai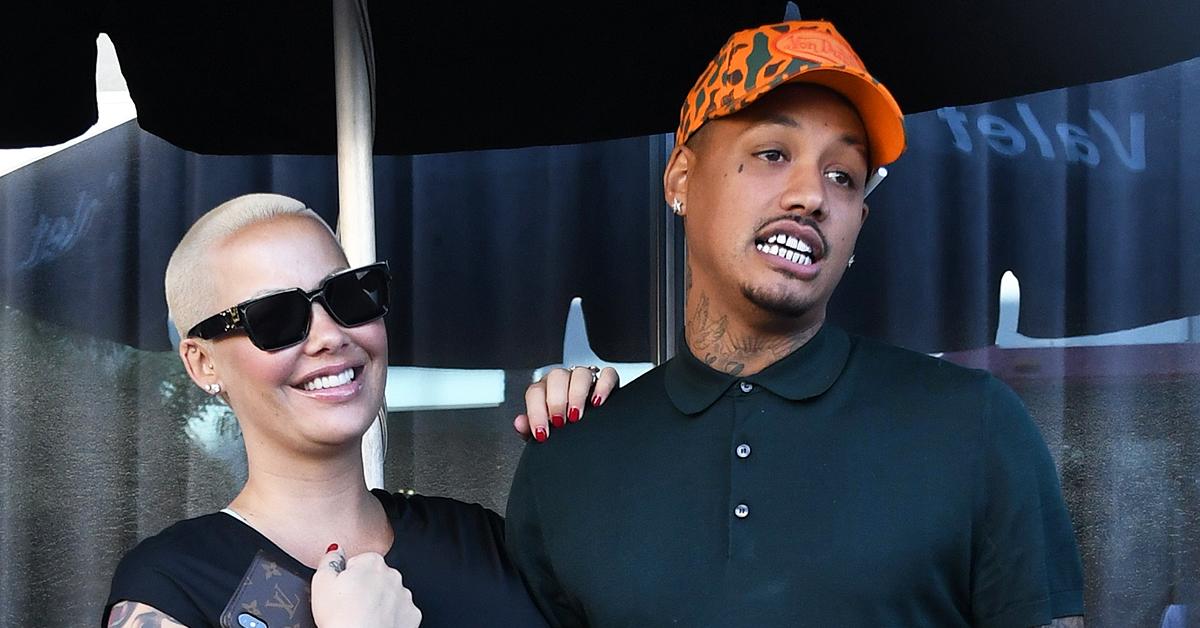 It appears that Amber Rose and Alexander "AE" Edwards are back together despite his admittance to stepping out on their relationship with multiple women.
The 38-year-old model-turned-influencer and 34-year-old rapper-turned-music executive were seen partying together in Dubai Thursday night, per AE's Instagram Story.
Article continues below advertisement
The hip-hop mogul even posted a selfie with the mother of his child, 2-year-old son Slash Electric Alexander Edwards, using three fire-heart emojis and a heart-eye emoji.
Though he tagged Amber, she chose not to repost the sweet shot. In fact, none of her photos and videos from inside the club that night showed AE at all.
Perhaps she's proceeding with caution after the public cheating scandal and breakup the two faced earlier this year?
Late last month, AE copped to being unfaithful to Amber and expressed his regrets. He publicly asked her to forgive him and take him back.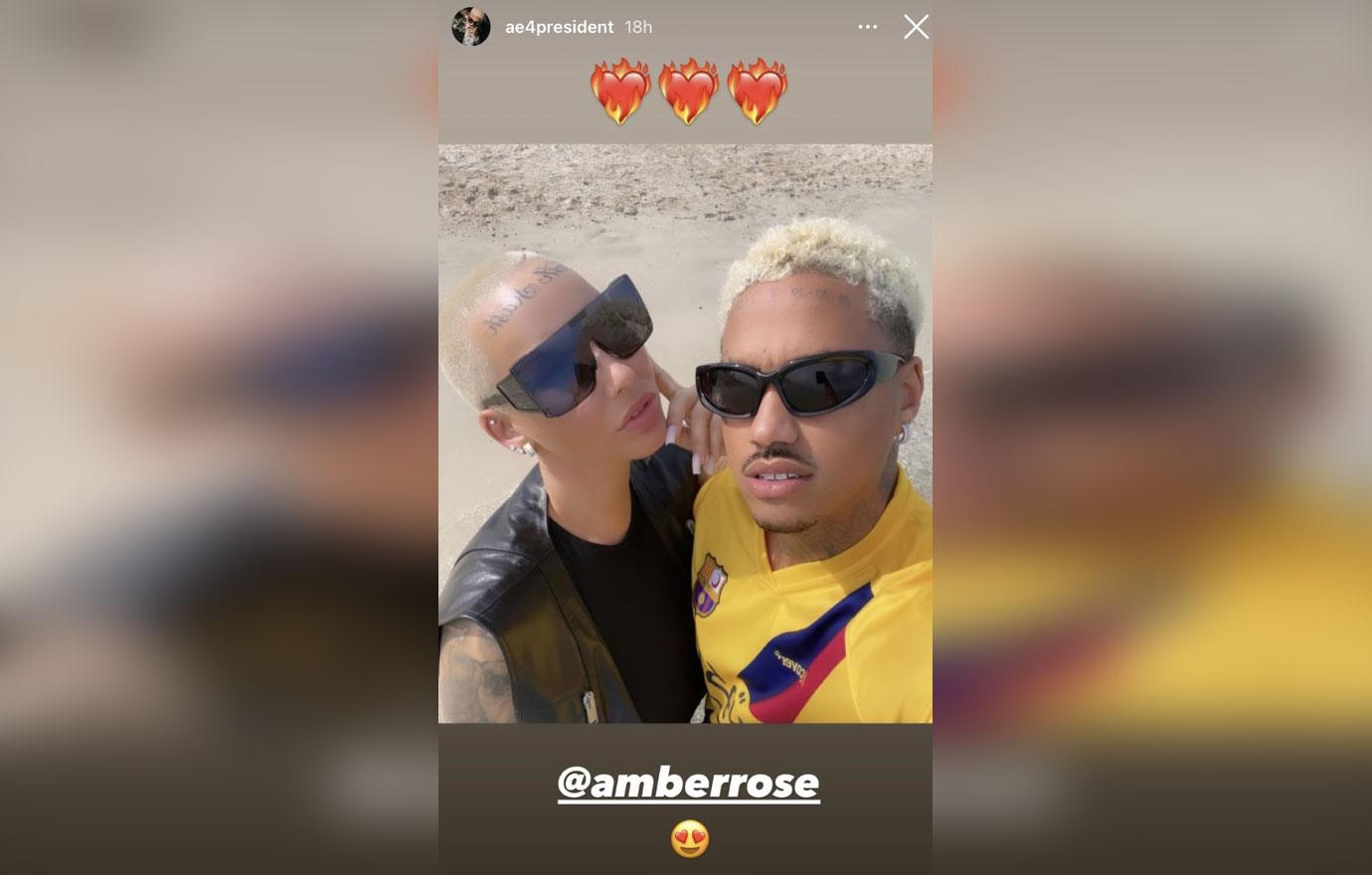 Article continues below advertisement
"I want to sincerely apologize to my beautiful wife @amberrose you didn't deserve what I did to you," AE wrote on his Instagram Story, going on to praise the model for being an "amazing person and a wonderful mother to our boys."
Amber has a 8-year-old son named Sebastian Taylor Thomaz, who she shares with her ex-husband, Wiz Khalifa.
"I'm sorry for the pain that I've caused you, my son Slash and my stepson Sebastian," AE added in his public note. "All I want is my family back, and I'm willing to do anything to make things right. Please forgive me."
The two split up in August after three years of dating following Amber's discovery of various messages from and photos of other women on AE's phone.
She alleged the musician had a dozen "sidepieces" ... that she knew of.
In a lengthy post on her Instagram Story, Amber wrote, "I'm tired of getting cheated on and being embarrassed behind the scenes. All 12 of y'll bums (the ones that I know of there's probably more) can have him."
"Y'all very much knew he was in a relationship with a baby, and y'all decided to f--k him anyway," she went on. "I saw all the texts and DMs. Y'all were well aware, but y'all don't owe me loyalty, so it's whatever."
Article continues below advertisement
Shortly after being called out for his actions, AE sat for an interview with Big Von, during which he admitted to the accusations. Not only that, but he said it wasn't the first time Amber had caught him messing around on her.
"I woke up to this s--t, man… I thought, 'S--t, I got caught.' I got caught before, you know what I'm saying? And she's just had enough, obviously," he said. "I love her, though. That's, like, my best friend, the mother of my son. I love [Sebastian], my stepson, and s--t, too."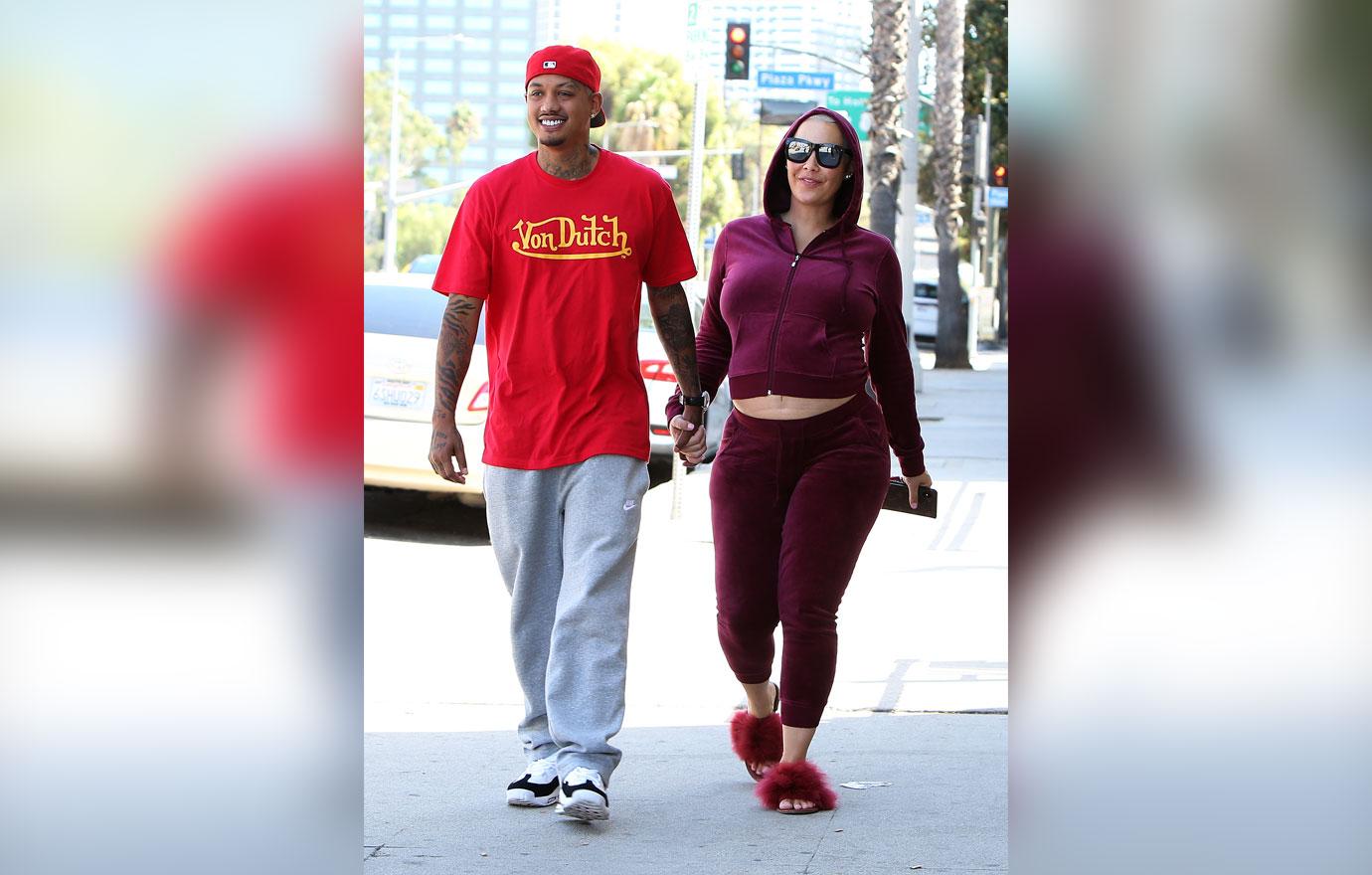 Article continues below advertisement
AE claimed that Amber told him she would take him back if he apologized publicly.
"I mean, she texted me, like, if I apologize publicly and all this s--t, you know, she love me but I don't want to keep doing that to her," he confessed, going on to blame his actions on his "true nature."
"I know that I could stop [cheating]. I could give her a good, solid six months and just really, like, deprive myself of my true nature for as long as I can take it, but I don't want to live like that," he said.
Following the interview, Amber fired back at her ex, calling him an egoist.
"When ur in love with a narcissist, ur brain tells you to run when ur heart says stay," she stressed. "Unanswered questions, Gaslighting, Stonewalling, Deflecting, Projecting. I wish it was easy for me to fix him, but that's not for me to do. The pain cuts so deep, especially when there are children involved."
Article continues below advertisement
Fans are not too happy with the SlutWalk founder, pointing to "all that women empowerment s--t she preaches." Many cannot believe she would give him another chance after "he publicly embarrassed her."
"At this point, we just need to mind our business when these people post their 'heartbreaks' only to get back with them later," one social media user pointed out, via The Neighborhood Talk, while others did not pass up the opportunity to crack a few jokes.
"Ok AE and his 13 disciples, Amber included."