Travis Scott Slams Rumors He Cheated On Kylie Jenner: 'It's Simply Not True'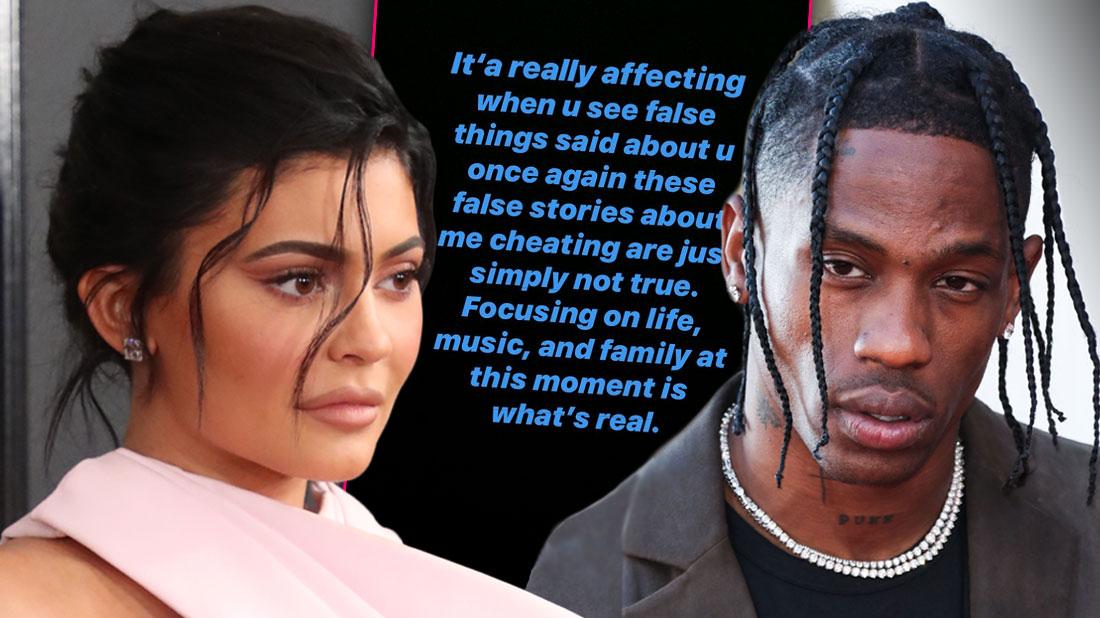 "False!"
Travis Scott is slamming rumors he cheated on his baby mama Kylie Jenner while they were still an item.
Amid reports the rapper had been hanging out with a woman who looks very similar to his Kylie, the rapper took to Instagram Friday, Oct. 4 to dispute the claims made against him.
"It's really affecting when u see false things said about u once again these false stories about me cheating are just simply not true. Focusing on life, music, and family at this moment is what's real."
Article continues below advertisement
On Thursday, October 3, the Keeping Up with the Kardashians star confirmed her split from Scott but also fell victim to cheating rumors.
She denied hooking up with ex-boyfriend Tyga.
"The internet makes everything 100 times more dramatic than what it really is. There was no '2am date with Tyga,'" she tweeted. "You see me drop two of my friends off at a studio that he happened to be at."
"Travis and i are on great terms and our main focus right now is Stormi ‼️ our friendship and our daughter is priority," Jenner added in another tweet.
RadarOnline.com readers know, Travis just released his new song, "Highest In The Room," and fans think he's sending subliminal messages about his troubled relationship with ex Kylie.
The rapper first promoted his track for Kylie Cosmetics video for the launch of KYBROWS back in April. About five months later, however, the duo called it quits.
Sources said Travis, 28, and Kylie, 22 — who share 1-year-old daughter Stormi Webster — were going through a rough patch and decided to take a break.
Article continues below advertisement
In his song, however, Scott hints at some deeper issues.
"I'm doing a show, I'll be back soon/ That ain't what she wanna hear," reads the lyrics.
The line comes after reports Kylie dumped Travis over differences regarding their lifestyles. While the makeup mogul wants to focus on family and have another child, the rap artist wants to focus on his music career.
Also on the track, Scott raps, "When I'm with you, I feel alive/You say you love me, don't you lie."
"Don't cut my heart, don't wanna die/Keep the pistol on my side," he continues.
As RadarOnline.com readers know, Kylie met Travis at Coachella and hit it off. It didn't take long for the two to become inseparable. That same year they got matching butterfly tattoos and in February 2018 they welcomed daughter Stormi.
During their two-year relationship the stars gushed about each other constantly in interviews and on social media, and the "Butterfly Effect" rapper even talked about proposing to his "wifey." Days before calling it quits this year, the two boasted about their hot sex life in a Playboy interview and spoke about their tight family bond. Despite fans' pleas, they have not explained why they decided to part ways.