Meghan King Edmonds Exposes Daily Hyperbaric Chamber Routine For Ill Son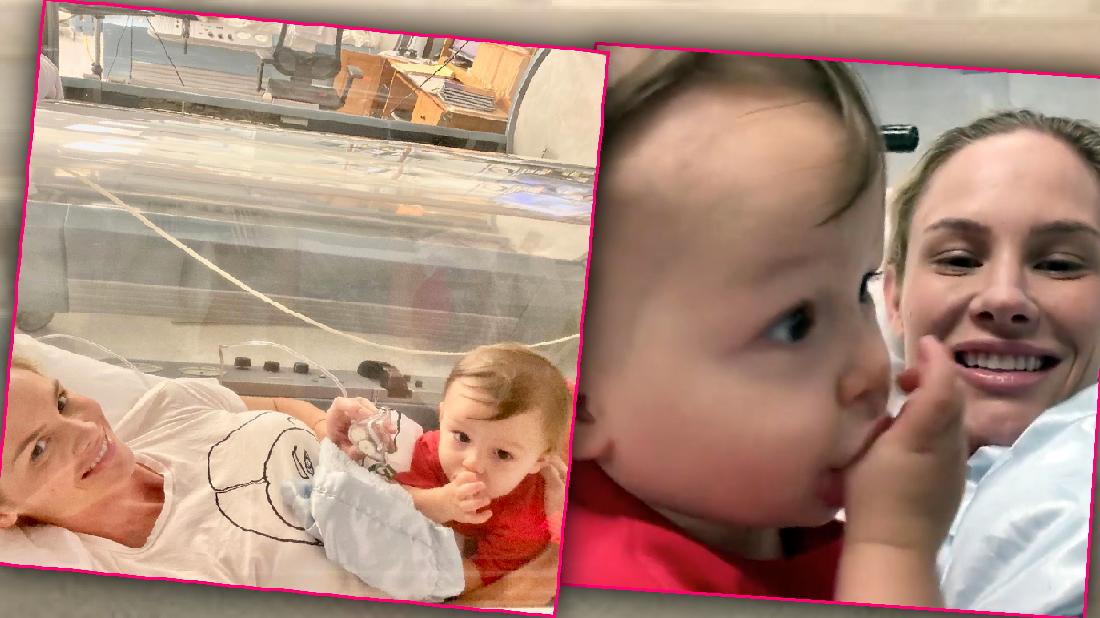 Meghan King Edmonds has exposed her son Hart's difficult daily treatment for brain damage. On Friday, October 4, the former The Real Housewives of Orange County star, 35, took to Instagram to post photos and video of herself holding Hart, 1, in a hyperbaric chamber. This summer, she disclosed the shocking news that the boy has "irreversible brain damage." Meghan wrote in a blog post back then that Hart has "minor Periventricular Leukomalacia on both sides of his brain" and is "at risk for being diagnosed with Cerebral Palsy."
Article continues below advertisement
As RadarOnline.com readers know, during her son's health crisis, Meghan's marriage to former baseball player husband Jim imploded. Now she's shared onInstagram about Hart's treatment, "Everyday we go into this chamber for 45 minutes. It's pure compressed oxygen. The goal is for the oxygen to reawaken Hart's damaged brain cells from his PVL." Meghan continued, "We cannot bring anything into the chamber with us (I wanted to bring books and water) except Hart's lovey. I watch HGTV via sound pumped into the chamber - the screen is warped bc I view it through the glass HBOT (hyperbaric oxygen) chamber."
She added, "Hart climbs all over me the entire time and we play a lot of paddy cake as he sucker punches me in the gut and pinches me everywhere as he climbs which makes it extremely difficult for me to hold up his oxygen mask to his face!" According to the former reality TV star, her boy does well with the treatment. "He loves the chamber especially when people are walking around by us," Meghan wrote, "and he hasn't slept once!" Hart stood for the first time in August, she previously told fans.
MORE ON:
The Real Housewives of Orange County
Article continues below advertisement
The mom knew from the minute he was born that there was something wrong. "He suckled hard, shallow, and often until I bled and he spit up black," Meghan said. Amid the boy's health trouble, All About The Tea first published allegations of her husband Jim's conversations with an alleged "baseball madame." The site claimed Jim, 49, had cheated on his second wife, Allison, with the woman, and then reconnected with her when Meghan was pregnant with their twins Hart and Hayes.
Though Jim denied he had a physical relationship with the woman, the site published screenshots of their texts, some of which included photos of his penis. The site also claimed Jim sent the woman a video of him touching himself on the same day Meghan gave birth to their twins. Meghan reportedly confronted the "baseball madame" to learn more about the online affair.
On June 13, Jim admitted to Us Weekly, "Regrettably, I had a lapse in judgment. I engaged in an inappropriate conversation with this person. At no time was there any type of relationship or physical contact. Absolutely none. This is someone trying to profit from my name. I am aware she has done this to others in the past." The retired baseball player said he never intended to destroy his family, and is doing what he can to fix the situation.
Article continues below advertisement
"Clearly, I made a very poor decision to expose myself and my family to this type of person. For this, I am truly sorry and sought forgiveness from my wife," he wrote in his statement. "I'm outraged over the intent to ruin my family and intend totake legal action. We were never having any problems in our marriage. My attorney is in possession of documents wherein this person has admitted fabricating large portions of her 'story.'"
However, humiliated Meghan acknowledged that Jim had been unfaithful, saying she was dealing with the pain of her marriage crumbling amid Hart's medical difficulties.