Kim & Kanye's 'Fuming Mad' Wyoming Neighbor Demands Apology For 'Stressing' Wildlife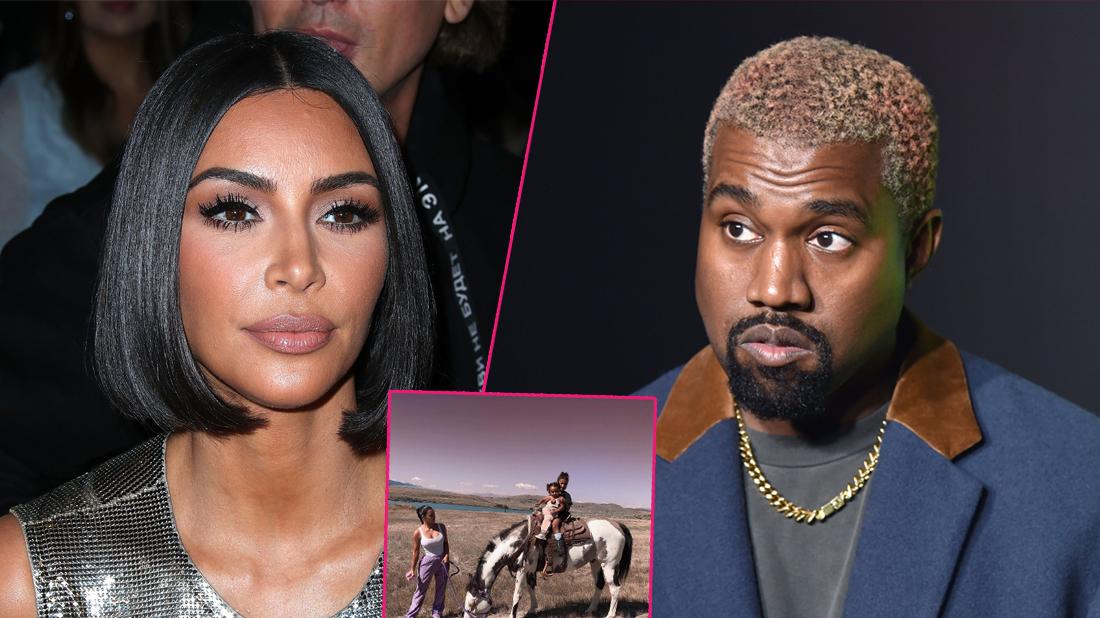 Kim Kardashian and Kanye West have come under fire for chasing antelopes while on an ATV on their Cody, Wyoming property. Now, a local resident is demanding the couple apologize to the community for treating the wildlife poorly. In an exclusive interview with RadarOnline.com, their Wyoming neighbor Jess Arizona even offered to educate the couple on how to treat wildlife.
As RadarOnline.com reported, Kardashian, 38, posted a video to her Instagram Story riding behind and alongside antelopes while on an ATV. Viewers turned to social media to slam the couple for their treatment of the animals.
Article continues below advertisement
"I was fuming mad because I am an avid outdoorsman," Arizona, who has been hunting for over 20 years, told RadarOnline.com. "We have a family ranch there. When I saw that, it really upset me. It's appalling!"
Arizona explained how the incident "stressed the herd out" and "displaced their home."
"Kim is an activist, she wants to help people get out of prison and be a lawyer, then take the initiative and time to respect the wild life," she said. "Use their platform in the correct way!"
Arizona, who has a YouTube channel called Affordable Arizona's, fears that like most celebrities who move to Wyoming, Kardashian and West, 42, will "try to change the community."
"Don't try to drag California and your show into our home state," she said. "I hope they come and settle in and accept Wyoming for what it is. We don't want you to bring your money in and try to change it. I hope their intentions of coming to Wyoming are pure. I hope they're going to respect our community."
Article continues below advertisement
Despite the backlash, Arizona graciously offered to educate the West family on the wildlife culture.
"I tried to contact them myself," she said. "I was going to be kind and educate them on how to respect wildlife. I would love to show them around and educate them. Even to take them on a hunt! Showing them a little bit of Wyoming's culture. They're only seeing a piece of it."
She added that the two could even benefit from taking hunting classes or speaking with Wyoming Game and Fish Officers.
"They do have small children," she said. "Antelope are fast. If you do that to a moose or elk and they have a baby, they're likely to attack. I don't want to see her children or the couple hurt."
Arizona also asked that the West family apologize to the Wyoming community.
"Say, 'We were uneducated. We want to get to know the community,'" she said. "Admit want you did was wrong. Wyoming people are decent, honest and hard-working people."
As RadarOnline.com readers know, Kardashian and West bought the Monster Lake Ranch for $14 million, reports claim. It boasts 1442 acres of land and eight lodging units.
The mother of North, 6, Saint, 3, Chicago, 1, and Psalm, 4 months, explained during a September appearance on The Tonight Show Starring Jimmy Fallon, "We love Wyoming. It's always been an amazing place. My husband did just buy a ranch there. His dream and his vision is to move there. I love L.A., so I envision summer, I envision some weekends, but yeah, we love it. It's the prettiest place you've ever seen in your entire life."