Cardi B Denies Nine Trey Gang Involvement After Tekashi 6ix9ine Names Her As Member In Court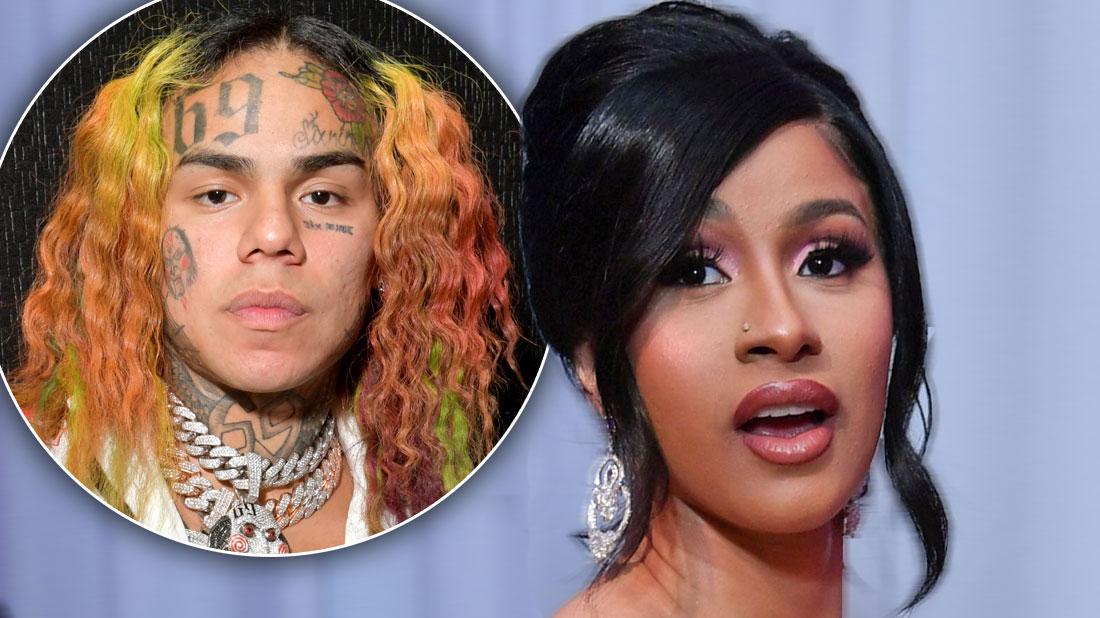 Cardi B is shutting down Tekashi 6ix9ine's vile accusations.
As RadarOnline.com has learned, the "FEFE" rapper told officials, during a cross-examination, that Cardi, 26, is a member of New York City gang Nine Trey Gangster Bloods — just like him.
Officials asked Tekashi, 23, if he followed in Cardi's footsteps of using gang members in projects to achieve success, according to various outlets. And while he denied having used her as a "blueprint" he said, "I knew who she was. I didn't pay attention."
Article continues below advertisement
After learning of the accusations, Cardi took to Twitter to defend herself.
"You just said it yourself… Brin not 9 Trey. I never been 9 Trey or associated with them," she wrote before deleting the tweet.
RadarOnline.com readers know that while the "Bodak Yellow" rapper has denied any involvement with Nine Trey, she's previously admitted to being a Blood.
"I used to pop off with my homies. And they'd say, 'Yo, you really get it poppin'. You should come home. You should turn Blood.' And I did. Yes, I did. And something that — it's not like, oh, you leave. You don't leave," she told GQ in a 2018 interview.
In February, Tekashi — whose real name is Daniel Hernandez — pleaded guilty to nine felony charges and admitted to being a member of Nine Trey. The shamed rapper was indicted on charges of racketeering and firearm offenses stemming from his participation in brutal shootings and armed robberies.
Tekashi said he joined the violent gang in the fall of 2017. One year later, he hired a fellow gang member to "shoot at" rap rival Chief Keef in order to "maintain or increase my own standing in Nine Trey," according to court documents obtained by TMZ. He also admitted to robbing a rival at gunpoint, attempting to kill another in March 2018, and to selling a kilo of heroin in 2017.
Article continues below advertisement
Prior to his arrest, Tekashi was sentenced to four years of probation and 1,000 hours of community service for his involvement in a child sex case. Readers know the rapper pleaded guilty to using a 13-year-old girl in a sexual performance. At the time of the incident, in 2015, Tekashi was caught on video smacking the girl on the buttocks. He was 18 at the time. The case was settled in October 2018.
"I apologize to the court, to anyone who was hurt, to my family, friends and fans for what I have done and who I have let down," he told the court judge, according to Page Six.
He took a plea on January 23 and now faces a minimum sentence of 47 years in prison and a maximum sentence of life in prison, according to The New York Times. He is set to be sentenced in January 2020.