Todd & Julie Charged With Wire Fraud, Tax Evasion & More Crimes In Shocking Indictment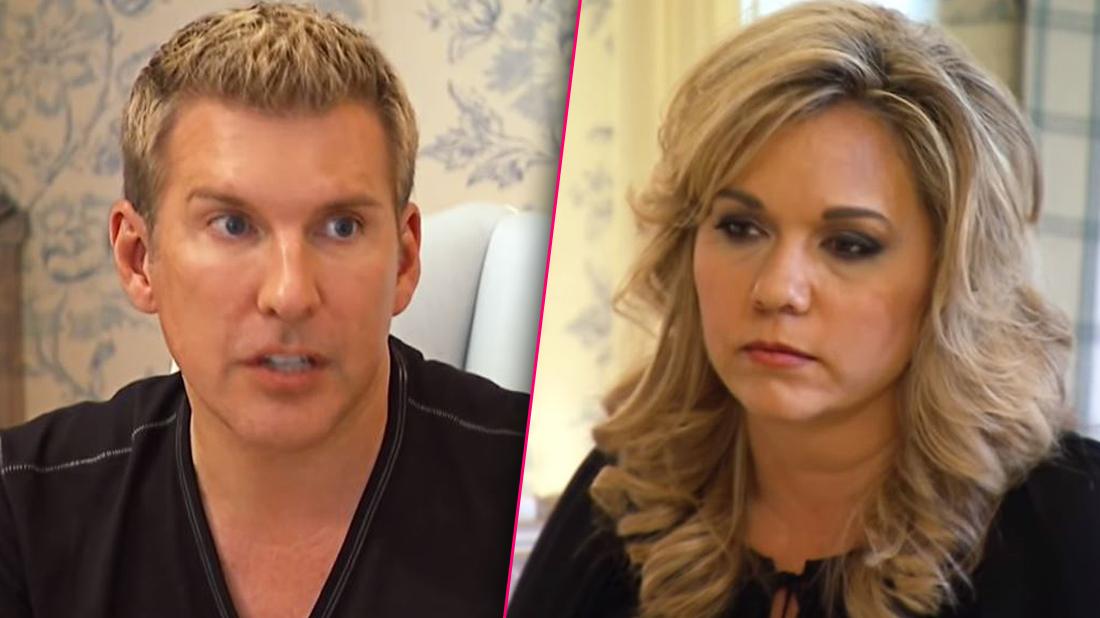 Todd Chrisley revealed to fans that he and his wife Julie will be named in a federal indictment for tax evasion and other financial crimes. Now, RadarOnline.com can reveal exclusive details on the indictment, including the shocking charges against the Chrisley Knows Best stars.
In the court papers obtained from U.S. Attorney's Office in Georgia's Northern District, Todd, Julie and their accountant Peter Tarantino were charged with conspiracy to commit bank fraud, bank fraud, wire fraud conspiracy, wire fraud, conspiracy to defraud the United States and tax evasion on Tuesday, August 13.
Article continues below advertisement
Beginning in 2014, Todd, Julie, and their family members starred on Chrisley Knows Best. Todd and Julie used 7C's Productions as a "loan-out company" for actors and entertainers to be paid for their services. Over the years, various entertainment and production companies paid millions to the couple with the majority being deposited into 7C's Productions bank accounts, the court papers claim.
In 2010, Todd and Julie allegedly filed separate 2009 federal income tax returns as "married filing separately." Todd's 2009 federal income tax return was filed on October 15, 2010 with Todd as the filing spouse and Julie as the spouse.
According to the indictment, they filed their 2010, 2011 and 2012 federal tax returns as "married filing jointly." These tax returns reported taxes due and owing of $0, $50,073, $23,959 for 2010, 2011 and 2012, respectively.
The indictment claimed Todd and Julie did not timely submit tax payments to the IRS when filing Todd's 2009 tax return or their joint 2011 and 2012 tax returns.
The IRS placed Todd and Julie in collection status for unpaid federal income taxes. The collection actions were stayed from the time Todd filed for bankruptcy in 2012 until it was discharged in 2015.
Article continues below advertisement
Todd and Julie did not timely file federal income tax returns or timely submit tax payments to the IRS from 2013 to 2016, according to the indictment.
For the first count of conspiracy to commit bank fraud from 2007 to 2012, Todd and Julie allegedly "did knowingly and willfully combine, conspire, confederate, agree and have a tacit understanding with each other and Co-conspirator A, to execute a scheme and artifice to defraud multiple financial institutions… and to obtain money, funds, and credits owned by and under the custody and control of aforementioned financial institutions by means of materially false and fraudulent pretenses."
Todd, Julie and Co-conspirator A submitted false materials, such as fabricated bank statements, false personal financial statements, to financial institutions to obtain millions of dollars in loans, the indictment claims.
They allegedly submitted false documents to banks when applying for loans, including fabricated bank statements listing inflated account balances, personal financial statements containing false information about available funds, false invoices, and false audit paper work.
Article continues below advertisement
In one example, Co-conspirator A allegedly sent an email to a bank that had an attachment that falsely claimed Todd had $4,000,000 at Merrill Lynch. When the employee requested account statements, Co-conspirator A sent Todd a fabricated bank statement showing they had $776,509.52. In response, Todd allegedly told Co-conspirator A, "You are a f**king genius!!!! Just make it show 4 mill."
The indictment claims Todd and Julie did not have a Merrill Lynch bank account at the time.
As a result of the alleged crime, banks issued them millions of dollars in loans, which they used for their own personal benefit.
At various times, Todd allegedly directed Co-conspirator A to send false information to banks. When one bank needed updated financial information to renew a loan, Todd allegedly wrote, "Create them like you always have, if I don't get these then they won't renew the loans."
Article continues below advertisement
In an August 2012 affidavit, Todd allegedly claimed Co-conspirator A used their accountant's stationary and signature without the knowledge or consent of him or the accountant. But Todd emailed him, "Can you place this on the accountant's letterhead with his signature and then sign Julie name below the accountants' address?"
For Counts two through six of bank fraud, the couple is being charged with allegedly causing a false personal financial statement to be transmitted to Midtown bank, causing a false personal financial statement to be transmitted to Gulf South Private Bank, causing a false personal financial statement to be transmitted to United Community Bank, causing false audit paperwork to be transmitted to RBC Bank USA and causing a false personal financial statement to be transmitted to Wells Fargo.
For Count Seven of Wire Fraud Conspiracy, the two allegedly conspired to send fabricated bank statements and a fabricated credit report to California property owner during a lease application process. While applying to rent the home in July 2014, Julie allegedly provided multiple fabricated documents that had been physically cut and then glued or taped together. Todd sent an email containing a false statement about the available funds, the court papers claim.
Article continues below advertisement
In July 2014, she sent an email attaching a City National Bank account statement reporting a balance of $86,790.86. In reality, the account allegedly had a balance of negative $14,530.89.
"Numbers had been physically cut out from one documents and then glued or taped onto the account statement to make it appear that the account had sufficient funds on deposit," the papers claim.
She allegedly did the same with her credit report, claiming she had a score higher than she did.
For Count Eight, they were charged with Wire Fraud.
For Count Nine, they were hit with a Conspiracy to Defraud the United States charge. They allegedly owed hundreds of dollars to the IRS for the 2009 tax year. Todd allegedly tried to hide his income from the IRS by directing third parties to send millions to 7C's Productions. His name was never listed as an owner on documents to impede the IRS's ability to determine his income and collect his unpaid 2009 taxes, the indictment claims.
Article continues below advertisement
In 2018, when they tried to obtain a lease for a Bentley convertible and a bank loan, they allegedly directed Tarantino to send copies of their individual income tax returns to a bank and a automobile dealership. He sent the materials even though the Defendants allegedly knew the 2014, 2015 and 2016 federal income tax returns had not been filed and they had not paid the taxes listed as due and owing.
In June 2017, the entertainment and production companies wired over $300,000 into a 7C's Productions bank account. The same month, the two spent over $7,000 at an electronics store, over $2,000 at a luxury retail store, and thousands of dollars at department and clothing stores.
Three months earlier in March 2017, Tarantino allegedly told an IRS Revenue Officer Todd did not have sufficient resources to pay his 2009 tax liability.
Article continues below advertisement
The tenth count was listed as tax evasion, and the eleventh and twelfth counts were listed as aiding the filing of false tax return.
RadarOnline.com can exclusively reveal Todd and Julie are scheduled to turn themselves in on Wednesday, August 14 in Atlanta. Tarantino should be turning himself in on Thursday.
Chrisley tried to get ahead of the indictment on Monday, August 12 in a lengthy Instagram post where he blamed his ex-employee.
"I've never talked about this publicly before, but there's been a cloud hanging over Julie and me and our entire family for the past seven years," the post began. "It all started back in 2012, when we discovered that a trusted employee of ours had been stealing from us big time."
He claimed it involved "creating phony documents, forging our signatures and threatening other employees with violence if they said anything." The reality star claimed his business partner illegally bugged their home.
Article continues below advertisement
"Needless to say, we fired the guy and took him to court — and that's when the real trouble started," he claimed. "To get revenge, he took a bunch of his phony documents to the U.S. Attorney's office and told them we had committed all kinds of financial crimes, like tax evasion and bank fraud. That got their attention all right, but once we had a chance to explain who he was and what he'd done to us, they realized it was all a bunch of nonsense and they sent him on his way."
He claimed he persuaded other investigators to reopen the case and grant him immunity from prosecution for his own crimes.
"As a result, it looks like later this week Julie and I are going to be named in a federal indictment charging us with tax evasion and probably a bunch of other financial crimes as well," he said. "I'm telling you all this now because we have nothing to hide and have done nothing to be ashamed of. Not only do we know we've done nothing wrong, but we've got a ton of hard evidence and a bunch of corroborating witnesses that proves it."