Watch Out, Lamar! Odom's New Girlfriend Arrested After Assaulting Ex With Trophy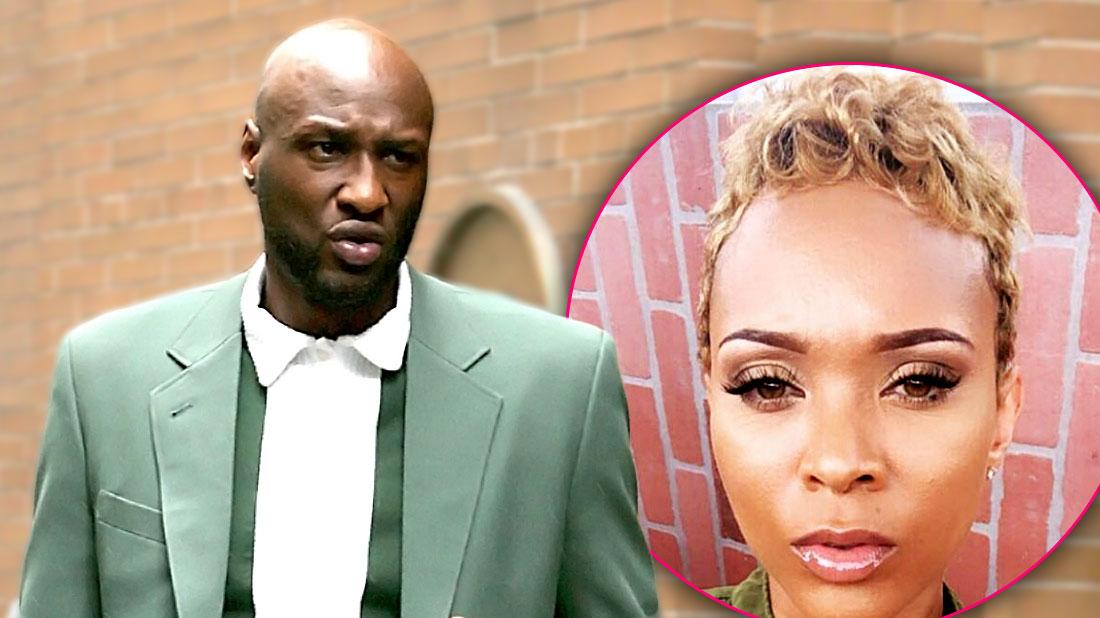 Lamar Odom has skeletons in his closet from cheating on ex-wife Khloe Kardashian to a history of drug and alcohol abuse issues. Now, RadarOnline.com can exclusively reveal the former NBA star's new girlfriend, Sabrina Parr, has a dark past herself, as she's been arrested for assault against her ex-husband after she attacked him with a trophy!
In court papers obtained from Cuyahoga County Court in Ohio, Parr, 32, was arrested on May 7, 2015 for attacking her then-husband.
Article continues below advertisement
She was charged with one count of felonious assault when she allegedly "did knowingly cause serious harm to victim."
For the second count of felonious assault, she allegedly "attempted to cause physical harm to victim by means of a deadly weapon or dangerous ordnance, to wit: a trophy."
For the third and final count, she was charged with allegedly "knowingly causing or attempting to cause physical harm to victim, a family or household member."
Parr pled not guilty to the charges against her. She was ordered to have no contact with the victim and their child under a temporary protection order. The temporary protection order was later lifted so she could see their son, as the judge determined, "there is no indication that the child was at risk of any harm concerning the alleged events that took place between the defendant and the victim."
The health and life coach was found guilty of all three charges against her. She was sentenced to 180 days in jail with credit for four days. She was also sentenced to three years probation.
Article continues below advertisement
On December 15, 2015, Parr filed an appeal to the sentence while incarcerated. She claimed her personal training business, MYFIT health and fitness, suffered tremendously from her incarceration.
"Ms. Parr has no money left as a result of this case," the court papers read. "She currently owes money on the house she has been renting and the car she purchased following the split from her husband. Ms. Parr's continued incarceration will put an undue financial burden on her which can never be rectified even if she prevails on the appeal."
She also explained how her daughter's father from a previous relationship is trying to gain custody of her. If she remains behind bars, she will be unable to attend the hearing.
She then described their "dysfunctional marriage" and the violent confrontation where she struck him in the head with a "small trophy."
"Ms. Parr maintains that victim was verbally and physically abusive and that she only struck him in self-defense," the papers claimed. "The victim, on the other hand, contended that Parr lied about the prior abuse and attacked him that night merely because he was trying to leave the residence."
Article continues below advertisement
When Parr got pregnant "that's when things changed" and her ex became a "different person." She claimed he was "very mean," "distant," and questioned the pregnancy. He told her he was getting back with his ex-fiancée.
They eventually reconciled and she accused him of becoming "very controlling" when they married.
The night of the incident, she explained how he became irate after he found her two cell phones. He started reading text messages between her and other men. She claimed he grabbed her, shook her and threw her against the wall when she tried to leave. He then allegedly started to choke her. She then grabbed the trophy and hit him with it.
Her ex explained how when he found the messages, he asked her for a divorce. That's when she charged at him and started scratching him. She then hit him with a trophy.
According to the documents, police observed the injury to the back of his head. He also had minor scratches on his forearms and a cut on his right thumb. At the hospital, he was treated for a scalp laceration and received seven staples to close the wound.
Article continues below advertisement
The judgment was ultimately vacated and remanded to the trial court for proceedings.
In January 2017, it was ordered that count one be amended to obstruction of justice, count two be nolled, which means not prosecuted, and count three is amended to assault, which she agreed to plead guilty to.
She served 156 days for the first count with no probation.
Parr's ex filed for divorce on May 21, 2015. A judgment was entered on February 2, 2016.
Parr and Odom, 39, revealed their relationship in a sweet Instagram post.
"What we have is much more than they can see…" they captioned the same photo on their Instagram pages.
The romance is Odom's first high-profile relationship since his split from Kardashian in 2013. They married in 2009 and finally divorced in 2016.