Todd Chrisley's Luxe Reality TV Lifestyle Could Be Used Against Family In Court Fight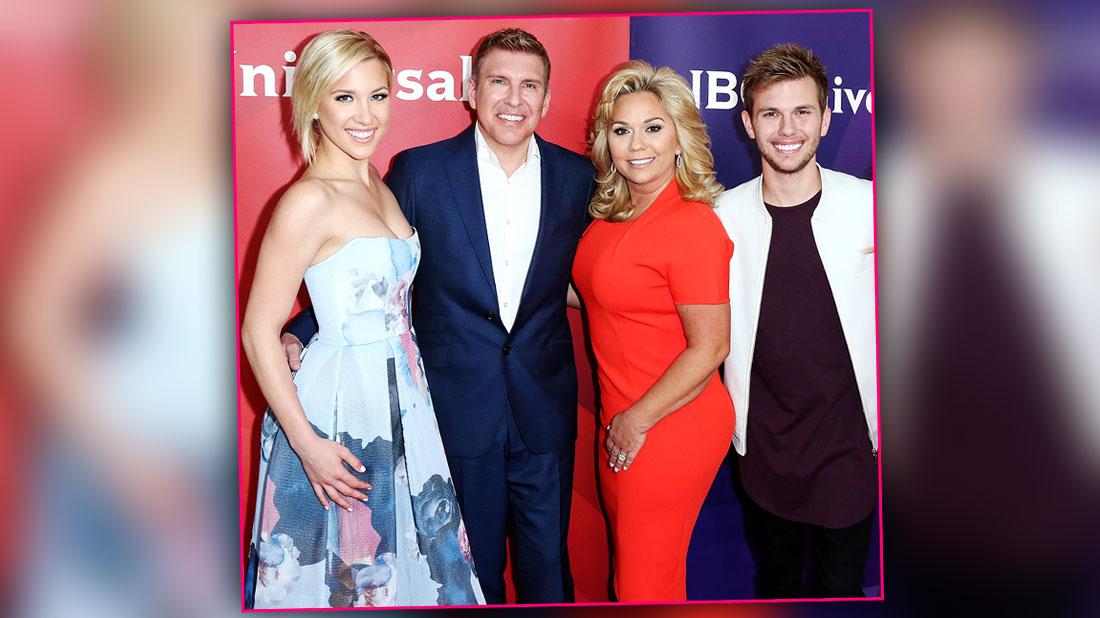 The extravagant lifestyle portrayed on the reality show Chrisley Knows Best could spell even more trouble for Todd Chrisley's family and be used against them as they fight allegations of federal tax evasion and other financial crimes, RadarOnline.com can reveal.
Megan Susan Scheib, a Philadelphia-based defense attorney with the firm Cozen O'Connor who often represents individuals facing criminal charges for fraud and other financial crimes, told RadarOnline.com that an "interesting aspect of a case involving a celebrity, and especially a celebrity whose life has been depicted on a reality television series, is that statements and conduct captured in those videos may also be used as evidence by the government in prosecuting its case."
Article continues below advertisement
"That said," she added, "the defense has equal opportunity to pull helpful evidence from this same data."
As RadarOnline.com previously reported, Chrisley dad Todd, 50, and mom Julie, 46, are facing charges for conspiracy to commit bank fraud, bank fraud, wire fraud conspiracy, wire fraud, conspiracy to defraud the United States and tax evasion.
The pair surrendered to authorities in Atlanta on August 14, a source told RadarOnline.com exclusively. The source added that they were arraigned and posted bond.
In part, the government's indictment — filed on Aug. 13 against Todd, Julie and their accountant — claimed the reality stars "continued to earn substantial income and make large expenditures after starting their television show."
"In the promotional video for Chrisley Knows Best, which was filmed in 2013, Todd Chrisley stated, 'I make millions of dollars a year, but we still have the same issues that parents who are making $40,000 a year have," the legal papers continued.
Article continues below advertisement
The indictment then points out Todd boasted he would "spend over $300,000, sometimes more, just on clothing" every year.
"Over the next several years, Todd and Julie Chrisley earned millions of dollars from Chrisley Knows Best and other media ventures, which they largely used for their own personal benefit, all while claiming they had insufficient funds to pay down Todd Chrisley's 2009 tax liability and while failing to timely file federal tax returns or pay income taxes for the 2013, 2014, 2015, or 2106 tax years," the documents added.
The immediate fallout from the potentially criminal drama includes the Chrisleys rushing to sell their Tennessee mansion for $4.9 million to raise some quick cash, and the USA Network not renewing their reality show contracts.
And the couple's kids Savannah, 22, and Chase, 23, have not been immune to the backlash stemming from their parents' alleged misdeeds.
"Elites can go f**k themselves," one commenter blasted on social media. "We all need to stop looking at their lives like they are something worth learning from."
Article continues below advertisement
Savannah and Chase's spinoff reality show Growing Up Chrisley will also get the axe, a source said.
Todd and Julie have denied the government's allegations against them, blaming a former employee for their current legal woes.
According to Todd, the disgruntled worker was caught stealing in 2012 and is the one responsible for "creating phony documents, forging our signatures and threatening other employees with violence if they said anything."
"Needless to say, we fired the guy and took him to court — and that's when the real trouble started," the Chrisley patriarch claimed. "To get revenge, he took a bunch of his phony documents to the U.S. Attorney's office and told them we had committed all kinds of financial crimes, like tax evasion and bank fraud. That got their attention all right, but once we had a chance to explain who he was and what he'd done to us, they realized it was all a bunch of nonsense and they sent him on his way."