Buried Alive! Three People Die After Bluff On California Beach Collapses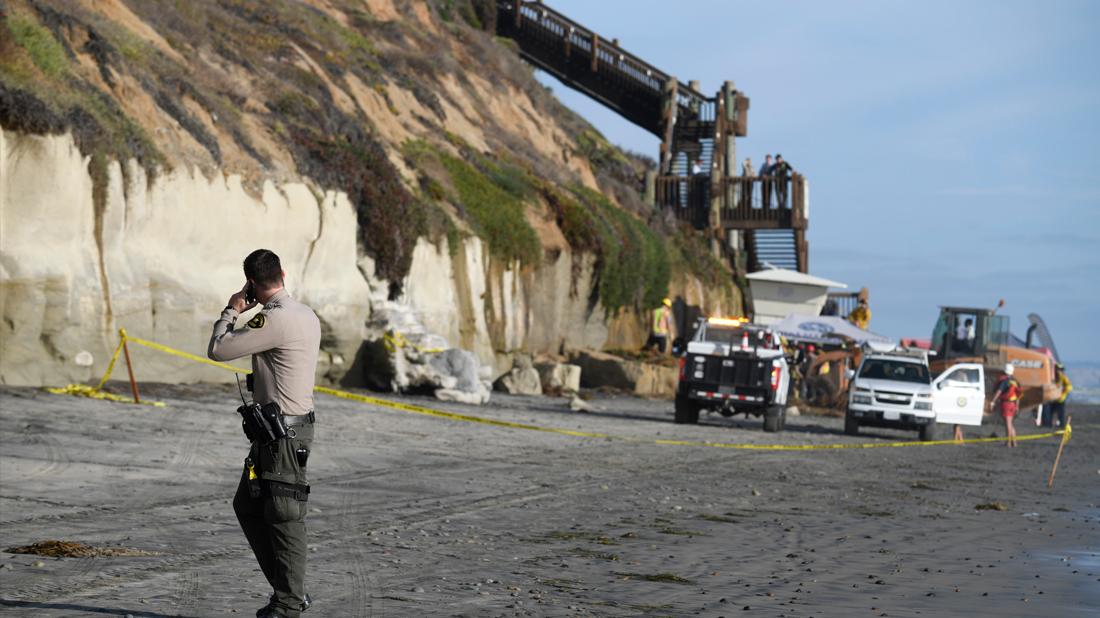 A hill on a California beach reportedly collapsed on Friday afternoon, resulting in three deaths and at least two injuries.
At around 3 p.m., a 30-foot-by-25-foot section of a bluff, located at the Grandview Beach in Encinitas, caved in and buried a group of people alive.
According to ABC 10, two people were treated for minor injuries. Three fatalities, including a woman who was pronounced dead at the scene, were also reported.
Article continues below advertisement
"We are devastated by the tragedy today and our hearts go out to the victims and their families," said Encinitas Mayor Catherine Blakespear. "We stand ready to help in any way possible. Our engineers and the public safety team are diligently working to assess bluff conditions."
Jim Pepperdine, who lives nearby, told The Los Angeles Times that he was working at home when he became alarmed by the sirens and trucks he heard outside, and he went to take a look.
"I saw first responders, and I saw lifeguards frantically digging people out of the debris," he said, adding it looked like the victims had been at the beach together.
"They were clearly distraught," Pepperdine said. "It was a normal beach day gone awry."
Pepperdine said he saw people trying to resuscitate a woman before her body was covered.
Authorities have so far not given details about the victims, except to say there were no children among them.
Article continues below advertisement
After a night of staying on the scene and surveying the area, no other victims have been discovered. Officials are patrolling the area, ensuring people stay at least 25 to 40 feet from it, a San Diego County Sheriff official told PEOPLE. An investigation into the cliff's condition and its possible cause of decomposition will also be conducted, and the area next to the collapsed cliff is closed until further notice.
As PEOPLE reported, the website for the City of Encinitas forewarns people of the cliffs, explaining there are "frequent bluff failures," and that "in most areas hiking near or directly on top of the bluffs is prohibited."
The site also points out warning signs along the beach and ask visitors to refrain from standing or sitting directly underneath unstable bluffs, since they are likely to collapse.