Ronnie Slams JWoww For Not Discussing Divorce On 'Jersey Shore': 'F***ing Fake!'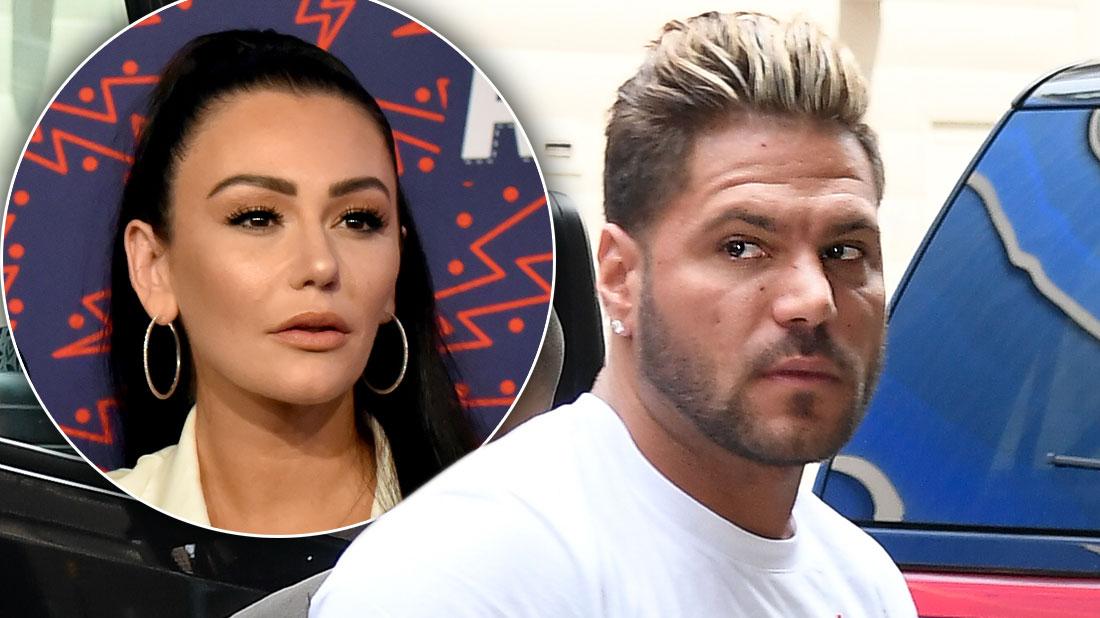 Article continues below advertisement
Watching Mike and Lauren's loved-up reunion, Ronnie turned to Jenni "JWoww" Farley, who until then, had been radio-silent about her divorce scandal.
RadarOnline.com readers know JWoww filed for divorce from husband Roger Mathews last September after nearly three years of marriage. The two quickly got involved in a heated custody battle over their two kids, and Jenni even filed a temporary restraining order against her baby daddy. Eventually, she moved on with a much-younger hunk, closing the door on her rocky marriage.
On the latest episode, Ronnie tried to coerce JWoww to talk about the subject, but as soon as she saw the cameras, she bolted.
"I would love for me and Jenni to have a moment where I can talk to her and maybe have her confide in me," Ronnie said. "Every time I try to talk to her, she goes silent."
Ronnie — who is going through a difficult time with his baby mama, Jen Harley — said it's important to open up to one another about their personal issues.
Article continues below advertisement
"We are family, we're roommates, we bounce off of each other. We're here to support each other. When I was going through s**t, everyone was so worried, and they wanted to talk about it," he said.
He then accused the cast of paying less attention to JWoww's problems, while still airing his out for the world to see.
"So why isn't everyone worried about Jenni going through a divorce?" Ronnie asked. "We all know stuff about each other and it just seems like everyone just wants to put my s**t out there, but at the same time, ignore Jenni and what she's going through out of respect. It just shows that there's a lack of respect that they have for me and my life, because when s**t was going on with me and Jen, everyone wanted to talk about it. I was their entertainment."
Hours later, Ronnie got candid regarding his feelings about JWoww's problems with Roger.
"This man, I know what he's going through," he told Angelina Pivarnick, referencing Roger. "To be with somebody that is so cold and shows no emotion and all you do is give and give and give, it hurts."
"How do you deal with someone that's f***ing fake and not in touch with their emotions and not communicative? I get it," he continued, slamming JWoww. "That's why me and Roger are so close. Because we've been dealing with the same person, where it's like, we're not asking for much, we're just asking for real-life emotion. It's the worst thing ever to be with someone and not know how they feel. You might as well f***ing be with a f***ing corpse."
Article continues below advertisement
Angelina tried to be understanding, telling the cameras that Ronnie's anger was coming from a place of pain due to his issues with Jen. But despite her theory, Ronnie wouldn't stop slamming JWoww.
"Jenni acts like everything in her life is peaches and gravy and she just wants to judge everyone else and their relationship," he said. "B***h, you ain't perfect."
"We definitely all are going through our own stuff and it's real-life s**t, we're not kids anymore. So I guess we do tread lightly sometimes, but I feel like people don't tread lightly when it comes to me. All the bad memories that I had to go through are a joke to everybody else. That's not real friendship, and I know what real friends are."
Jersey Shore Family Vacation airs Thursdays (8 p.m. ET) on MTV.