Meghan King Edmonds Shows Son's Brain Damage Treatment After Husband's Cheating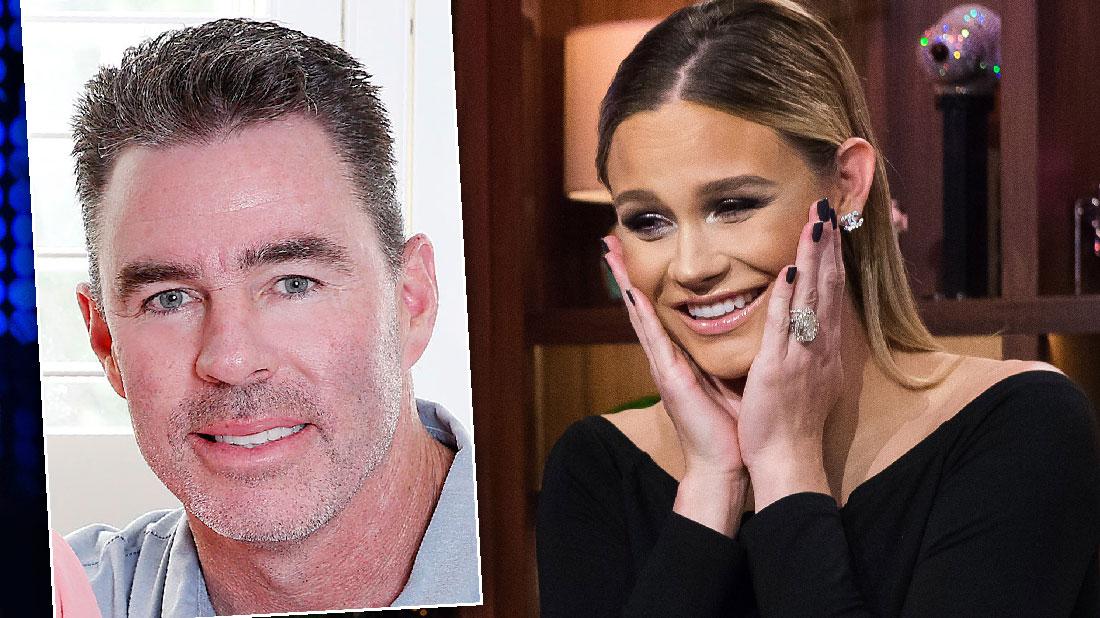 After Meghan King Edmonds' husband Jim Edmonds' cheating scandal, she has revealed their brain damaged son's treatment.
The former The Real Housewives of Orange County star, 35, shared on her Instagram Story on Friday, July 12, how 13-month-old Hart is getting along at physical therapy.
She recently disclosed the shocking news that the boy has "irreversible brain damage."
Meghan's video showed a physical therapist gently pushing adorable Hart on a swing.
Article continues below advertisement
She wrote on her post, "Hart loves this swing at PT! It helps him build his abs and stabilize his core to ultimately give him better balance and strength."
In another clip, Meghan told fans her son "gets distracted by any other kid… especially if they have a set of 'wheels'… that's super awesome to him."
The ex-Bravo star also posted a shot of Hart and his twin brother Hayes in their strollers. Hart was asleep and Meghan noted, "Side affect sic of PT day."
Last week, Meghan wrote in a blog post that Hart has "minor Periventricular Leukomalacia on both sides of his brain" and is "at risk for being diagnosed with Cerebral Palsy."
She noted that she knew something was "different" with Hart "from the minute he was born.
"He suckled hard, shallow, and often until I bled and he spit up black," Meghan shared.
As RadarOnline.com readers know, during her son's health crisis, Meghan's marriage imploded.
Article continues below advertisement
All About The Tea first published allegations of former MLB star Jim's conversations with an alleged "baseball madame." The site claimed Jim, 49, had cheated on his second wife, Allison, with the woman, and then reconnected with her when Meghan was pregnant with their twins Hart and Hayes.
Though Jim denied he's had a physical relationship with the woman, the site published screenshots of their texts, some of which included photos of his penis. The site also claimed Jim sent the woman a video of him touching himself on the same day Meghan gave birth to their twins.
MORE ON:
Meghan King Edmonds
Meghan reportedly confronted the "baseball madame" to learn more about the online affair.
On June 13, Jim admitted to Us Weekly, "Regrettably, I had a lapse in judgment. I engaged in an inappropriate conversation with this person. At no time was there any type of relationship or physical contact. Absolutely none. This is someone trying to profit from my name. I am aware she has done this to others in the past."
Article continues below advertisement
The retired baseball player said he never intended to destroy his family, and is doing what he can to fix the situation.
"Clearly, I made a very poor decision to expose myself and my family to this type of person. For this, I am truly sorry and sought forgiveness from my wife," he wrote in his statement. "I'm outraged over the intent to ruin my family and intend to take legal action. We were never having any problems in our marriage. My attorney is in possession of documents wherein this person has admitted fabricating large portions of her 'story.'"
However, humiliated Meghan acknowledged that Jim had been unfaithful, saying she was dealing with the pain of her marriage crumbling amid Hart's medical difficulties.
Despite his infidelity, Meghan said she went out to dinner with Jim to discuss their son's diagnosis.
"I explained to Jimmy how we are not somehow compromised or punished for having a child with special needs (whatever that may or may not mean!), we are BLESSED," she wrote.
"This doesn't mean his diagnosis isn't a challenge… or a little bit sad, or that I don't feel a little bit guilty. Because yes — just yes — to all of those things. I pray for a miracle and I grapple with how to navigate his life," the mother of three added.