'Love After Lockup' Star Sarah Says Michael' Cheating Scandal 'Broke My Core!'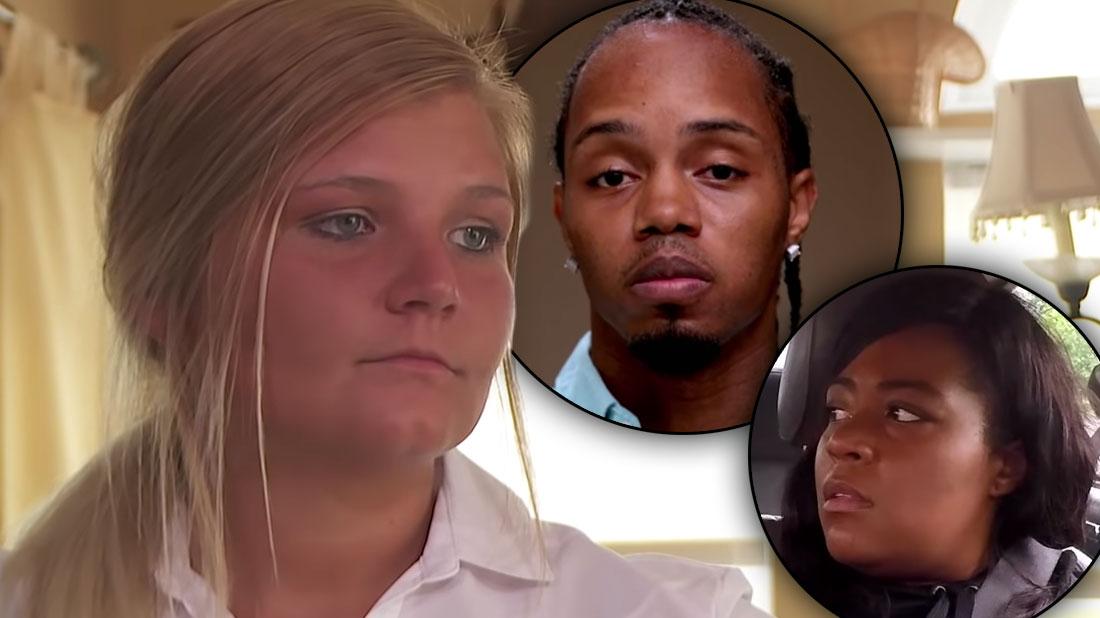 Fans have watched Love After Lockup star Sarah Simmons' life unravel for three seasons, during which her husband became entangled in an scandalous affair. And while the show painted Sarah as a bitter wife, she exclusively tells RadarOnline.com that the cameras didn't capture the whole story.
Sarah admitted that she was blind sided when she found out that her husband and the father of her children, Michael Simmons, had cheated on her while he was in jail with a woman named Megan.
Article continues below advertisement
"I didn't know the extent of their relationship. I didn't know what he was telling her about me and my daughter," Sarah explained. "But I didn't find out that he actually told her about me. So when we had that meeting in that hotel on film, she came to me as if she didn't know anything about me and that's false."
She revealed that behind closed doors, Michael was a completely different person, showing her nothing but love.
"The crazy thing is, I was coming home to bubble baths and dinners cooked and massages, and we are going on dates, we were having fun,"she admitted. "And I remember the day before he filmed with Megan, I didn't know this at that time but watching the show I now know, the day before he gets home and his mom and sister were there and we are eating pizza and he grabs my neck and he looks at me so furious and he was like 'I love you, promise me no matter what we are always going to be together.'"
Article continues below advertisement
Sarah admitted that the following day he went and cheated on her.
"So for me I don't understand why he is saying that. He completed the mission. He had to have sex with me and completed the mission. But that's funny because that's what he was doing every day. Why are you doing these things: calling me your wife, wearing your wedding ring around. I don't understand that part. When Megan wasn't around and the film crew wasn't around, you were the perfect husband."
"So yeah it hurts. And a lot of people are reading all that crap and it hurts," she admitted. "Because we filmed a lot, him and I. But you don't see a lot on that show. They didn't show the dinners that we had together. They showed Michael and Megan and that hurts. I don't feel like my side is out there and I hope that if there is another season I am able to put that out there. Because I'm tired of being looked at like I'm the one who go rejected... the one that wasn't good enough."
Article continues below advertisement
While Sarah refuses to say flat out whether her and Michael are divorcing, she hints that their relationship is definitely not what it used to be.
"The best thing I can say is that I've been through much with this situation, and I did it pregnant," she added. "I did it while giving birth. I did it while I was hormonal. I don't do well with change. I worked my a** off to have a successful life with me and my family and everything just changed."
"I had to move out of my apartment. I had to stop working because of my pregnancy. He was back in jail. Megan was coming after me. So there was so much that was going on; so a divorce was just so much pressure that I didn't feel like I needed to add to it. So I wanted to heal. He didn't just break my heart, he broke my spirit, he broke my core. He really damaged me."
Sarah revealed that when Michael had landed himself back in jail she was forced to leave Michigan and move to New York so she could give her kids a better future.
Article continues below advertisement
"When I got pregnant with Adriana I broke up with him," Sarah admitted. "I left. Because I knew that was the first decision I was making as a parent. And I knew that the way our relationship was and the way we were living wasn't suitable for a child. And we needed help and money, and I didn't want to raise a child in the predicament that we were in. So I never left him to take the child away. I left him to better our child's life. He was supposed to follow me, but he never did, because he went to jail."
And what should fans expect as the season comes to an end? Sarah told Radar, be prepared for a lot of drama.
"The season is crazy and it is going to leave a lot of people confused. The things that he and I filmed together were not great. There is a lot of drama there. There is alway going to be drama. I hope to be able to have a voice when the season is over because I feel like there is a lot of explaining to do."