Elton John Celebrates 29 Years Of Sobriety After Cocaine & Booze Addiction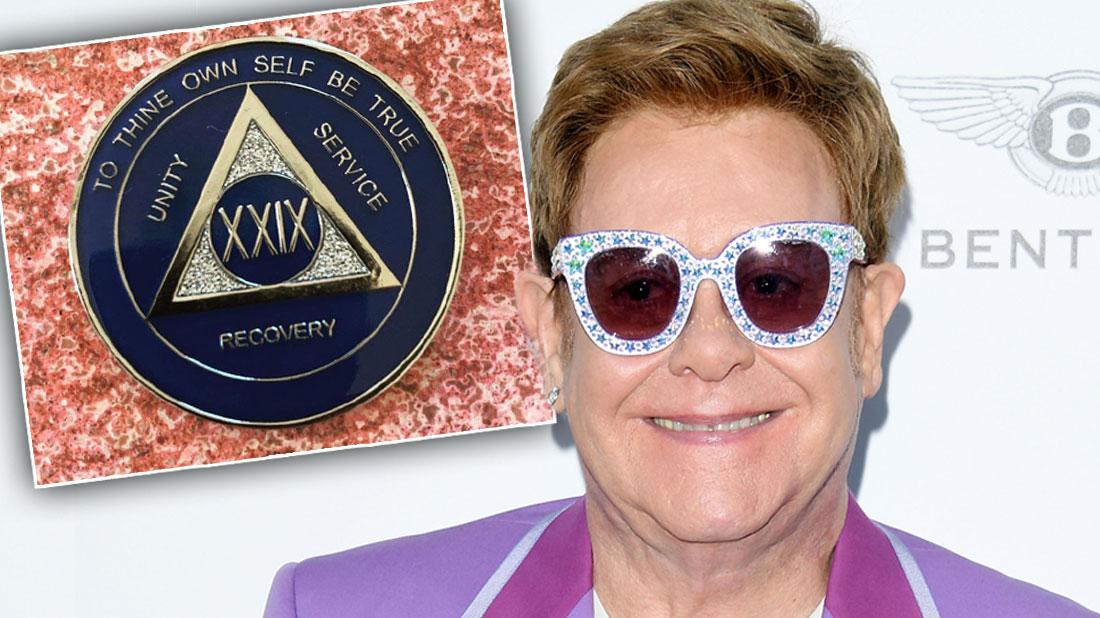 Elton John is celebrating a big milestone: 29 years of sobriety.
As RadarOnline.com has learned, the "Tiny Dancer" singer made the choice to change his life nearly three decades ago, following years of serious drug problems.
"29 years ago today, I was a broken man. I finally summoned up the courage to say 3 words that would change my life: 'I need help'. Thank you to all the selfless people who have helped me on my journey through sobriety. I am eternally grateful. Elton xo" John, 72, tweeted this Monday, July 29.
Article continues below advertisement
Along with his message, he shared a photo of his recovery program coin. "To thine own self be true," it read.
During his younger days in Hollywood, John suffered from a booze and cocaine habit which nearly killed him. After giving it up, he became so committed to his sobriety that he became Eminem's celebrity counselor.
"I talk to Elton a lot. We became friends, and I talk to him about things, career-wise. He had substance abuse problem in the past. So when I wanted to get sober, I called him because he's somebody in the business who can relate to the lifestyle and how hectic things can be. So I told him, 'Look, I'm going through a problem, and I need your advice,'" the rapper told The Sun in 2009.
This year, John spoke to Variety about his past substance abuse struggles.
"There were times I was having chest pains or staying up for three days at a time," he said during at interview at the Cannes Film Festival. "I used to have spasms and be found on the floor and they'd put me back to bed and half an hour later I'd be doing the same. It's crazy."
The musician — who now has two children with husband David Furnish — can now admit that the drug he was taking made him a different person, and he's lucky to have outlived his addiction.
"I am a survivor," John said. "I've survived a lot of things. Life is full of pitfalls, even when you're sober. I can deal with them now because I don't have to run away and hide."
He's also learned to communicate. "What I couldn't do when I was an addict was communicate, except when I was on cocaine I thought I could but I talked rubbish."
John is currently touring the world and getting ready to retire for good, in order to spend more quality time with his family. He will release his memoire this October.