Elton John And Hubby Open Up About Their New Son -- 'We Couldn't Feel More Blessed Or More Happy'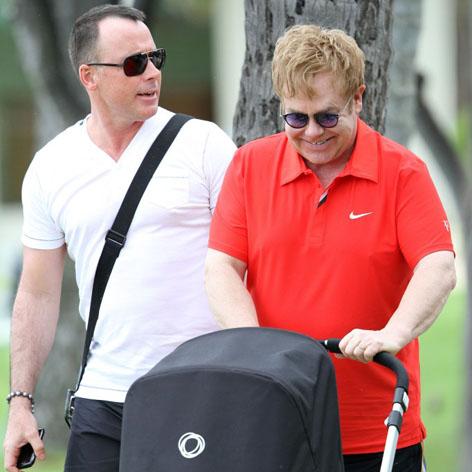 Article continues below advertisement
"We couldn't feel more blessed or more happy," David told Australia's Woman's Day magazine.
"I never knew fatherhood could be so wonderful, perhaps because I had reached the age where I never expected to have children of my own," Elton, 65, said.
"I honestly don't have the words to describe the ways in which these two children have enriched our lives — the feelings are beyond words."
Elton revealed he was so overcome with love for Zachary, that he was worried he wouldn't find enough love for Elijah.
"From the moment I first Zachary, I have been so overwhelmed with love for him that I almost wondered if I could love Elijah as much," Elton said.
"But I have learnt that a parent's capacity for love is endless. When another child is born, our depth of love just grows deeper and wider."
Elton and David have vowed to never reveal their surrogate's identity, but describe her "like a sister" to them and tell the Australian magazine that they are more hands-on fathers than people might expect.
"We both share the responsibilities of childcare with our wonderful nanny, who has been a member of our family since Zachary's birth. Both Elton and I have been up through the night doing feeds with Elijah, and we always try to be there for both his and Zachary's bath times," David said.
"Dirty nappies, broken nights — and more fun and happiness than we could ever have imagined," Elton concluded.