Meghan King Edmonds' Husband Jim's Mistress Identified As Woman With Criminal Past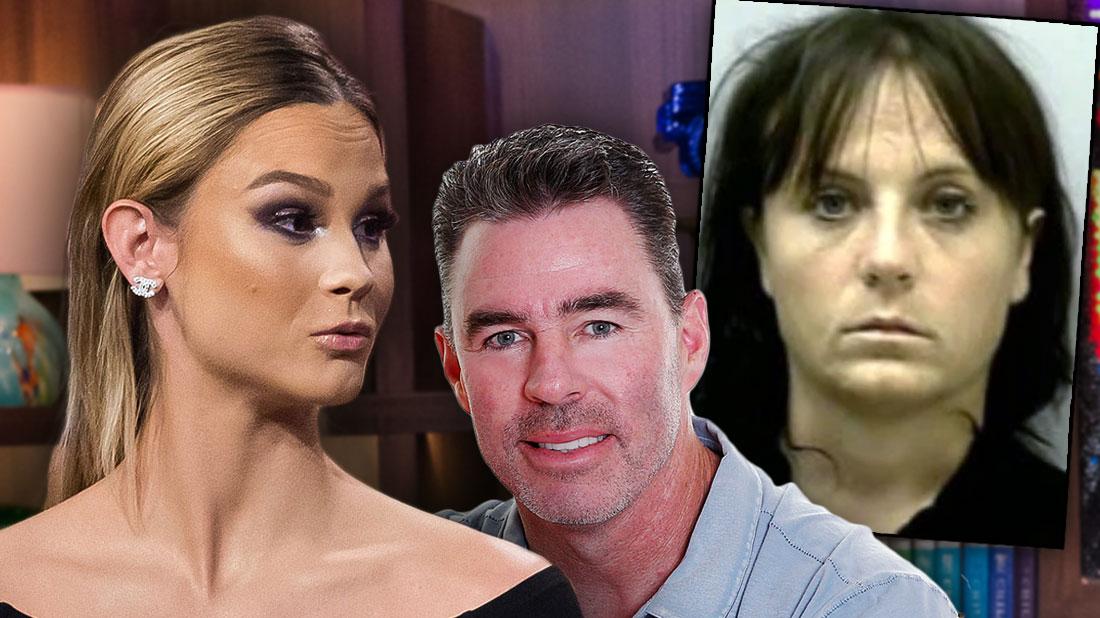 Meghan King Edmonds' husband Jim's mistress has been identified after the cheating scandal deteriorated their marriage.
Us Weekly revealed Meghan's reaction on Friday, June 21 to Jim's sexting buddy being exposed as Jennifer McFelia Villegas —who allegedly has a checkered past!
"I only blame my husband for his actions: he made the choice to betray my trust and jeopardize our marriage," Meghan told Us. "His recklessness also allowed this woman to profit from my heartbreak — but now that her name is out there, she won't be able to shake down any other families as I rebuild mine."
Article continues below advertisement
Villegas told the website All About The Tea after being exposed, "I want to make a few things very clear — I never set anyone up, blackmailed anyone nor have I attempted to ruin anyone's family. All my relationships have involved two consenting adults. I made a poor decision to enter a relationship with a married man, and for that I am sorry."
Jim's mistress also admitted, "I am no saint. My past includes two DUIs and for that I am deeply remorseful and I've learned from my mistakes. My life today is completely devoted to my relationship with God and my daughter."
Jim confessed to Us on June 13 that he had a "lapse in judgment," but the former St. Louis Cardinals star maintained that her "never touched" another woman during his marriage to Meghan.
Now, a former wife of another MLB player has claimed that Villegas has been caught chasing after other baseball athletes in the past.
"My husband was a minor league player at the time and was on the road in Tennessee and she was at a game and somehow the two of them connected and exchanged phone numbers and contact information," the woman told Us.
MORE ON:
Meghan King Edmonds
Article continues below advertisement
In 2012, Villegas was booked for a DUI in Georgia. Then in 2016, Villegas was accused of leaving "her infant daughter in her car … with no supervision," according to court documents obtained by Us. She was fined $500, agreed to 12 months of probation and had to complete parenting and life skills classes.
As RadarOnline.com readers know, the scandal first erupted after All About The Tea published allegations of Jim's conversations with a "baseball madame." The site claimed Jim cheated on his second wife, Allison, with the woman, and then reconnected with her when Meghan was pregnant with their 1-year-old twins.
The former Real Housewives of Orange County star reportedly confronted "baseball madame" to learn more about the online affair.
The retired baseball player, who shares three kids with Meghan, 34, said he never intended to destroy his family, and is doing what he can to fix the situation.
"Clearly, I made a very poor decision to expose myself and my family to this type of person. For this, I am truly sorry and sought forgiveness from my wife," he wrote in a statement. "I'm outraged over the intent to ruin my family and intend to take legal action. We were never having any problems in our marriage. My attorney is in possession of documents wherein this person has admitted fabricating large portions of her 'story.'"
But then humiliated Meghan admitted that Jim had been unfaithful, saying she was dealing with the pain of her marriage crumbling amid a scary health crisis for their son, Hart.
"I found out the same way you guys did, in the tabloids. I never left a voicemail for the other woman. I called Jimmy and he confessed to me that he had exchanged lewd photos with this woman over the course of several months and a physical relationship never existed. He paid her off to protect me so I'd never find out," Meghan claimed hours after Jim admitted to the extramarital affair.