Khloe Reveals If She's Still 'In Love' With Tristan After Cheating Scandal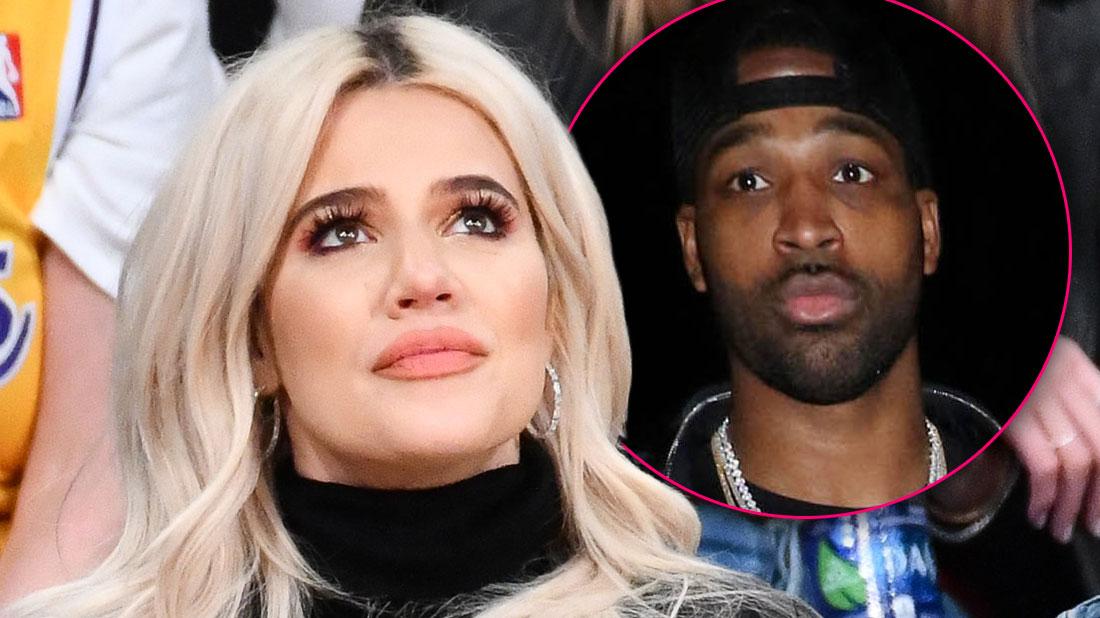 This week's episode of Keeping Up With The Kardashians centered around Khloe Kardashian's broken relationship with NBA star baby-daddy Tristan Thompson.
During a visit to Cleveland, best friend Malika Haqq asked Khloe, 34, if she was still in love with her cheating ex.
"It's really hard to regain trust. I am someone where the energy I have towards True is all that matters to me," Khloe said to Malika, 36, who asked, "But are you in love?"
Article continues below advertisement
"I am in love. I know I love him, but I am not going to act like nothing is wrong. It has been seven months. He needs to know that one stupid weekend did to three years or relationship," Khloe replied.
"I appreciate the efforts he puts in. He knows I am still trying. I don't have to come here. If I didn't feel anything I would not be here. I have to get to the next stage. For me, this is a work in progress," Khloe added.
The rest of the episode, however, centered around Scott Disick, who revealed that he was launching a clothing company called Talentless.
"I started working on it a year ago and I called it Talentless," Scott, 36, told M.J. towards the beginning of the show. "All I make is things that I think I would wear. A lot of people didn't know I started this company. I didn't want to tell anyone until I felt like the company was strong enough," he added.
Article continues below advertisement
The next scene was of Kim Kardashian and sister Kourtney Kardashian discussing their work schedule. Kim, 38, reveal to Kourtney, 40, that daughter North felt neglected and wanted to go camping.
"I like to work but one thing that I want to be aware of is that I give my kids just as much attention. Of course I want to go camping with North, but I am not the outdoorsy kind of girl," Kim said.
In the following scene, Kim told Malika that a psychic told her that she was "going to have a son and the son was going to be her father reincarnated." As RadarOnline.com readers know, Kim's fourth child, a son named Psalm, was born on May 10.
Kim and Malika voiced that they were both concerned about Khloe's relationship with Tristan. When the episode was filmed, Khloe was still processing the fact that he cheated on her while she was giving birth, but they were working through it.
In the following scene, Kim was getting ready for her first camping trip with daughter North, when the 5-year-old said she wanted to camp for "three nights."
"One night!" responded Kim.
Article continues below advertisement
"So we are really going camping. I definitely love a challenge and I want to make North happy. I have to dig deep in my soul and find the 9-year-old camp girl," Kim said during confessional.
In the next scene momager Kris arrived at a house that Scott was flipping for his new show, Flip It Like Disick. In his confessional, the self-proclaimed "Lord" said he did not want to use KUWTK or their family to promote his clothing line or business ventures.
In the next scene, Khloe and baby True were on their way to Cleveland to visit Tristan, 28, in a private jet. Malika told the cameras that the last time she was there was when Tristan cheated on Khloe and it was "very sad."
The scene jumped ack to Kim, who convinced Larsa Pippen, former assistant Steph Shep, sister Kourtney and their kids, to go camping with her. The ladies tried to put up a tent to show their kids their outdoorsy skills — but they were not so successful. Finally, after they were able to set up the camp, they got on a small boat and went fishing.
That night, Larsa, 44, was complaining non-stop and Kim was doing her best to coax the situation but revealed that she, too, was over it! "It is really freaking cold here," she said. The next morning, the group took a selfie by the fire for social media, packed their camping equipment and left.
The last scene of the episode was of Scott, who was holding a photo shoot for his clothing brand. He revealed that he decided to take the momager's advice and push his new brand, Talentless, on the series after all.