Vintage Vicki! Gunvalson Shows Off Wine She & Steve Shared During Proposal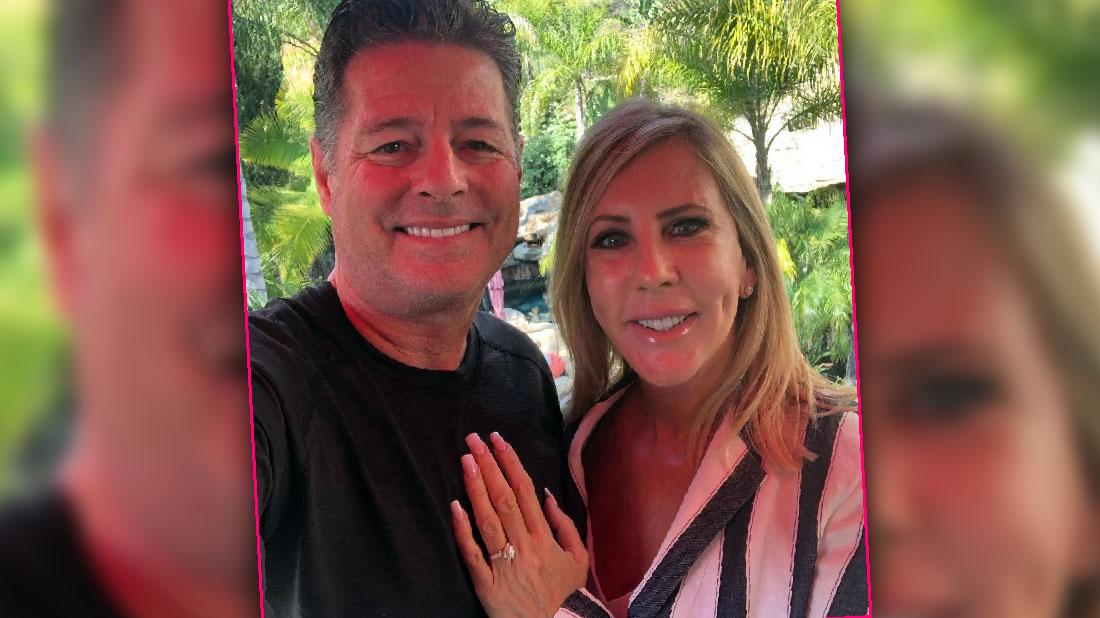 Vicki Gunvalson is determined to promote her engagement every chance she gets!
On Sunday, May 26, she mentioned boyfriend Steve Lodge's big proposal again on social media during a trip to Napa Valley, California wine country.
As RadarOnline.com exclusively reported, The Real Housewives of Orange County's veteran star saved her job on the show by promising bigwigs she would get engaged and then married to Steve on camera, a source said.
Article continues below advertisement
The plan went off without a hitch as Vicki, 57, announced on April 26 that Steve had proposed, posting an Instagram photo of the two of them in which she flashed the engagement ring.
Since then, she's shared engagement party news with fans and posed wearing a cap that read, "Engaged AF."
On Memorial Day weekend Sunday, Vicki posted a photo of herself and Steve holding a bottle of wine on Instagram at a California winery.
She wrote as a caption, "So great to be at @silveroakcellars in Napa which is the bottle of wine we shared when @stevelodge_oc asked me to marry him."
Vicki, who was wearing a big floppy hat in the shot, added a heart emoji and "#isaidyes #love."
As Radar readers know, it's all part of a master plan to stay relevant and employed on the Bravo series she's been on since its debut.
"She promised the producers Steve would propose when they told her they wanted to fire her," a source told Radar.
Article continues below advertisement
The show insider said that there was a multi-season plan that Vicki gave to the execs.
"She had to have her engagement filmed this season, and then next season her wedding will be filmed," the source said.
This February, Vicki missed the first two weeks of filming RHOC amid her contract negotiations.
It was rumored she'd be demoted to "friend" status on the Bravo reality show.
But after returning from a Bahamas getaway with Steve, Vicki shared a social media video to let fans know that she was still very much on RHOC.
And as her recent social media posts show, Vicki means to keep it that way with love in the public eye!
"Vicki is trying so hard," a source told Radar.