Jealousy, Power Grabs & Notorious Sex Scandals! Shattering Secrets Of Embattled 'Today' Show Exposed!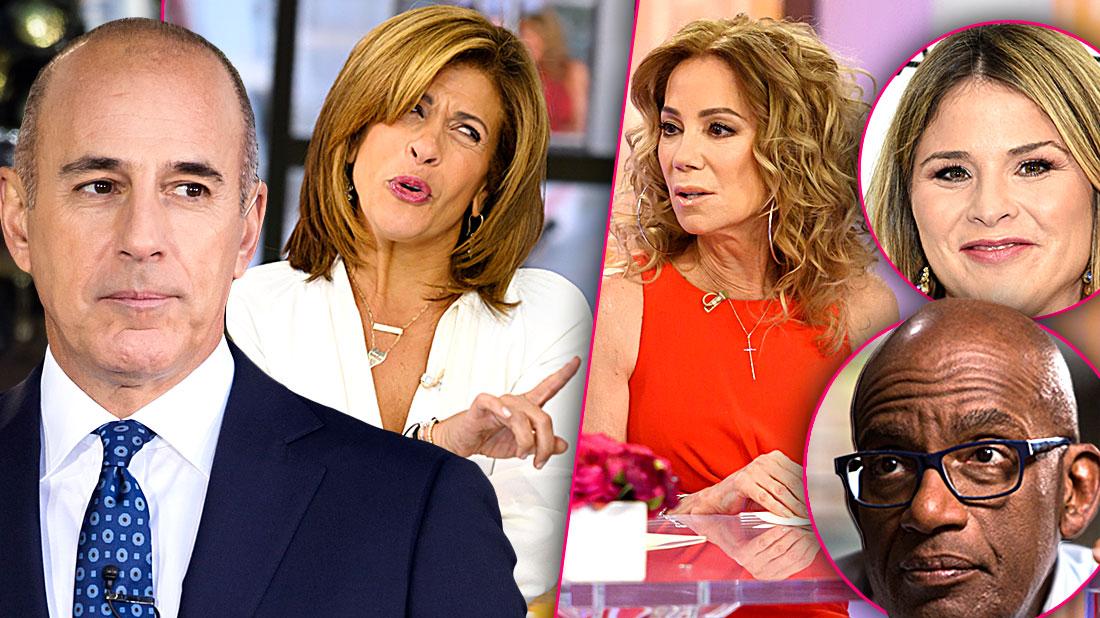 Petty jealousy, political power grabs and notorious sex scandals have rocked Today — causing the morning show's worst behind-the-scenes crisis in history, and RadarOnline.com has all the exclusive details!
Viewers shouldn't be fooled by the co-hosts' megawatt smiles and designer suits, according to insiders who charged backstabbing Today sharks are regularly on the attack.
In this bombshell probe by RadarOnline.com, the shattering secrets of the embattled show are finally exposed — despite corporate bigwigs' desperate efforts to keep them quiet.
Article continues below advertisement
After the departure of Matt Lauer — over multiple sexual harassment claims — Savannah Guthrie has maneuvered herself into the show's de facto top position with the "accuracy of a skilled surgeon," according to our insider, and has emerged as possibly the most powerful person in its history.
Dished the snitch: "You don't get to be the boss of such a cutthroat show unless you're ruthless. She knows how to sit and wait. Savannah smelled blood when the Matt Lauer scandal broke and shaped the show around herself.
Meanwhile, crafty Hoda Kotb has masterminded her bid to grab the spotlight — as RadarOnline.com reported last week sources claimed the co-host is hoping that the news of her newly adopted daughter, Hope Catherine, gets the show more ratings.
While Hoda has emerged as a fan favorite, sniping staffers have labeled her a suck-up who got upset when supposed pal Kathie Lee Gifford exposed her with what she seemed to think was a heartwarming story.
Article continues below advertisement
The source explained: "Hoda is a music fan. She knows Kathie Lee is a terrible songwriter, but after listening to one of her songs, Kathie Lee told how Hoda got so emotional, she burst into tears!
"Hoda hated when she 
told this story, because it showed how manipulative 
she really is."
Meanwhile, the backstage source said Kathie Lee's replacement, former first daughter Jenna Bush Hager, is the latest in a line of people hired as a ratings-boosting stunt — following in the footsteps of on-air disasters Chelsea Clinton and Pippa Middleton.
Crew members had reportedly wanted someone more diverse than Jenna, a member of the "whitest family in America" — but were overruled by Savannah.
The snitch added Jenna had some disastrous early tapings where she had to be fed questions by producers and coached on how to react to answers. However, the honchos see her as key to drawing high-profile guests.
A snitch sniffed: "They love having presidents' kids on staff."
Article continues below advertisement
With all the infighting, bosses are counting on veteran Al Roker to be the voice of reason and hopefully end the chaos. But insiders said he's bitter about the way he was pushed aside to make room for Megyn Kelly's disastrous stint, which ended in her getting fired over her scandalous blackface statement.
But after her fall from grace, Al was insulted over NBC expecting him to fill a slot that had been originally stolen from him by Megyn, said sources.
He has complained to pals how he wouldn't do it for long — without a raise, insiders claimed.
But with the Peacock Network's crown jewel in disarray, sources said it won't be long before the next "Today" shake-up — and warned it'll be a big one!
Said another insider: "America's changing — the audience wants a fresh, diverse, young and dynamic team to kick off the day. No wonder viewing figures are down year-on-year."