Dorit's Worst Nightmare: Kemsley's Husband Sides With Lisa Amid Radar Saga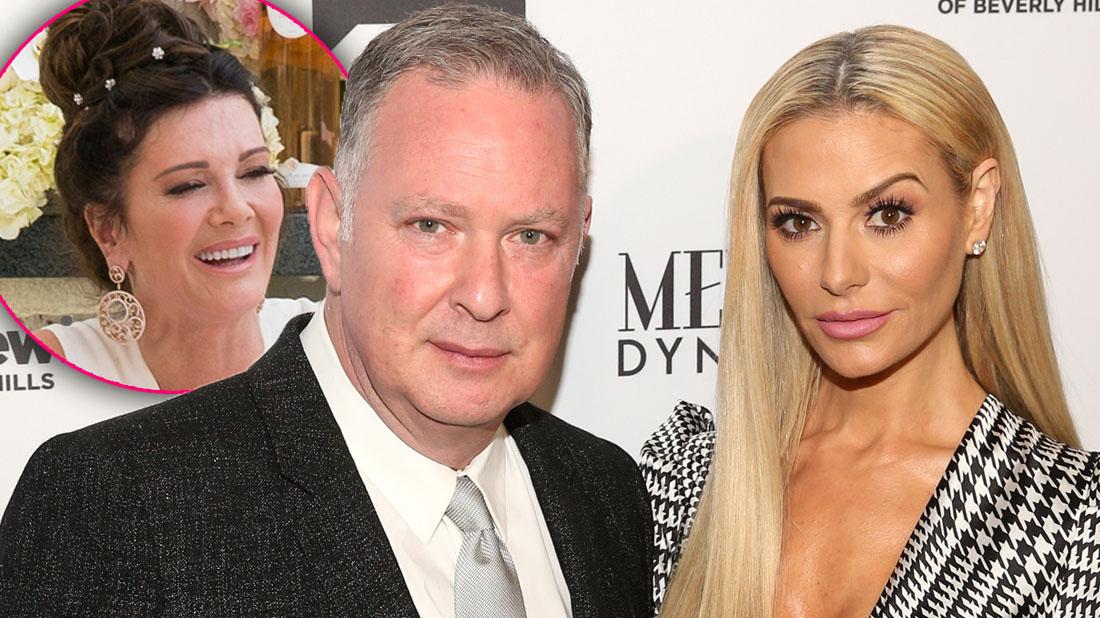 Dorit Kemsley's worst nightmare became a reality on Tuesday night's episode of The Real Housewives of Beverly Hills.
Amid the ongoing RHOBH scandal, now known as #PuppyGate, Dorit's husband PK sided with her frenemy, Lisa Vanderpump. As RadarOnline.com readers know, Dorit and the rest of the Beverly Hills housewives insisted that Lisa leaked the news to RadarOnline.com that Dorit gave away one of her Vanderpump Dogs' puppies to a shelter.
Article continues below advertisement
The showdown occurred when Dorit and PK met with Lisa and her husband, Ken Todd, to hash out the drama – and it ended up with Dorit against three.
PK insisted that if Lisa was swearing on her childrens' lives that she was not RadarOnline.com's snitch than she must be telling the truth.
"I believe that if Lisa Vanderpump is sitting here and saying, 'I swear on my kids' life I did not give that story,' you have to accept that," PK pleaded to Dorit.
"You're asking me to dig deep and not be true to myself," Dorit told her husband. "I've said all along it isn't fair the position you're putting me in."
PK admitted to Lisa and Ken that he believed someone in Lisa's camp leaked the story. Dorit, however, wasn't backing down from her beliefs that Lisa was mastermind behind it all.
"You have to understand it's very difficult for me to believe that you had nothing to do with that," Dorit insisted to the Vanderpumps.
Article continues below advertisement
Still, Dorit insisted she wanted to squash the fight and move past it.
"I can still say that this happened but I still love you enough and care for you enough that I can put this behind us. I want to more than anything!" Dorit pleaded.
Suddenly, Ken made it clear that if Dorit did not trust Lisa, then she was axed.
"If you think she's lying, you can't be friends with her!" Ken said before storming off.
Lisa quickly followed suit – and PK once again backed Lisa and begged Dorit to "come down and accept."
"This is painful," PK added.
Dorit joked that the couples' double dates would still continue without her presence.
"Well it looks like you're having dinner alone with them from now on! It's ok, PK," the scorned wife said.
"I don't think I'm putting you in any position," PK responded. "I love and support you always. I'm advising here."
Article continues below advertisement
The drama continued later at Teddi Mellencamp's house where the Beverly Hills housewives sans Lisa were gearing up for an RV trip. Kyle Richards voiced her opinion on Dorit and PK's sudden rift in their marriage as a result of the fallout.
"It feels like with this Lisa and Ken versus Dorit situation, PK's kind of playing both sides of the fence, which seems a little strange to me," Kyle told the camera.
Amid the dog scandal, Camille Grammer met up with Denise Richards to talk about their respective second marriages. But the cordial meeting took a turn for the worse when Camille slammed all of their co-stars in front of Charlie Sheen's ex.
"It's making me feel like, one, she's going to be talking about me next," Denise said. "It puts me in a very compromising position because I love all of these ladies and I don't want to tell them what she's saying because I don't want to have everything f**king blow up!"
Article continues below advertisement
The dramatic episode ended with Lisa admitting to the camera that she will simply not be friends with anyone who believes she's a liar. She also referred to PK's wife as a "stupid cow."
As RadarOnline.com readers know, Dorit's fallout with the Vanderpumps comes on the heels of the couple severing their 12-year friendship with Kyle.
The drama will continue on The Real Housewives of Beverly Hills on Tuesdays at 9 p.m. on Bravo.