Plane Slides Off Runway Into Jacksonville, Florida River With 143 People On Board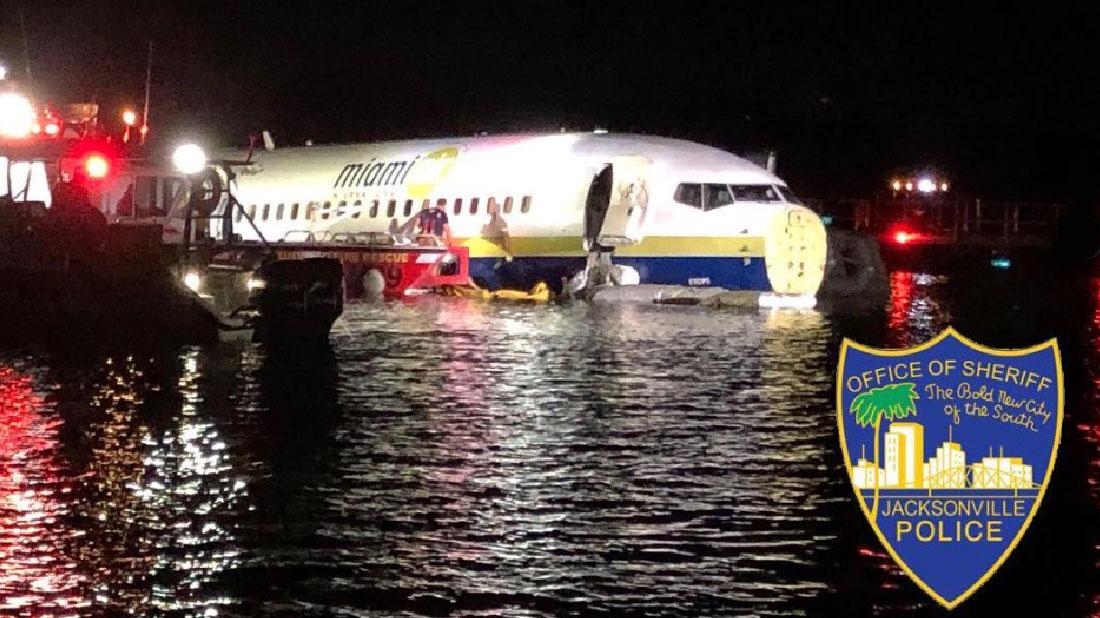 A plane with 143 people on board slid off a runway into a shallow river in Jacksonville, Florida on Friday night, April 3, 2019. According to reports, pilots of the Boeing 737 attempted a landing in the middle of a thunderstorm.
The jet was arriving from the Guantanamo Bay military station in Cuba and skidded 100 feet off the runway at Naval Air Station Jacksonville and wound up in the St. Johns River.
Article continues below advertisement
Luckily, all 136 passengers and seven flight crew members were fine, although 21 adults were transported to local hospitals with minor injuries, officials said. The passengers were comprised of both military personnel and civilians.
Passenger Cheryl Bormann told Don Lemon on CNN about the terrifying ordeal, "As we went down, we had a really hard landing. And then the plane bounced and screeched and bounced some more ... then it came to a complete like crash stop."
Bormann said passengers were confused and then realized, "We were in water. We couldn't tell where we were, whether it was a river or an ocean. There was rain coming down. There was lightning and thunder. And we stood on that wing for a significant period of time. Rescue folks came and eventually someone inflated a life raft that had been on the plane and we began climbing into it. Everybody was helping everybody."
Article continues below advertisement
The incident evoked memories of the Miracle on the Hudson, in which pilot Sully Sullenberger succesfully landed a plane on water—and passengers stood on the wings before their rescue.
The Friday flight was operated by Miami Air International, a charter airline with a fleet of Boeing 737-800s, that is contracted by the military for its twice-weekly "rotator" roundtrip service between the U.S. mainland and Guantanamo Bay, spokesperson for the base Bill Dougherty said.
The commanding officer at Naval Air Station Jacksonville said, "It could have been much worse." What caused the mishap is unknown and The National Transportation Safety Board is investigating. Boeing has come under fire recently after one of the company's planes crashed shortly after takeoff from Ethiopia on March 10, 2019, killing all 157 people on board.
That followed another Boeing aircraft crash In October 2018, when a Lion Air flight went down over the Java Sea and all 189 people aboard died.