Kardashians' Life Coach Accused Of Sexual Misconduct, Berating Assault Victims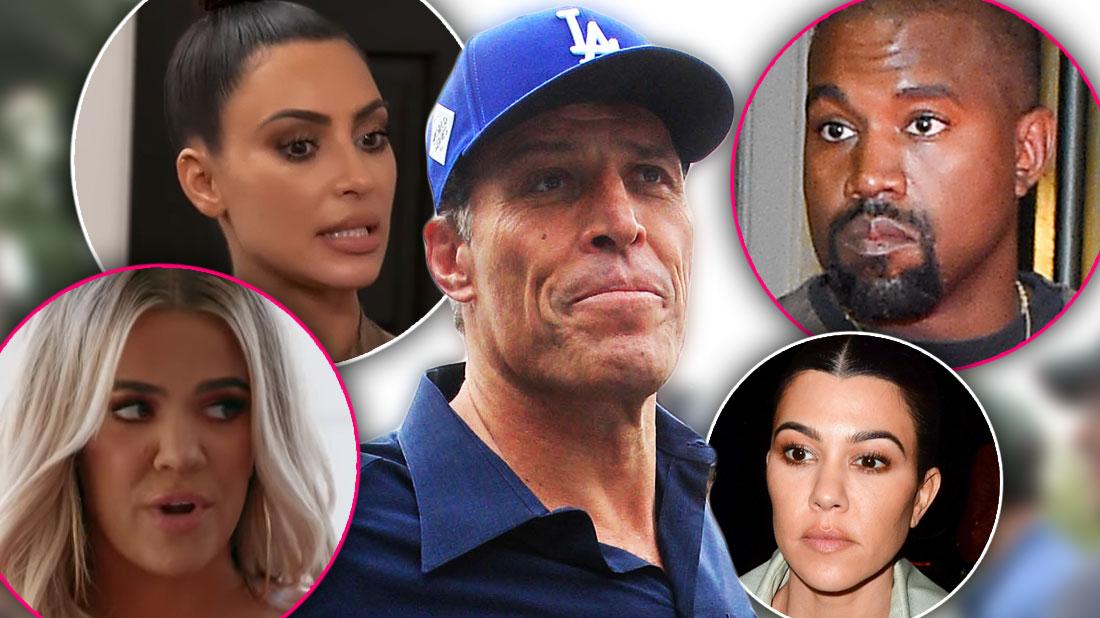 The Kardashian family's life coach, Tony Robbins, has been accused of sexual misconduct, insulting assault victims and other questionable behavior, alleged Buzzfeed News in a shocking new report.
According to the site's in-depth investigation, Robbins "has berated abuse victims and subjected his followers to unorthodox and potentially dangerous techniques. And former female fans and staffers have accused him of inappropriate sexual advances."
Article continues below advertisement
Kim Kardashian and Kanye West attended an "Unleash the Power Within" motivational seminar in LA in March 2017, not long after she was robbed in Paris and he suffered from a breakdown. Khloe, Kourtney and Kendall Jenner joined the couple at the time.
One former female assistant who Robbins employed in the 1990s alleged: "He would call you into the bathroom with him. 'Hey come here, I need you to make a note of something. He just didn't care, he was too powerful."
The 59-year-old wealthy "Awaken the Giant Within" author, who teaches fans empowerment, allegedly also had his bodyguards comb the audiences at his seminars to find attractive females to bring to his attention.
In a secret recording, allegedly obtained by BuzzFeed, Robbins can be heard slamming a woman at a seminar whose husband had emotionally abused her, telling her she was only "focused on her needs."
Article continues below advertisement
"We've not heard one thing in the last 12 minutes about his needs. And we're already characterizing it as emotional violence. There's no f***ing thing," he allegedly told her.
"What role did you play?" Robbins asked the woman. "I'm not suggesting there's any excuse for hitting a woman, so hear me. But I also want you to know that people don't just act a certain f***ing way," Robbins continued, claimed BuzzFeed, before adding, "Has he looked out for you, does he put up with you when you've been a crazy b***h? Have you ever been a crazy b***h? Ever?"
The woman later called the experience with Robbins "a sacred moment" in her life, rejecting the website's characterization of the incident.
And Robbins' attorneys said the talk guru was "never intentionally naked" with staffers and the self-empowerment star "has no recollection" of any such incidents.
Meanwhile, in an open letter to Medium, Robbins insisted Buzzfeed's report was "inaccurate, agenda-driven version of the past, pierced with falsehoods."
"Let me be clear, while my open-classroom therapeutic methods are not for everyone, and while I am on my best day still only an imperfect being, I have never behaved in the reckless, irresponsible, or malicious manner intimated by false, unfounded, and incendiary allegations suggested by Buzzfeed story-tellers," Robbins wrote.