Delusional! Jenelle Begs MTV To Give David Another Chance Before Dog Killing Scandal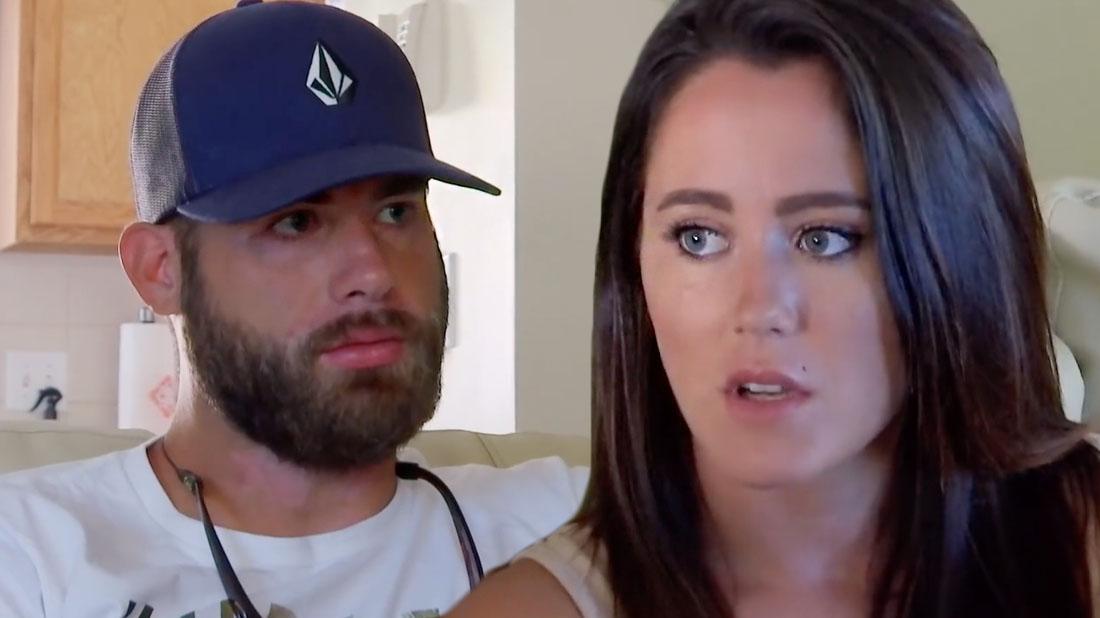 Jenelle Evans was fired from Teen Mom 2 after her husband David Eason fatally shot her dog. On the season finale, Jenelle actually begged producers to give David, who was fired from the series for homophobic comments, another chance to film in North Carolina.
Because David texted producers and threatened to force production to shut down, they are still not filming in North Carolina.
On her way home from Florida, she explained how she is going to have a talk with MTV "about what the future holds."
Article continues below advertisement
As readers know, Jenelle has had marital issues with David because she has to travel out of North Carolina to film.
"I don't know if they would accept his apology if he did apologize, again," she said. She then slammed her husband, "Shut up to David! You can express your feelings, but express them to me, don't text. They see how much trouble it is right now. That's how it's going to continue to be so something needs to change."
When her friend said, "You would hate to have to leave this show because of filming arrangements," Jenelle responded, "We keep arguing about it. Either I'm going to give up or they're going to give up. That's how it's going to end up if we don't figure it out."
A disclaimer then read, "David apologies for the texts he sent threatening to shut down production. Following this, Jenelle communicated her concerns about traveling to the producers. They agreed to discuss."
Article continues below advertisement
While on a conference call, Jenelle explained how her husband does not want her to travel out of town to film without him.
"I have David that doesn't want me to go on trips, then I have you guys that want me to go on trips," she said on the call. "I have everyone pulling my limbs. I'm really at my breaking point."
Jenelle's producer then said, "I think that our hands are really tied. Jenelle that text message put this over the edge. A threat in writing is really difficult to walk back from."
Producer Larry added, "Even though David sent an apology, and I very much appreciated the words, when somebody says, 'I'm going to show up, that's not a threat, that's a promise and I'm going to get in front of the cameras,' it's hard to walk that back. Its not as simple as that."
Jenelle then said that she is not going to leave her husband for the show.
"No one wants you to choose between David and the show, but I'm hearing you say it's about you're not wiling to get on a plane and travel without him," producer Morgan said. "I have a lot of compassion when I hear the frustrations surrounding this. It makes it hard for you to share your story and hard for us to tell the story."
Article continues below advertisement
Jenelle fired back, "You guys are the ones refusing to film not me!"
When Morgan said, "If MTV comes back and says were not going to be able to film with Jenelle for Teen Mom 2…" She responded, "I don't know what to tell you guys. I need to stay home because it's important to my marriage and that's what's important for me, my marriage and my family."
Also on the episode, Leah Messer had a scary moment when her daughter Addie's throat swelled up. Although urgent care provided her with antibiotics, baby daddy Jeremy Calvert insisted they take her to the hospital.
When they did, the doctors ran tests to check her white blood cell count.
"There is no sign other than swollen lymph nodes and the doctor is worried," Leah said.
When the hospital discharged Addie, Leah called her sister to discuss the health crisis.
"We don't have a great family history with things like that," Leah said, as her sister asked, "You talking about the c-word?"
Leah responded, "Yeah lymphoma is a form of cancer."
Article continues below advertisement
Leah then revealed that she slept over her ex-husband Jeremy's house so they could be closer to the hospital. But she insisted that nothing happened between them.
Earlier this season, Chelsea Houska's home got broken into while they were on a family vacation. The robbery contributed to Chelsea's panic attack.
While her husband Cole DeBoer and daughter Aubree went to the father-daughter dance, Chelsea's dad Randy stayed with her because she was scared to be alone.
"I don't like being here alone, especially at night," Chelsea explained. "I hate it. I get flashes in my brain of worst case scenario. I'll have a plan in my head of what I would do if I saw someone coming. I do not want to feel like that in my own home. I want to look into anxiety medication."
Chelsea talked to her family doctor about going on anti-anxiety medication.
"I told her I need medication," she said. "There is nothing you can take when you're nursing. I've been on anti-depressants before, and they make me gain weight. I don't want to go on those. I don't know what to do."
Article continues below advertisement
As for Briana DeJesus, her daughter Nova slept over her dad Devoin's house for the first time.
Although Devoin has stepped up with his parenting, the same can't be said for her youngest daughter Stella's dad Luis, as he missed a family photo shoot.
"I'm not trying with Luis, I'm done," Briana said. "I'm going to go see a lawyer and see what my rights are. I'd rather him just be gone."
And finally, Kailyn Lowry opened up about building a home.
"That will be my house, nobody else," she said. "There is nothing but horrible memories in this house."
Part one of the Teen Mom 2 reunion airs Mondays at 9/8c on MTV.