Jenelle Defends 'Perfect' Husband David, Compares Him To Accused Sexual Abuser R. Kelly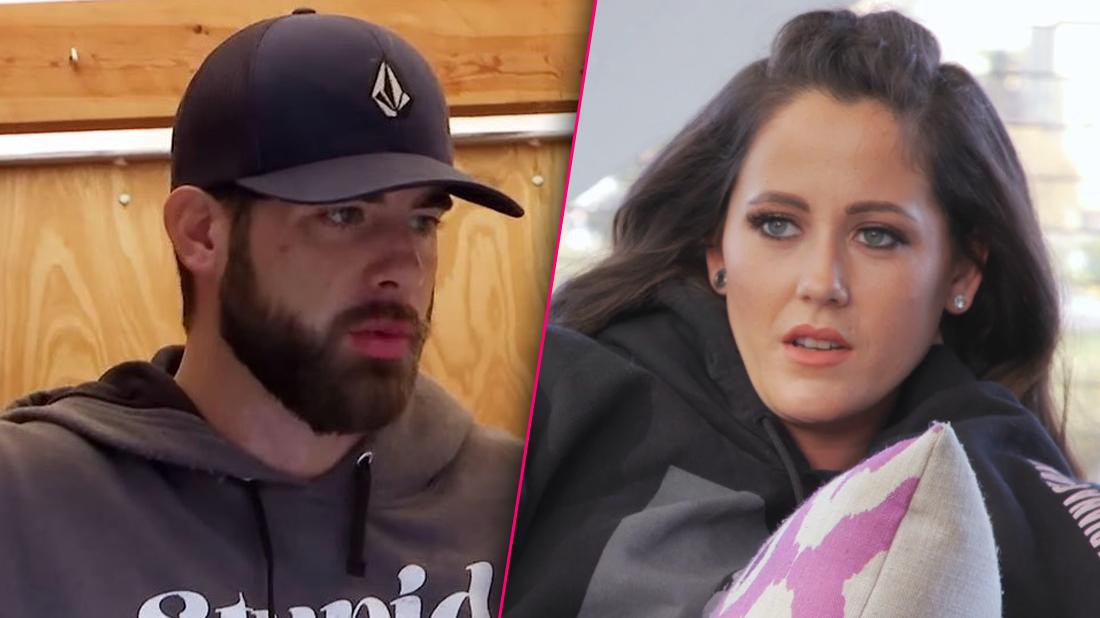 Jenelle Evans' husband David Eason admitted to shooting the family dog Nugget after the pooch nipped at their daughter Ensley. Months before the shocking incident, the Teen Mom 2 star defended her husband after production refused to film because of his ongoing threats to show up to shoots.
Because the crew refused to film in North Carolina after David's threats to shut filming down, Jenelle traveled to Florida with a friend to film with co-star Briana DeJesus.
Article continues below advertisement
On the episode, she vented to her friend about how her mom has been bad-mouthing David, especially after she accused him of domestic abuse in a chilling 911 call. She later claimed it was a drunken misunderstanding.
She then compared her husband to disgraced singer R. Kelly, who has been charged with 10 counts of sexual abuse.
"David can't talk about anything," she explained to a friend about his firing from the show. "He doesn't have the chance, he's not allowed to be filmed. It's kind of like if someone is going to go make a documentary about you and you have no say about it, like the R. Kelly thing. They went and interviewed all these different people, but they didn't interview R. Kelly to see what he had to think of it. Everyone here is just filming about David and David doesn't get to say nothing."
When she met up with Briana, she explained how they have "ups and downs" about her constant traveling.
"He gets mad and he'll text, 'This is BS,'" she explained on his behalf. "'My wife has to go out of town. This is f**ked up.' Larry was like, 'Because of what David texted we won't come down.' I was like, 'Larry he won't do anything I promise!' He was like, 'Nope we're not comfortable."
Briana then said how it's not fair that she has to go out of her way to film.
Article continues below advertisement
"It's eliminating for my storyline," Jenelle said. "He doesn't want me going out of town all the time to have to film. That's what we argue about. That's all me and David fight about. He doesn't cheat on me. He doesn't do anything wrong as a husband. He's perfect. It's just we argue about filming. He can't be involved and it hurts his feelings."
Briana explained how the issue will ruin their marriage, as she has to choose between him and filming.
As for Chelsea Houska, she explained how even though her house was broken into a month ago, she is still having anxiety about it. The stress caused her to have a panic attack.
"A couple of days ago when the cameras weren't here, I was out with my friend and suddenly felt like I couldn't breathe," she explained. "We went to the hospital and the doctors think it was a panic attack."
As a precaution, the doctors sent her home with a heart monitor to make sure it wasn't caused by something more serious.
Article continues below advertisement
Chelsea explained about the incident, "I was out with Chelsea Grace and all of a sudden I started feeling weird. It was so bad and so scary. My heart rate was 150 just sitting there. I couldn't speak. I thought I was having a stroke."
Her friend Chelsea Grace then told her account of what happened, "She was like, 'I don't feel right.' Her mouth was quivering. We went in the bathroom and she grabbed the handicap bar and kneeled down. We went to the emergency room. I thought it was real bad."
She then explained how they discussed the robbery 15 minutes before the attack.
"When she leaves her family it triggers it," she said. "They're not safe because someone broke into my house."
Also on the episode, Leah Messer's daughter Addie is having difficulty adjusting to her split from boyfriend Jason Jordan, as it made her question why her mother divorced her dad Jeremy Calvert.
"Addie pops off the question, 'Why did you leave my mom?'" Jeremy explained. "I was like, 'Mommy and daddy loved each other at one point and we fell out of love. You know when people break up in school? That's what happened. She started crying. She said I abandoned her and her sisters. I started crying. She said, 'Sissy told me you left mommy and them and me for your new girlfriend.'"
Article continues below advertisement
When Jeremy gave Leah a check, Addie thought it was a love note.
Leah then explained how Addie told her, "You really broke my daddy's heart! He loved you!"
"I think she's getting to an age where she understands more and she wants both of us," Leah explained to her sister.
And finally, Kailyn Lowry revealed she bought a plot of land to build a house on.
"Hopefully it'll be done by the next school year," she said. "That will be my forever home."
Teen Mom 2 airs Mondays at 9/8c on MTV.