False Alarm! Kim Kardashian Krushes Reports Her Surrogate Gave Birth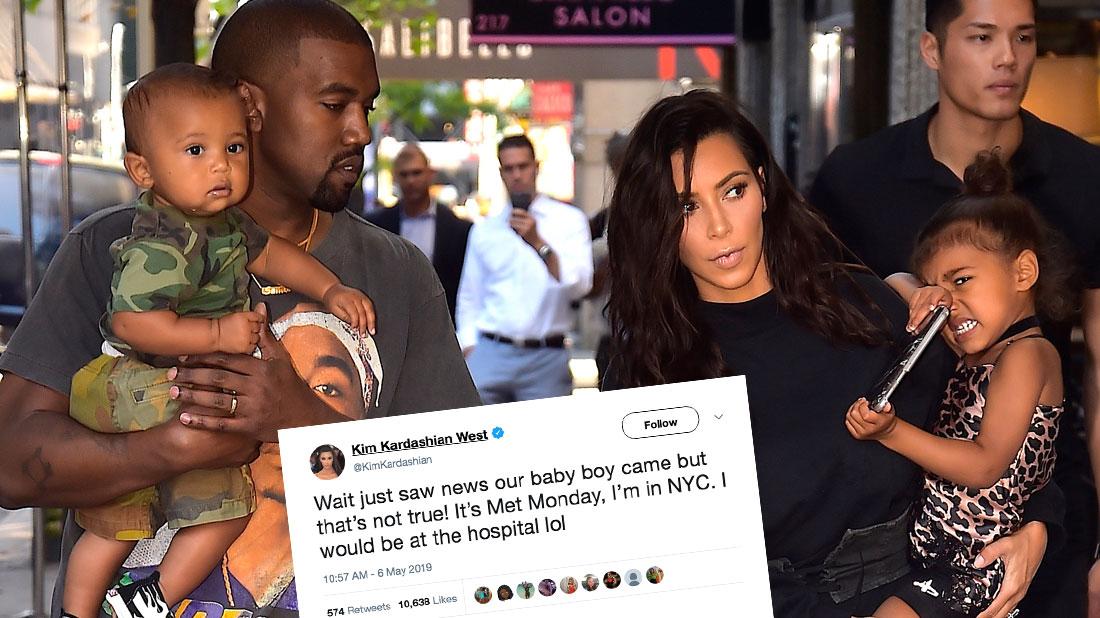 Not so fast, baby watchers! Kim Kardashian officially shot down rumors her surrogate has delivered her baby.
Earlier on Monday, May 6, reports spread that Kim and hubby Kanye West's surrogate had given birth to a baby boy. But Kim, who is in New York getting ready for the Met Gala, tweeted that's not the case.
"Wait just saw news our baby boy came but that's not true! It's Met Monday, I'm in NYC. I would be at the hospital lol," she tweeted.
Article continues below advertisement
The confusion began earlier in the day, when Kim shared a text from Kanye that teased baby number four.
"This is your life. Married with four kids. Get people out of jail. Cover of Vogue. Go to church every week with your family. Dreams come true," Kanye texted.
E! News was first to report on the false birth.
Of course, the fake news comes on the same day of an actual celebrity birth, as Meghan Markle and Prince Harry welcomed their baby boy to the world.
"We are pleased to announce that Their Royal Highnesses The Duke and Duchess of Sussex welcomed their firstborn child in the early morning on May 6th, 2019," wrote Meghan, 37, and Prince Harry on their Instagram this morning. "The Duchess and baby are both healthy and well, and the couple thank members of the public for their shared excitement and support during this very special time in their lives. More details will be shared in the forthcoming days."