Broken Family: Stephanie Pratt Admits She's 'Not On Speaking Terms' With Spencer & Heidi Montag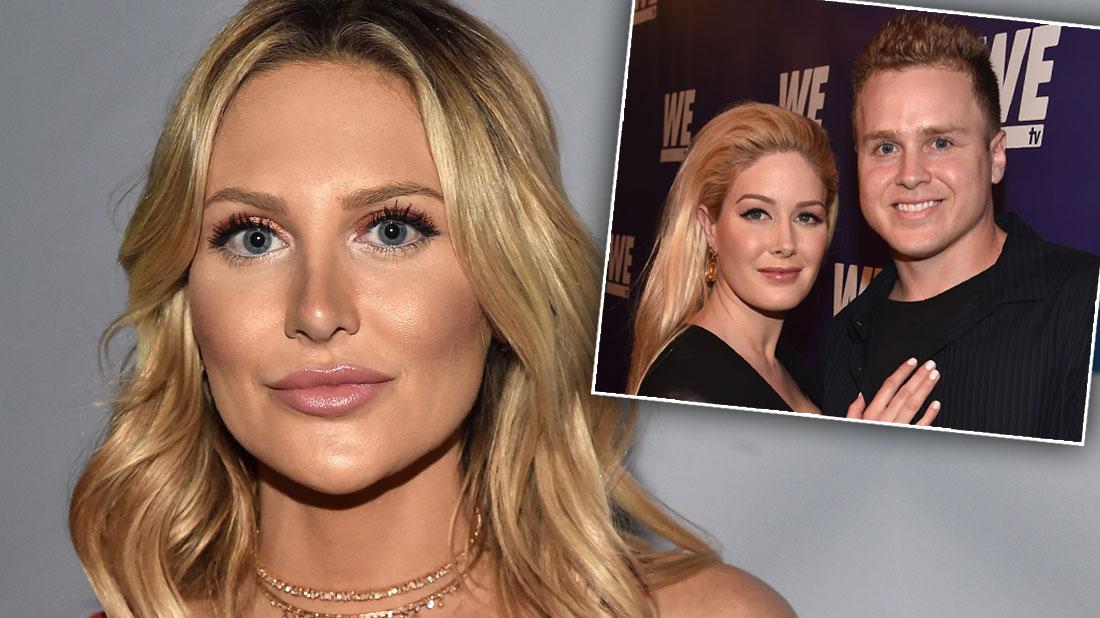 Article continues below advertisement
We had our photo shoots for press and for the opening titles. We had three days of it that went to like 3:00 a.m. — they were long shoots. And Heidi had a bottle of champagne that she gave all the girls except for me," Stephanie said, adding: "I'm not an alcoholic."
Stephanie also admitted that she didn't confront Heidi at the moment "because of my parents. That is the last time I'm putting my parents as the priority in front of this relationship."
Stephanie then went on to blast Heidi and Spencer, 35, for their reckless ways.
"Ever since my brother and Heidi started dating, they were on The Hills … they went AWOL and they were fired from the show and they moved to Costa Rica and they got arrested for illegal weapons," she said.
RadarOnline.com readers know Spencer was, in fact, arrested in Costa Rica for felony possession of a firearm in 2010. It's unclear what happened with the case.
Article continues below advertisement
Stephanie said when Spencer and his wife got in trouble, "they called my father after three years of not speaking to any of us" and the worried parent "got them a private jet, flew them into Santa Barbara, moved them to our beach house." They lived there for seven years.
"Not only did they live there, but Heidi had the gall to redo my mom's walk-in closet," said Stephanie.
The actress said that she never confronted Heidi or Spencer because she was working for her parents and trying to "keep the peace," but after a decade of laying low with the drama, she's done hiding her family's issues.
"No one knows the real Heidi," said Stephanie. "I have literally protected her for 10 years."
She said that before shooting the series reboot, the family decided to not let their relationship with Heidi get in the way, but of course, their pact was quickly forgotten.
"Before The Hills: New Beginnings, my mom, my brother and I all sat down and we said we will not let this ruin our family again," said Stephanie, who added, "I'm done. I don't care. I'm not protecting them anymore."
Article continues below advertisement
Though she said she loves her brother and wishes she could be close to him, it's proven to be impossible thanks to his wife.
"I'm also not going to pretend that Spencer and Heidi are good people like I was doing for most of the series for my parents. … For the s*** they have done to me recently, I'm done. This is why I moved to London. I'm done. I cannot live near them. They are the most toxic people I've ever met. They are Bonnie and Clyde till they die so if they say this sky is black, all of us are morons for saying it's blue," Stephanie said.
"I'm done. I'm done. I'm confident and secure enough in myself to not pussyfoot around them. I'm done. I'm going to expose them for who they are," she continued.
Stephanie said that "Heidi doesn't want Spencer to have a relationship with anyone but her. And you know what? That's fine. I don't want a relationship with Spencer anymore."
While she regrets having to miss out on 18-month-old nephew Gunner's life due to her estrangement from his parents, she said the anguish "is not worth it."
"This is me actually exiting my family. I've tried to be nice to her for 10 years because I love my brother," she said of Heidi. "It never changes. They flip the switch on me and I have no idea. … None of it makes sense."