Royal Pilot Becomes Latest Palace Staffer To Quit Over Meghan Markle's Diva Antics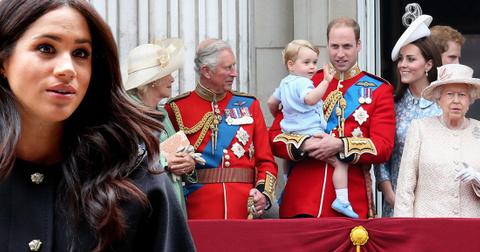 Apr. 15 2019, Updated 4:51 p.m. ET
The royal family is being forced to recruit a new helicopter pilot after their veteran chopper captain quit over Meghan Markle's diva antics!
A palace insider exclusively told RadarOnline.com the staffer got tired of making constant food trips to satisfy Meghan's pregnancy cravings.
The source said love-struck Prince Harry was constantly ordering him to go fetch "weird" snacks for the Duchess of Sussex, until he finally objected to being used like "an on-call 24/7 flying delivery service."
Article continues below advertisement
The royals are now advertising for a new chopper pilot who will earn up to $105,000. Their new recruit will take control of the royals' private $13million Sikorsky S76 C++ craft.
Responsibilities include: planning and executing flights in accordance with TQHF Operations Manual, managing royal tasks and other administrative duties, and supporting the Director of Flight Operations.
A recent advert for the role released by the Royal Household says the full-time airman or woman will be based at a Royal Air Force base in the town of Odiham, Hampshire, on the south coast of England.
"Your initiative and problem solving skills mean that you can think ahead and act proactively. Flexibility is essential as you'll be required to undertake travel across the UK and overnight as necessary," states the job description.
"This is yet more proof professional people just cannot work with Meghan," said the royal insider. "Her demands are constant and outrageous. The pilot was treated like a humble take-away delivery driver instead of a highly-trained elite pilot."
Article continues below advertisement
Radar readers know the royal pilot is just the latest staffer to leave his post since Meghan's entrance into the family.
In November, Melissa Touabti, 40, a personal assistant to Meghan, quit after only six months on the job. The next month, Samantha Cohen, 50, private secretary to the Duke and Duchess also resigned from her position.
Amy Pickerill, 33, another close aide to Meghan, 37, is expected to leave her employment shortly. She has agreed to stay with the couple until the former Suits actress gives birth later this month but will depart soon after.
An unnamed female security guard also left her position just six months after joining the royal couple.
Last month, Radar reported Meghan's staff losses are plunging the royal household into a security crisis. There are even fears terrorists and stalkers will slip through the net of Buckingham Palace's security checks as the family rushes to recruit replacements for their key staff members.