Kody's Betrayal! Brown To Build One Home For All Four Wives Against Their Wishes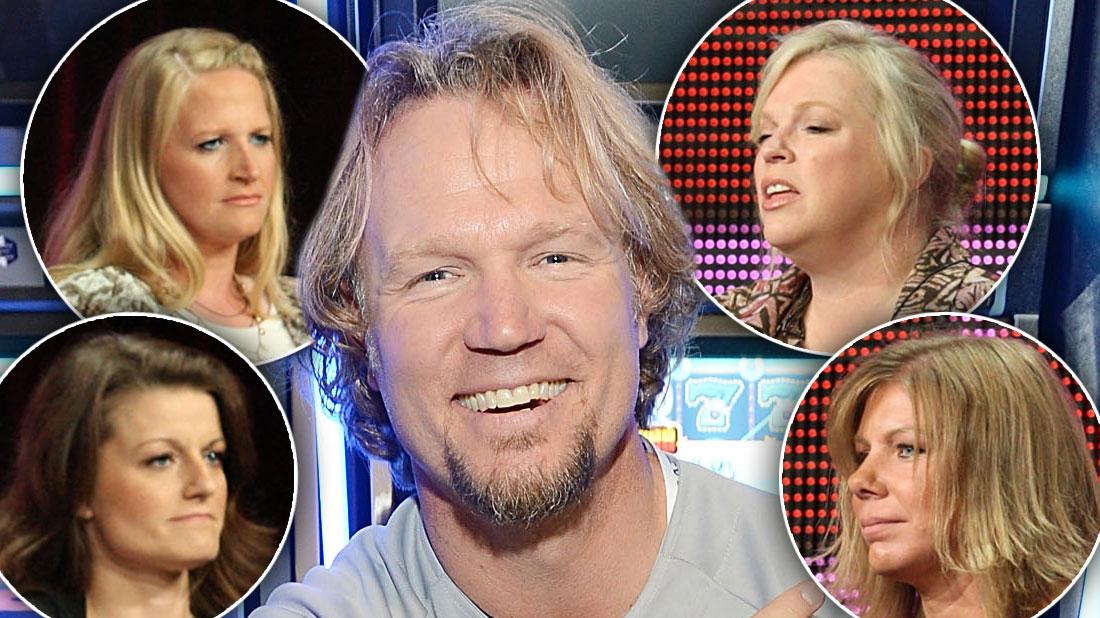 Kody Brown has a family secret that could destroy his marriages! On this week's Sister Wives, Kody worked on building one house for his entire family. Although Meri, Janelle, Christine and Robyn were against the idea, he ignored their opinions on the mega mansion.
On the episode, the family shared their fears of the move from Nevada to Arizona, as living in rentals so far apart could "lose the family culture."
Article continues below advertisement
"We're farther than we've ever been," Kody said, as Robyn added, "I fell in love with the family culture before I fell in love with Kody."
But Kody had a secret plan to keep the family culture intact – one mansion for all four wives!
"This would be my wives' home," he explained to the architect. "I have four wives. My wives don't want to share a kitchen with each other. That creates a problem. What I want is to get us in a place where we're under one roof and we're functioning as one family."
He admitted, "This is one thing that will get a man killed in his sleep. They would be tempted to leave."
But that didn't stop Kody from plotting, as he explained that he wants each wife to have her own section with an extra universal kitchen, living room and dining room.
He then explained how he doesn't want the bedrooms near each other. He also wants soundproof walls.
"When a wife is in a room with you she wants to feel like she's the only woman in the world," Kody explained.
Article continues below advertisement
In the family's 2012 book Becoming Sister Wives: The Story of An Unconventional Marriage, Meri and Janelle discussed living under one roof with Kody.
Janelle explained in the memoir, "Our main problem was that we all lived under one roof, which never allowed me sufficient alone time with Kody. Kody didn't know how to behave as my husband in Meri's house. When we watched a movie together at night, Kody and Meri would sit together on the couch while I felt left out in the cold. So I learned to separate myself. I began to physically distance myself as much as I could in our very small three-bedroom mobile home. I didn't spend much time in the common areas, instead setting up my bedroom as the living space."
Meri added, "Having us all in the same house brought Janelle face-to-face on a daily basis with the romantic relationship Kody and I had. We were too naive to hide our affection for each other from Janelle, and I'm afraid to say she was confronted by it regularly, which I'm sure was both painful and awkward. At times, Kody and I would hold hands or hug each other in front of Janelle, leaving her in what was probably a very uncomfortable situation."
Article continues below advertisement
Janelle explained how when Kody would leave town for work, she would be "stuck at home" with Meri and their disagreements.
"We rarely spoke to each other, but we tolerated each other," she said. "We were like roommates who didn't get along but managed to live together all the same. This was not the celestial plural marriage I'd imagined. It was uncomfortable and disheartening."
Christine explained how living together wouldn't work, as they all have different living styles.
"While all four of our households have more or less the same rules, the enforcement can be quite different," Christine said. "For example, none of us permit jumping on the couches, but Meri's couches will last her entire lifetime while Janelle's were broken after a month. Mine get really, really dirty really fast, while Robyn's will remain pristine for a long time. In the same vein there's no eating in the living room--in any of our houses. Meri's living room is spotless, without a crumb to be found. Janelle has food spots on her carpet and couches, and I find wrappers shoved in between the cushions."