Priscilla Presley Plans Her Own Funeral At Graceland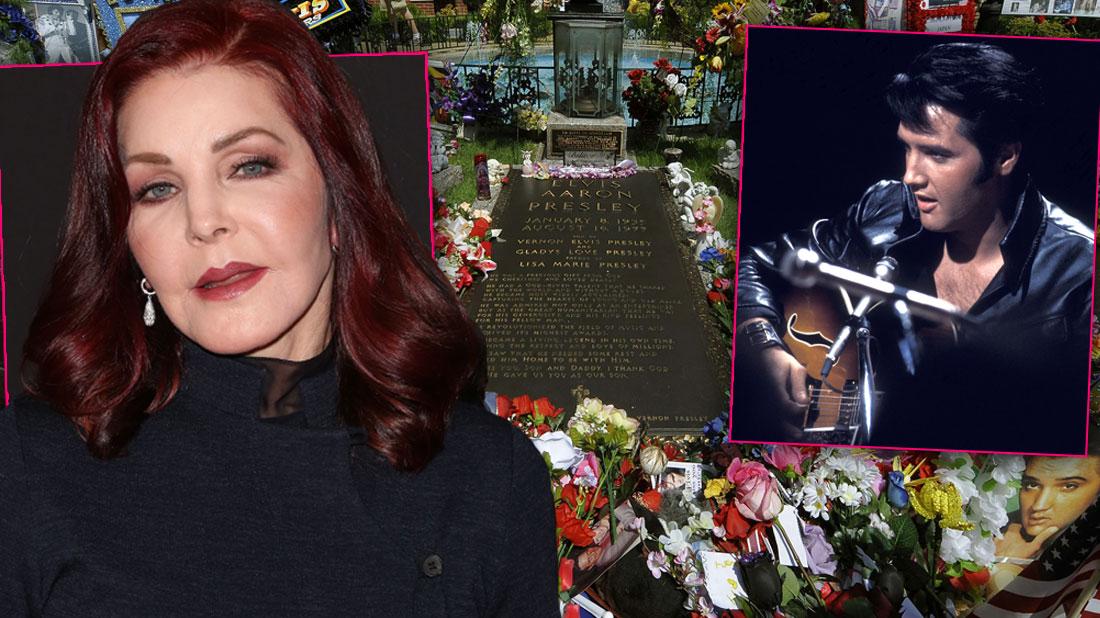 Priscilla Presley's final wish is to spend eternity next to her ex, Elvis Presley.
The 73-year-old grandmother is planning her own funeral and has secretly reached out to Graceland's trustees about being buried there, according to insiders.
"Priscilla still thinks of herself as Elvis' widow and her rightful resting place is next to him," a source told RadarOnline.com.
"She wants an elaborate funeral ceremony at Graceland," continued the source. "She wants to be surrounded by photos of her and Elvis in happier times and for his music to play as they lay her to rest."
Article continues below advertisement
The "Love Me Tender" singer is interred in the Meditation Garden behind his mansion's pool in Memphis, Tenn.
Also buried there are Elvis' mother, Gladys, his father, Vernon, and his grandmother Minnie Mae. There is also a gravestone for his stillborn twin brother, Jesse Garon, who was buried in Tupelo, Miss. The Meditation Garden is a feature attraction for tourists visiting the estate.
"Priscilla feels that she played a defining role in Elvis' life and that he was her only true love," the insider said, adding, "Even though they divorced four years before his death in 1977, she believes they shared a loving bond until the day he died — and beyond the grave."
As RadarOnline.com has reported, Presley has good reason to begin planning her funeral — she underwent surgery last summer to remove potentially deadly skin cancer from her face.
"Priscilla has become a great deal more focused on her mortality since the surgery," the source said. "She wants to get her affairs in order and reestablish the family bonds she feels defined her. And that means showing the world that she and Elvis will carry an unbreakable bond for all eternity."
MORE ON:
Priscilla Presley
Article continues below advertisement
According to insiders, Presley has told pals she "regrets" their divorce and feels if she'd stayed with Elvis, he never would have succumbed to the addictions that killed him.
"Priscilla beats herself up about it," a source said. "She's now saying that because she wasn't there for Elvis at the end of his life, she wants to be by his side in the afterlife."
One obstacle may be the couple's daughter, Lisa Marie, 51, who is a trustee of Elvis Presley Enterprises, which manages Graceland.
"They haven't been getting along because of Lisa's drug and divorce issues," said the source. "But Priscilla believes talking about this will bring them all together — in life and in death."