RFK Assassination Bombshell: Sirhan Is Innocent!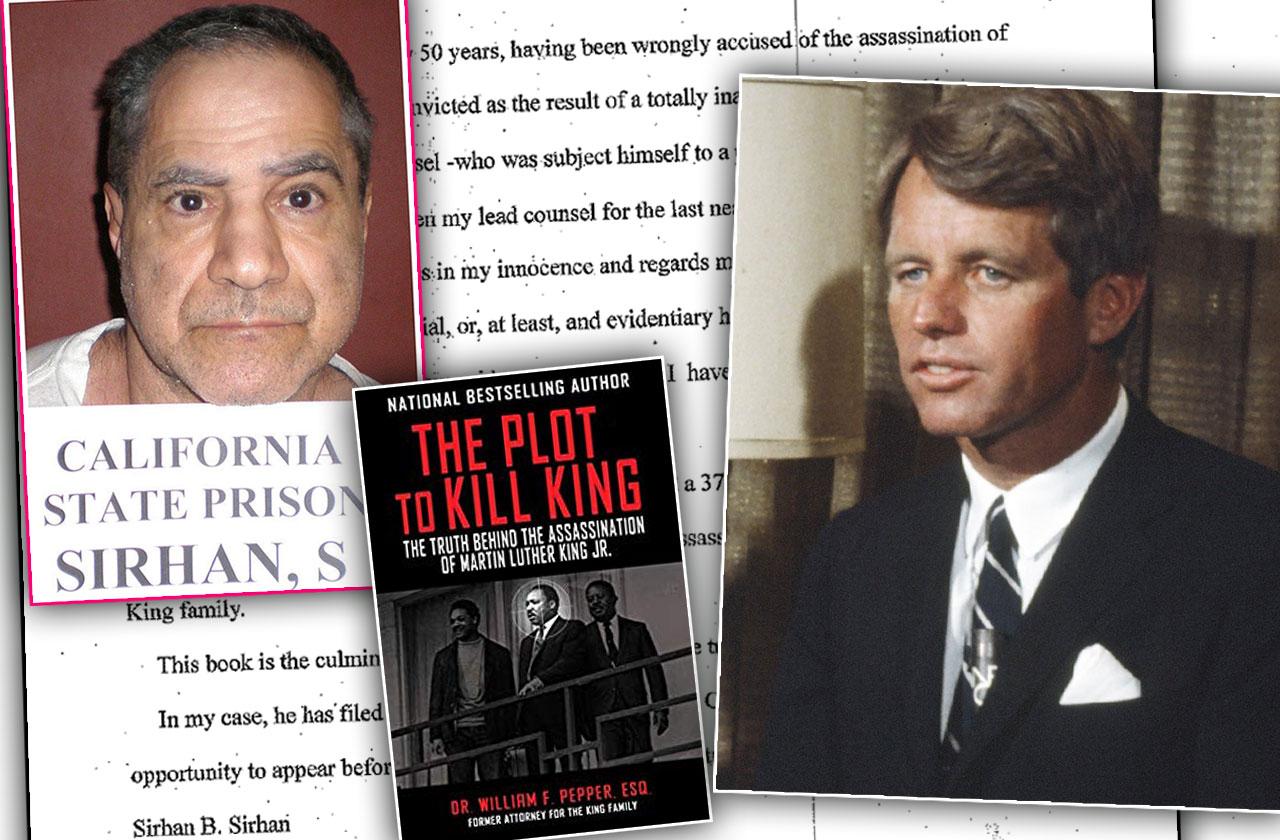 Robert F. Kennedy's imprisoned assassin is innocent!
That's the shocking conclusion of Paul H. Schrade — who stood directly behind RFK when shots rang out inside L.A.'s Ambassador Hotel on June 5, 1968 — and was hit with bullets fired by Sirhan B. Sirhan.
Sirhan has continued to insist he was framed for the White House hopeful's murder — and now his story is supported by one of Kennedy's closest allies.
Article continues below advertisement
Schrade, a United Auto Workers union officer and RFK's labor liaison, was inches from Kennedy and told RadarOnline.com he's convinced the framed gunman was a patsy.
Kennedy was struck three times — once behind his ear, a second time in the back and again with a bullet that exited his chest and hit the ceiling. But ballistics testing also proved none of the bullets from Sirhan's gun matched those that struck the fallen New York senator.
But a shot from Sirhan's gun did reach a mark, striking Schrade in the forehead.
"It's clear based upon the prosecution's own evidence that Bobby Kennedy was shot three times by a second gunman," Schrade, 94, told RadarOnline.com. "Sirhan was never in a position to shoot him in the back and they knew that!"
"Prosecutors actually rigged this case against Sirhan and they neglected to investigate the possibility of a second gunmen, even though they knew Sirhan didn't shoot Bobby Kennedy," added the former labor liaison.
Article continues below advertisement
In a letter obtained by RadarOnline.com, Sirhan has broken his silence to declare he's a political prisoner.
"I have been a prisoner for nearly 50 years, having been wrongly accused of the assassination of Senator Robert Kennedy," he wrote.
Sirhan's lawyer, Dr. William F. Pepper, author of The Plot to Kill King: The Truth Behind the Assassination of Martin Luther King Jr., agrees.
"I found from just a preliminary examination of the record that the Sirhan Sirhan case on the law, on the facts of the case, was an easier one than the assassination of Martin King and the innocence of James Earl Ray," said Pepper, who was also former attorney for the King family. "There had to be a second shooter there."
"The problem we face is if we get our client clearly innocent of the killing of Bob Kennedy — which he is clearly innocent of that killing — he has five other counts of attempted murder," added Pepper.
Now Schrade is determined to prove Sirhan's innocence once and for all — and force the government into launching a new investigation to find RFK's real killer.
He's one of 60 prominent investigators, authors and celebrities who recently established the American Truth and Reconciliation Committee.
Article continues below advertisement
The committee reportedly has called for the FBI and CIA to release secret files about the assassinations of RFK, his brother President John F. Kennedy and civil rights leaders Martin Luther King Jr. and Malcolm X — and name a blue-ribbon panel to properly investigate the murders.
As for RFK's assassination, "There had to be two guns," Schrade said. "There's plenty of factual and legitimate documented evidence to make this case."
We pay for juicy info! Do you have a story for RadarOnline.com? Email us at tips@radaronline.com, or call us at (866) ON-RADAR (667-2327) any time, day or night.