'Who Is He?' Andy Cohen Confronts Married Teresa Giudice About Hunky New Boy Toy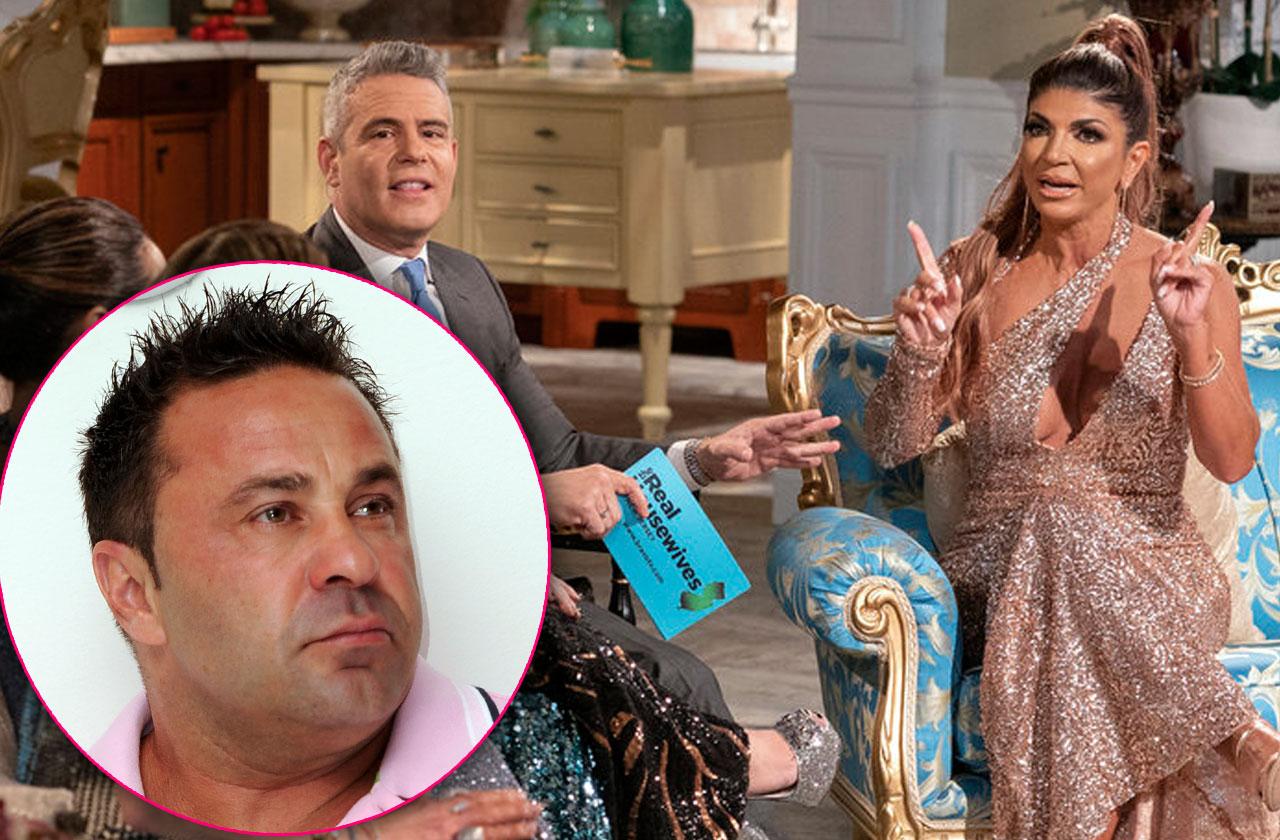 In part two of the Real Housewives of New Jersey reunion, things picked up right where they were left off, but the drama grew when Teresa Giudice dropped a bombshell about her jailbird hubby Joe Giudice — and her new mystery man!
Teresa went all in on Jackie Goldschneider after she attacked her book, saying she'd hired a ghost writer instead of writing it herself.
"You're going to throw something at me Teresa, really?" Jackie said after Teresa attempted to throw a stack of papers that host Andy Cohen was holding. "Aren't you on parole?"
Article continues below advertisement
"You white trash b**ch," Teresa shot back.
"I'm white trash?" Jackie mocked.
"Yeah. My husband is living it right now. And you've been stalking me from day one." Teresa said.
"You're obsessed with me," Jackie replied. "All you do is come after me."
"At the end of the day, I'm a best-selling author and you're a blogger," said Teresa.
Andy interrupted them, deciding to change the subject. The host then confronted Teresa about pictures he'd seen of her cuddling up to a new man in Florida.
"Switching gears. There were articles around New Year's that you were seen canoodling with a guy in Miami, touching his leg and stuff like that," he said.
Still-married Teresa, however, denied everything.
"I took lots of pictures with lots of fan," she said. "I was hugging a lot of people."
"Do you remember anybody touching your leg?" Andy pressed.
"I mean a lot of people were touching me?" Teresa replied.
Article continues below advertisement
Refusing to back down, Andy asked Teresa why she didn't have her wedding ring on while on the trip with her much-younger hunk.
"I mean yeah. But who cares if I wear my ring or I don't? Joe never wore rings," she said.
The room went silent and Andy decided to let it go — but not before asking her the biggest question of the night about her husband, Joe.
"We touched on it before," Andy began. "He is being ordered to be deported because he is not technically a U.S. Citizen. That means if it happens, he will go directly from the facility that he is now to an airplane."
Article continues below advertisement
"Yeah I don't know exactly the technicalities of it. But I hope I don't have to cross that bridge." Teresa admitted.
"I hope you don't too. You're appealing that. Have the lawyers given you any sense of what his real chances are for appeal?" asked Andy.
"No," Teresa responded. "I mean, you know they are trying to do their best."
"This man is the one and only love of your life. But if he is deported and goes to Italy, will you go there with him?" Andy asked.
"I hope that's not a decision I'm going to have to make. But to pick up my children and just move to another country, I don't think that would be good for my children. So no, I probably wouldn't," revealed Teresa, to a very shocked crowd.
"So what you're saying is you will go your separate ways, if this ruling doesn't go your way?" continued Andy.
Tune in next week to find out the answer. Plus, Andy Cohen digs deeper into Teresa Giudice's love life. Has she really been faithful to Joe Giudice? It's all coming up on part three of the RHONJ reunion.
We pay for juicy info! Do you have a story for RadarOnline.com? Email us at tips@radaronline.com, or call us at (866) ON-RADAR (667-2327) any time, day or night.