Jamie Lee Curtis & Billy Eichner Slam Kevin Hart Over Homophobic Tweets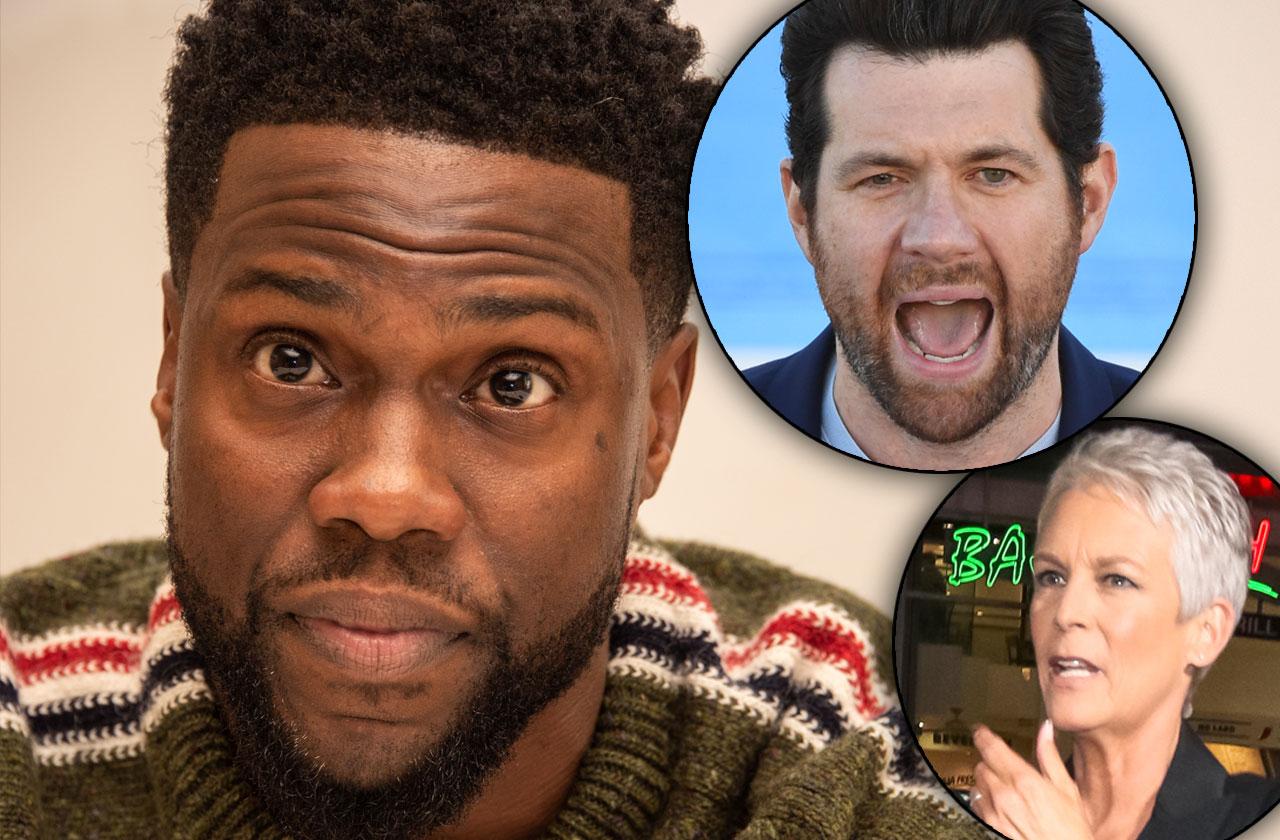 Hollywood is not letting Kevin Hart off the hook after his string of past homophobic tweets resurfaced. This Thursday night, actress Jamie Lee Curtis and actor Billy Eichner took to Twitter to bash the comedian for his insensitive words.
Just moments after Hart, 39, shared an Instagram video statement regarding his tweets and claiming that all he tries to do is "spread positivity," Curtis, 60, fired back.
Article continues below advertisement
"Homophobia is not positivity," she wrote.
Then, openly-gay actor Eichner, 40, followed. "Wow. Just...wow. Does he realize he signed up to host the OSCARS? You wanna tweet 'jokes' about gay bashing your own son I guess that's your choice but at the very least, KNOW YOUR AUDIENCE!!!" he tweeted.
"On a serious note, I've been around in this business for a minute. As one of very few openly gay men in comedy who's fortunate enough to work as much as I do, I will ALWAYS fight for my LGBTQ community to get the respect we deserve. ALWAYS," continued the Hairspray star.
And while Hart initially refused to apologize for his past anti-gay tweets, he eventually gave in, assuring fans that he was not that hateful person anymore and that at almost 40 years old, he had finally matured.
The funnyman also announced that he would be ditching his Oscars hosting gig because he didn't want to become a distraction amid all the drama.
"I have made the choice to step down from hosting this year's Oscar's….this is because I do not want to be a distraction on a night that should be celebrated by so many amazing talented artists. I sincerely apologize to the LGBTQ community for my insensitive words from my past," he tweeted.
Article continues below advertisement
And while Eichner was extremely offended by his former remarks, he certainly valued Hart's final apology. "I'm no saint," he wrote. "We just wanted a little understanding, a little explanation. Apologies are tough - they leave you vulnerable. Toxic masculinity is real. I deal with it in my own way too. So on that note, I appreciate @KevinHart4real apologizing. And apology accepted. That's all."
RadarOnline.com readers know the scandal began when social media trolls took it upon themselves to scroll through Hart's Twitter feed and republish his most hateful comments.
In one of his most shocking tweets, the comedian voiced how he would react if his son was gay.
"Yo if my son comes home & try's 2 play with my daughters doll house I'm going 2 break it over his head & say n my voice 'stop that's gay,'" he wrote.
He also admitted that his son coming out as gay was his biggest nightmare, and that if he could do anything to keep him from turning gay, he would.
What do you think of Jamie Lee Curtis' reaction to Kevin Hart's homophobic tweets? Sound off below.
We pay for juicy info! Do you have a story for RadarOnline.com? Email us at tips@radaronline.com, or call us at (866) ON-RADAR (667-2327) any time, day or night.