Jackie Chan Admits He Had Sex With Prostitutes, Was A 'Real B***ard' To Wife & Kids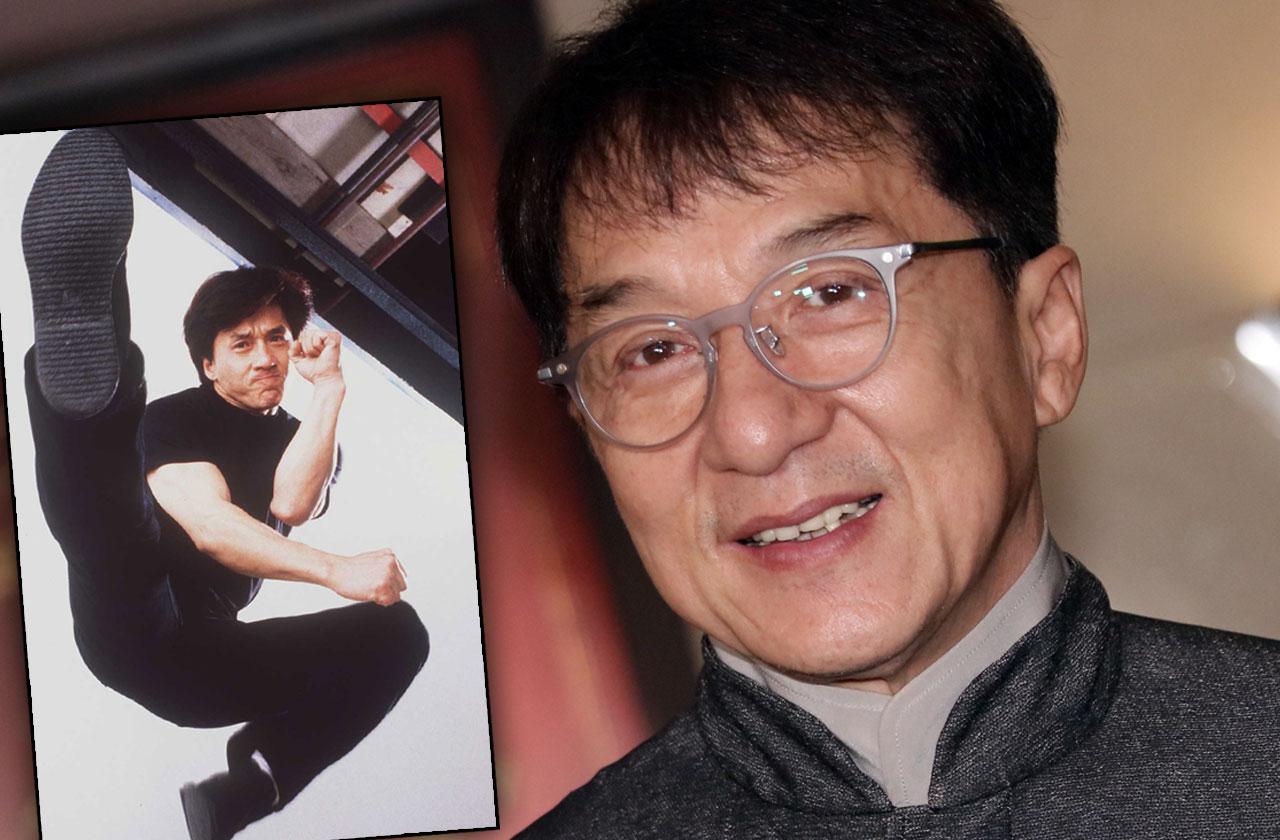 Jackie Chan knows he was a "total jerk" to his loved ones before he actively chose to change his ways.
In his explosive new memoir, "Never Grow Up," the actor speaks candidly about his rocky love life, controversial sexual partners, rage issues and questionable parenting skills.
Recalling his early life, Chan, 64, admits he was a poor an uncultured young man only looking for alcohol, sex with prostitutes and money. He spent many years sleeping around — especially with a sex worker he calls "Number Nine" — gambling his paychecks away and risking his life by drunk driving constantly.
Article continues below advertisement
He met his first girlfriend long before he reached Hollywood success, and acted "terrible" toward her. In his memoir he confesses that he would drink with friends all day and if she was in the house when he returned, he would leave and go gamble so as not to spend time with her.
His following relationships went somewhat similarly, according to Daily Mail.
When he dated Taiwanese actress Teresa Teng — a very classy lady — he says he felt so inadequate that he purposely acted sloppy at fancy places and embarrassed her with his lack of manners.
"I behaved so badly because of my deep insecurities. Ever since I was a little boy I'd been looked down on by rich kids," Chan writes in his book. "Any whiff of snobbishness or superiority set me on edge. This attitude reflected by relationship with Teresa. But it wasn't her fault. She'd done nothing wrong and I'd been horribly unfair to her."
Even when he met future wife Joan Lin, who he calls "the love of my life," the actor sabotaged the relationship out of immaturity and self-doubt.
Article continues below advertisement
He says that he was intimated by the fact that she was regarded as a "belovedactress with a respectable image while I was a vulgar kung fu guy who was unworthy of her."
In 1981, Lin became pregnant and the two got married at a rooftop coffee shop in Los Angeles. Despite his love for her, Chan "worked through her whole pregnancy" and didn't visit her once while she carried their unborn child in California.
Chan says he believed his sexist pals when they told him Lin had gotten pregnant on purpose to take his money, but after some years of deep soul-searching he realized they were completely wrong. Now, he sees his behavior towards her was "wicked," especially since his personal anxieties led him to cheat on her with actress and former Miss Asia Elaine Ng — who he also impregnated.
His affair with Ng quickly became public, causing Chan to tell his fans at the time: "I have made a mistake that many men in the world make."
Article continues below advertisement
In his memoir, Chan writes, "I was selfish and didn't know how to empathize with others. I was also too easily influenced. Yet Joan set me free to make my own way. I respect her a lot and am grateful to her for sacrificing so much for me."
Chan adds that after he began his film career and started making money, he completely ignored his family and focused on himself. He recalls that one year he spent $2 million on food and gifts for him and his friends. During that time, the mothers of his children were taking care of the kids all by themselves.
Chan, who's suffered from alcoholism and extreme rage, admits in his book that during a heated fight with Lin, he acted aggressively toward his baby son Jaycee and was forced to reevaluate his life. Looking at his reflection in the mirror, he said to himself: "'You're a real b***ard."
While in his tell-all memoir Chan seems to write extremely candidly about his life, the actor does not mention daughter Etta Ng, or their estranged relationship. As RadarOnline.com readers know, the 19-year-old who is gay and married to a woman has long said that she was left homeless and broke by her homophobic parents, just weeks after she came out to them. She's also made it clear that she does not have a relationship with her famous dad.
"I've done well by a lot of people but not my own family," Jackie Chan admits in his book. "I've not been a good father or a good husband but I did my duty to my son and his mother."
What do you think of Jackie Chan's explosive memoir? Let us know below.
We pay for juicy info! Do you have a story for RadarOnline.com? Email us at tips@radaronline.com, or call us at (866) ON-RADAR (667-2327) any time, day or night.