Ryan Edwards Threatened To 'Shoot Up' Maci Bookout's House With Son, 9, Inside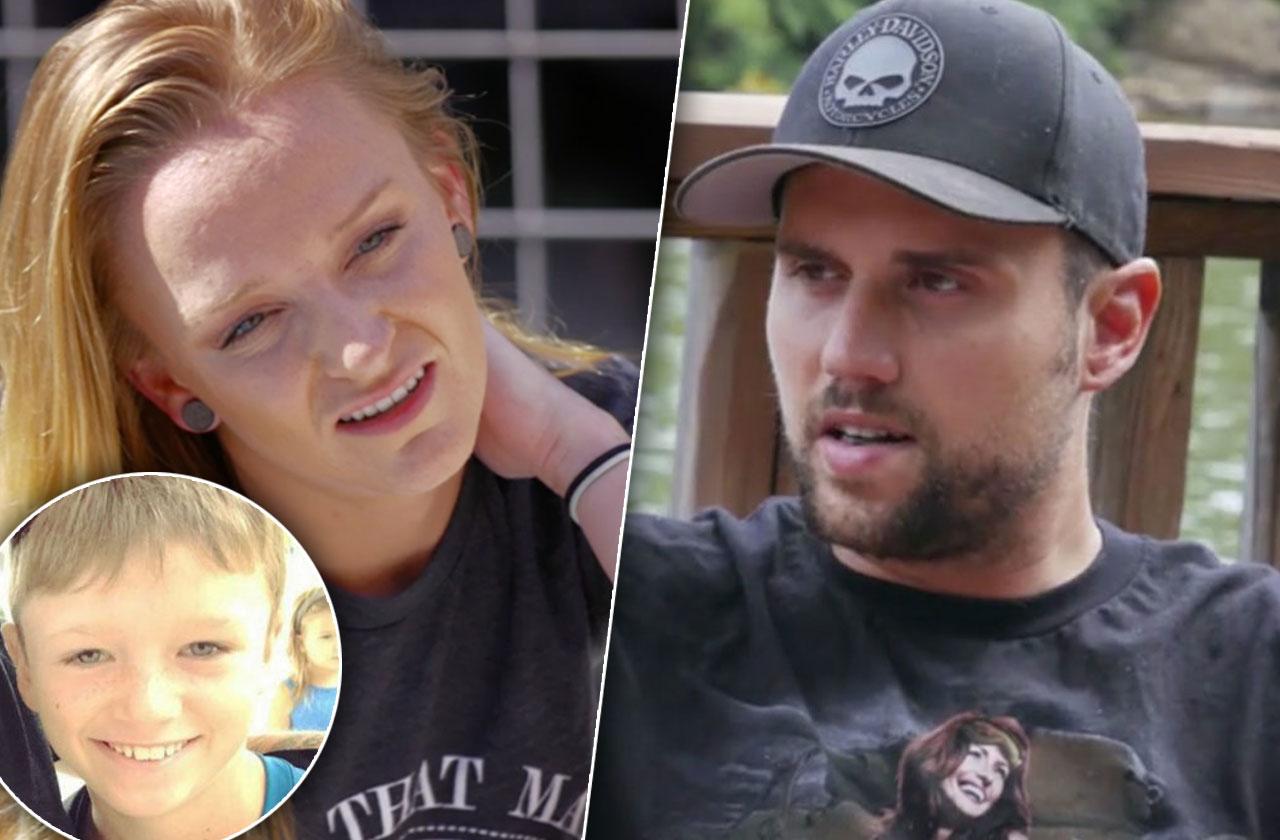 Teen Mom OG is back with two new cast members – and the drama couldn't be more intense! On the season premiere, Maci Bookout revealed more disturbing examples of what forced her to file a restraining order against baby daddy Ryan Edwards.
"I just got a pretty disturbing phone call from Ryan," Bookout's husband Taylor McKinney told her. "He didn't like my tweet. Something about he's a 30 year old that still needs his a** wiped. He called me in a fit of rage, screaming, losing his mind. Tells me he's going to show up over here and put a bullet in my head. Going to come shoot up the house that not only our children live in, but his son."
Article continues below advertisement
A terrified Bookout responded, "That's not okay. That's extremely serious and he definitely owns guns. Your son lives here. Who does that? I think we should call the cops, file a report, so it's on record."
As Radar reported, the couple filed for a restraining order against Edwards, which the court approved for two years. Bookout, McKinney, and their children Jayde, 3, and Maverick, 2, are also included.
"Bentley is not included in the deal," Maci explained. "Ryan can come to his baseball games. He has to stay away from us while he's there. It doesn't prevent him from being a father. If he screws this up, there are no more chances. He doesn't get another pass."
Radar broke earlier this week that Edwards is back in rehab for the second time after a series of heroin-related arrests.
Also on the episode, Catelynn Lowell is still in treatment for depression and suicidal thoughts. Her husband Tyler Baltierra is struggling to hold down the fort at home with their daughter Nova, 3.
Article continues below advertisement
"I feel totally sucked dry," he said. "It's hard not to become bitter. There is so much focus on other people. You're sitting in the corner."
While out to dinner with his mom, he explained how she skipped a class in rehab to take a nap.
"Is that depressing for you?" his mom asked, as he shockingly responded, "No it's not depressing… It's repulsing."
Later in the episode, he went to therapy and admitted that he is unhappy in his marriage.
"We should've discussed this as a family before you packed your bags and went," he said of her going to rehab for a second time. "I'm always in this caretaker position. I'm exhausted emotionally. I get some scary thoughts in my head. Are we supposed to be together? If someone asked me, 'Are you happy in your marriage?' I would say, 'Absolutely not.' I haven't been for a couple of years."
Bristol Palin made her debut on the MTV series – and she's proving she could bring the drama just like her experienced co-stars!
Article continues below advertisement
Palin's husband Dakota Meyer, who is the father of her youngest children Sailor and Atlee, has been struggling with post-traumatic stress disorder after going to war.
"When I joined, it was 110 percent that you will be going to war soon," Meyer explained to producers. "Everyone with me was dead. When I first came home, train wreck is an understatement."
And his anxiety was evident during filming. When Palin asked Meyer what was wrong, he exploded.
"My anxiety is been going nuts, it's been crushing me," he said. "I've been having nightmares. I've tried to tell you over and over and asked you for help a thousand times. Don't sit there and be like, 'What's wrong?'"
She then told him how it is "hard" for her to have "compassion" for him.
"If you can't be there for me whenever I have anxiety… that's part of being married to me," he said. "I deal with having nightmares every single night. Seeing my dead guys every single morning when I wake up. Just like every other time I'll figure it out again. Don't act like you don't know what's wrong."
Article continues below advertisement
She then said how while she feels "bad" and "terrible" for Meyer, it's been two years of "frustration for her."
"I'm tired of 'It's my anxiety, it's what I've seen,'" she said. "That justifies you saying stuff that insinuates that I'm a bad mom? It makes me walk around like, 'Okay I guess I am a crappy mom. I guess I am a b***h. I don't want to raise my kids to think this is what a marriage looks like."
She added, "I'm a punching bag for everything he goes through internally. Is this his service or this is him just being a d**k?"
He then exploded, "I have to sit here and listen to her say it's a f**king excuse? You wonder why I go off the rails and why it gets amplified. All I want her to do is love me and be there for my scars. I still pay the bills, I'm still a good father. I still try to be a good husband. She's looked at me and said you're a f**king joke!"
Article continues below advertisement
He then claimed that she said, "'He can't sleep at night and he sits up and I lay in bed waiting for him to blow his f**king head off.'"
But Palin explained how he took her words out of context, as she worries about him committing suicide.
Cheyenne Floyd also made her TMOG debut. She explained how she had a one-night stand with baby daddy Cory Wharton. Because she had a boyfriend at the time, she wasn't sure who the father was.
When daughter Ryder was six months old, a paternity test revealed Wharton is the father.
The drama only escalated from there, as she has a new boyfriend, Zach, who lives with her.
"There are a couple of reasons I hate that Zach lives with you," Wharton said on the episode. "One: personal pride. He's obviously seeing Ryder more than I see her because Ryder is with you four days and she's with me three days. For me it's hard to accept that."
Article continues below advertisement
When Floyd said that her boyfriend knows he is the dad, Wharton responded, "Why don't you just be single?"
When Floyd and Wharton attended a gymnastics glass for Ryder, Zach became upset that he wasn't invited.
"When I'm around Zach it's weird because I know in the back of his head he thinks we're hooking up," Wharton said.
When Floyd spoke to her boyfriend later on, she explained how having her boyfriend and baby daddy in the same room is "awkward."
Wharton explained to a friend later on how Floyd wanted a family with him, but he wasn't ready.
"She doesn't want me and Zach to hang out," he told a friend. "She still has feelings for me. She doesn't know how to cope with that."
And finally, Amber Portwood gives birth to her son James with boyfriend Andrew Glennon.
"I'm happy," Portwood said. "It's tiring. It's amazing. Even if Leah is not over here all the time, she's apart of the family. With James I'm a full time mom."
Article continues below advertisement
Portwood explained how she feels "horrible" that she couldn't stay sober for her daughter Leah when she was younger. Her substance abuse issues forced her to complete rehab and prison stints. Her baby daddy Gary Shirley had full custody of her at the time.
"With Andrew, he saved everything," she said. "Right now we're so happy together."
And it seems Glennon feels the same, as he told a producer that he has been engagement ring shopping!
Teen Mom OG airs Mondays at 9/8c on MTV.
We pay for juicy info! Do you have a story for RadarOnline.com? Email us at tips@radaronline.com, or call us at (866) ON-RADAR (667-2327) any time, day or night.