Aaron Is Innocent! Hernandez' Lawyer Insists Star Didn't Murder Friend Before Suicide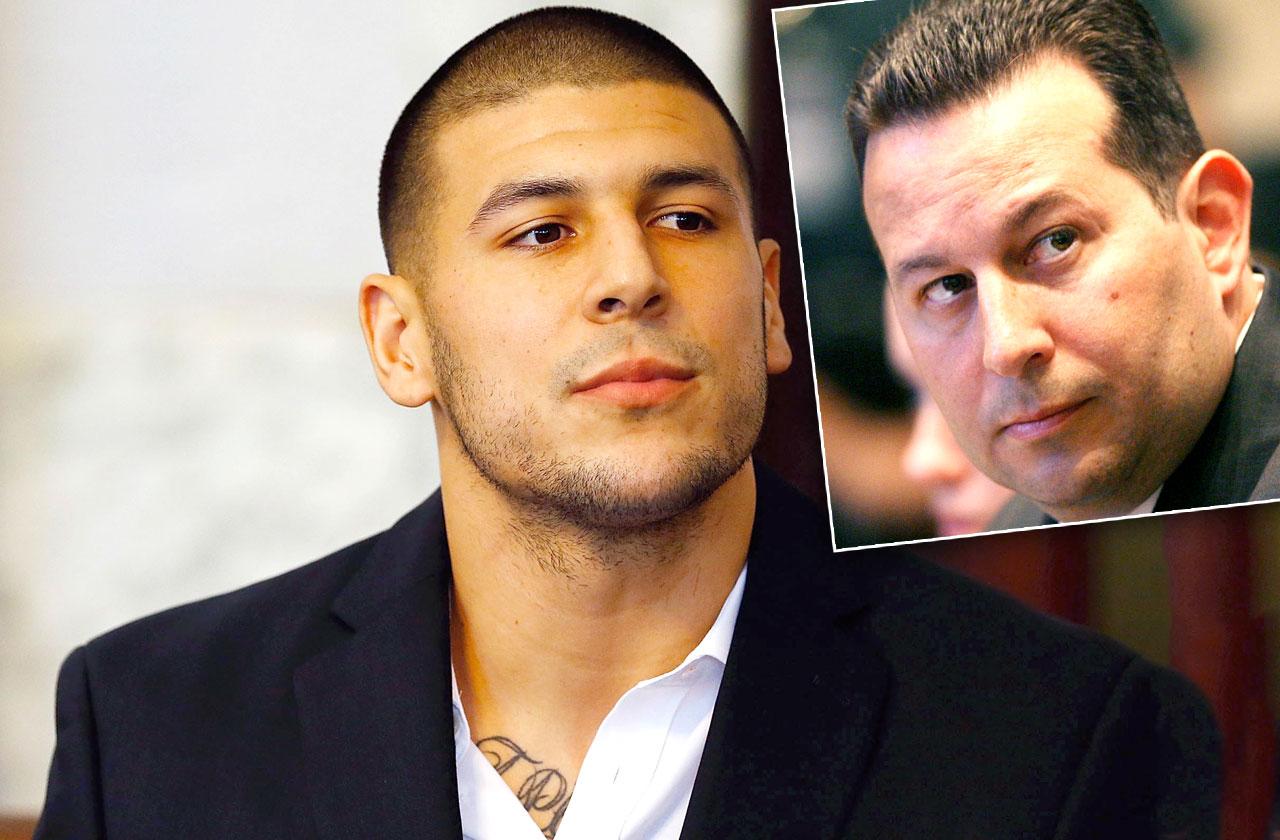 Aaron Hernandez was serving a life sentence for killing his friend in 2013 when he committed suicide four years later —but the late NFL player's lawyer insists his client was "1,000%" innocent of the crime.
Speaking on investigative journalist Dylan Howard's podcast All Rise, the tragic star's former attorney, Jose Baez, claimed Hernandez was just misunderstood by the public.
"He was a big goofball, a big kid, and I got to know him in a time of high-stress… That's when you really get to know someone," Baez, 49, told Howard.
Article continues below advertisement
"He was always trying to be a giver, and very outgoing, and a caring individual."
When asked by Howard why he believes Hernandez was innocent of murder, Baez said: "Because the evidence told me so."
The attorney added that the star's only crime was "choosing, very badly, who he has around him,"
Baez met Hernandez when he was already serving a life sentence for murder, and began representing him for a double-homicide case. The athlete was found not guilty in the second case.
Speaking of the athlete's April 2017 suicide, Baez said he was "just as shocked as everyone else."
Just hours before he took his own life, Baez said he seemed happy.
But his mood took a dark turn when he began writing suicide letters to his family.
"This was the CTE taking over," Baez said of the chilling letters Hernandez wrote to fiancée Shayanna Jenkins and daughter Avielle, referring to his brain damage.
Article continues below advertisement
"We had no idea how bad his brain was damaged until the autopsy. It was the worst case they had ever seen in someone of his age."
The attorney told All Rise that Hernandez' debilitating brain condition—which likely stemmed being hit in the head during football game and practices— manifested in various ways.
The football star constantly complained about "overwhelming, migraine-type headaches" and, at times, even showed signs of memory loss.
No one, however, suspected how bad his condition actually was.
Baez then addressed the gay rumors surrounding his client.
"I believe that Aaron's sexuality is a private matter between him and Shay," said the attorney.
He added prosecutors found a woman in Arizona who claimed Hernandez came out to her via letter. She was, however, not able to provide the letter.
RadarOnline.com previously reported that Hernandez was thought to have had a gay lover while in prison.
Article continues below advertisement
"I felt a lot about him has not been told, the good side of him," Baez told Howard. "I wanted his daughter to know the other side of him, other than what's written."
We pay for juicy info! Do you have a story for RadarOnline.com? Email us at tips@radaronline.com, or call us at (866) ON-RADAR (667-2327) any time, day or night.