Tom Jones' Estranged Lovechild Begs For Drugs & Cash Online – And Fears He Has Cancer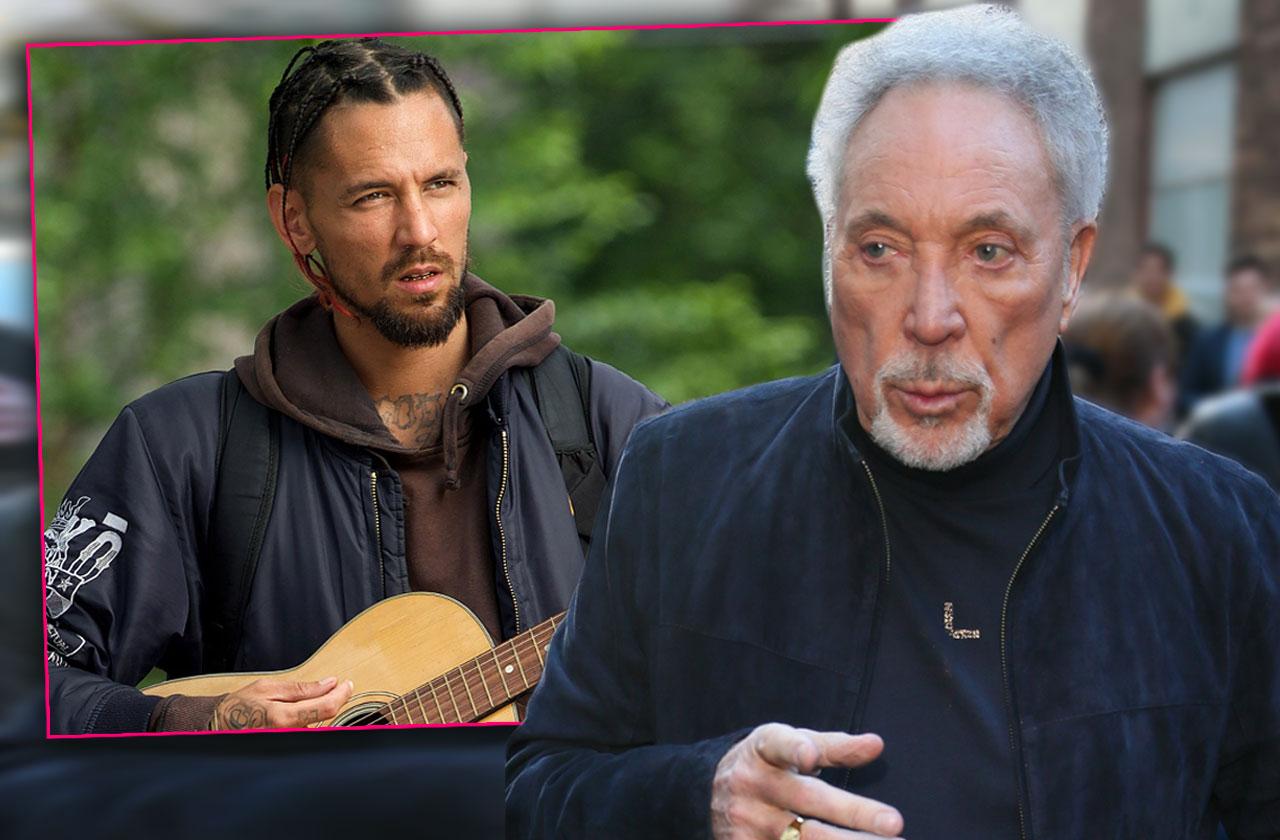 Article continues below advertisement
But Jon, 28, has now fallen back on hard times and has taken to Twitter to reveal he's living in a homeless shelter after pleading with pals and Internet users to send him drugs and money.
In an online rant he also claimed he feared he had cancer of the mouth he fears was caused by stress.
And Jon admitted he was living on food stamps which were constantly running short.
Radar can exclusively reveal lonely Jon has also talked in recent Twitter outpourings of his search for love, and confessed he is prepared to sell his grandmother for cash.
Jon also admitted he gets so tired he is hallucinating and became convinced he was going to be attacked by birds.
The aspiring singer has now taken his father's surname and goes by the name Piffington Jones – with the word Piffington a drugs reference in tribute to his love of puffing weed.
In 2013 Jon took money to tell how he became a gun-toting drug dealer who lived on the streets for more than two years after falling in with gangs as he desperately searched for father figures in Tom's absence.
Article continues below advertisement
Heavily tattooed Jon's mother Katherine Berkery was 24 when she became pregnant during a three-day fling with then-married Welsh crooner Sir Tom in 1987.
Tom, 78, finally agreed to pay maintenance in 1998 when judge Judith Sheindlin – now known as TV's Judge Judy – ordered him to take a paternity test.
Even after the test proved Tom was Jon's dad, the singer – who was renowned for repeatedly cheating on his late wife Linda with hundreds of groupies – only publicly acknowledged his son's existence in 2008.
Jon appeared to have got clean of drugs attempted to launch a music career in 2013 by gigging around American and promoting himself online on video channels including YouTube.
But his pals now fear for his physical and mental health after a string of tweets from the former drug pusher.
The disturbing tweets were posted in the middle of last year and are his last online correspondence with friends and his few fans.
Article continues below advertisement
Jon says in one of his desperate messages, posted in May: "I'm so broke I'm gonna sell my grandma again."
He wrote on the social network in a string of tweets the same month about wanting drugs, money, women and love.
Jon said: "I need money, and weed and stripper hoes. Mainly I need money."
Jon halted all his activities on Twitter in September last year, and last month he was photographed busking for cash in Hoboken, New Jersey, beside a sign that read: "Please help."
A pal of Jon's said: "As you can see from his tweets, he's sadly fallen back into drug taking, wild nights out and poverty.
Jon said in a 2013 interview about how he feels rejection by his dad Tom led to his life of crime and drug abuse: "It all stems back to my dad. I don't think I realised it for a long time but I was one angry kid, crying out for a father.
"I was four, and could sing all the words to his hit Delilah, when my mother told me who my dad was. She had magazine articles that explained the DNA tests and how my father had tried to smear my mother's name, claiming he wasn't responsible for her pregnancy. I was very angry, even then. My anger boiled over at school – I fought every kid and rebelled constantly."
Article continues below advertisement
Jon said he turned to drugs to deal with his feelings for his dad – before he started dealing and carrying guns.
He added: "I tried to numb the pain with drugs – I've been smoking weed since I was 16 and I progressed to prescription pills like Oxycontin and Xanax, then ecstasy and cocaine.
"I bought two pistols – one was two-tone, the other black. They were so cool. I called them The Brothers and wore them in shoulder holsters."
As fans know, Tom was married for 59 years to his long-suffering childhood sweetheart Linda, who died aged 75 in April 2016.
At the height of his fame, Tom admitted to sleeping with at least 250 women a year.
But the hitmaker was reminded of the son he snubbed in a 2014 episode of The Voice.
Tattooist Paul Black from South Wales joked with Tom during his audition that he was from New Jersey – adding: "Dad, where have you been all these years? Mam said it was the only way I could get to see you."
Tom brushed off the gags to his fellow judges as a bit of "Welsh humor".
We pay for juicy info! Do you have a story for RadarOnline.com? Email us at tips@radaronline.com, or call us at (866) ON-RADAR (667-2327) any time, day or night.