Val Kilmer Bashes 'Selfish' Friend Anthony Bourdain Over Suicide In Bizarre Rant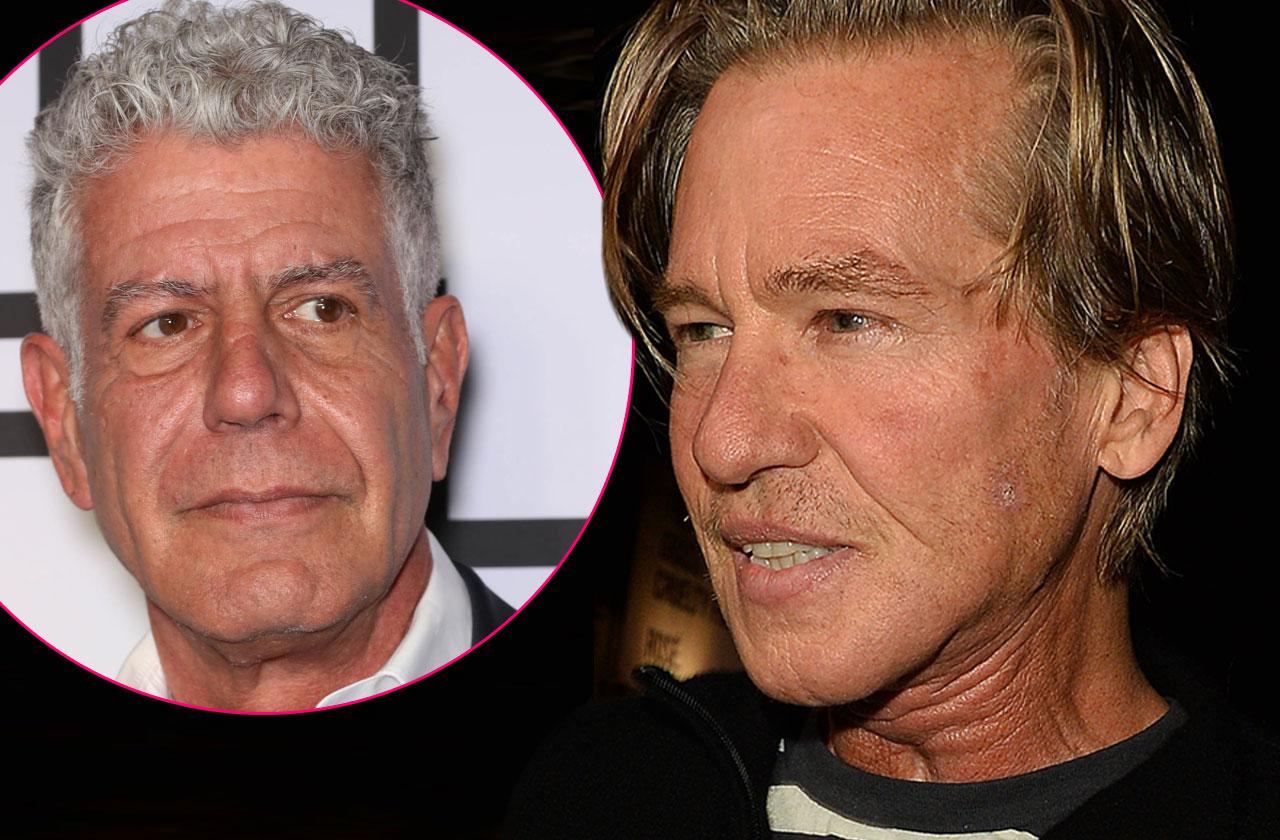 Moments after news of Anthony Bourdain's tragic suicide death shocked the nation, actor Val Kilmer went on a bizarre Facebook rant, calling the celebrity chef "selfish" for taking his own life.
"#anthonybourdainisdead" began Kilmer, 58. "Oh the darkness. Oh the dark thick pain of loss. The selfishness."
"How many moments away were you from feeling the love that was universal. From every corner of the world you were loved. So selfish. You've given us cause to be so angry," he continued.
Article continues below advertisement
Kilmer—who's been battling a horrific throat cancer for two years—added that a spiritual guide once explained to him that taking one's own life is the "most selfish act a human can execute."
"So what? I hear you took your life in paris. What hotel? Did you relapse? Did you just get home from the best meal of your life? Did you cheat on your girl," continued Kilmer, bashing the now-deceased Bourdain, 61.
"Those of us that knew you are shocked and angry and angry and angry selfishly angry, for what you just did to us. Millions I should think. At least a million people like me who imagine they know you. Some imagine they know you even well. But you heard that phone ringing, you felt it buzzing in your coat or pants pocket, vibrating a million times, but you didn't answer it. You let it ring out," he wrote, seeming to accuse the late chef of ignoring his loved ones amid his despair.
Article continues below advertisement
RadarOnline.com previously reported fellow chef an longtime pal Eric Ripert was the one who found Bourdain hanged inside his hotel room in France, this Friday, June 8.
"Did you bleed out? Did you suffocate? Did you jump. No you didn't jump. Is it important we know how you did it? No. But that you did it. One of the tentative titles of my new studio is Bourdains. Because you've come to realize and exemplify a steady however dim hope, that history is bending towards justice."
Kilmer then seemed to address his own cancer battle, writing: "Would you have taken your life two years ago when like me you were unable to take in food and move it with your tongue over your taste buds because your tongue was too swollen? Is too swollen. I think and dream and plan on eating and tasting and enjoying every meal I've ever enjoyed and every meal I've learned to enjoy in my imagination, Altho I've never met a meal I didn't like in the last 40 years except anything with too much cilantro."
Article continues below advertisement
"Was that it?," the actor continued. "You woke up and realized you were no longer hungry. And that even with a young daughter at home you would never be hungry enough again to want to take in breath."
SEE VAL KILMER'S FULL STATEMENT HERE!
Kilmer went on to talk about longtime friend Bourdain's life struggles, such as his strained relationship with his father.
"Was your father's hate so still so present as to cloud over every last sunny moment of every single damn day Anthony. Oh darkness," the angry actor wrote.
"You could have and should have given it one more shot. Sometimes we must live in service to another's life and live with no hope of equality. Life isn't fair that way. Who says you had a right to take away all this love from us so soon? Oh the darkness. The darkness on the edge of town," wrote Val Kilmer in his heartbreaking rant following Anthony Bourdain's suicide.
"You left too soon my friend. I fell asleep to watching you enjoy Uruguay last night. It was a rerun but I always find something I didn't see before... you left too soon. And I'm going to prove it..." he concluded.
RIP Anthony Bourdain.
If you or someone you know is in an emotional distress or suicidal, please call the Lifeline at 1-800-273-TALK (8255).
We pay for juicy info! Do you have a story for RadarOnline.com? Email us at tips@radaronline.com, or call us at 800-344-9598 any time, day or night.