Traitor? Loretta Lynch Consoled James Comey Over Hillary Clinton Email Investigation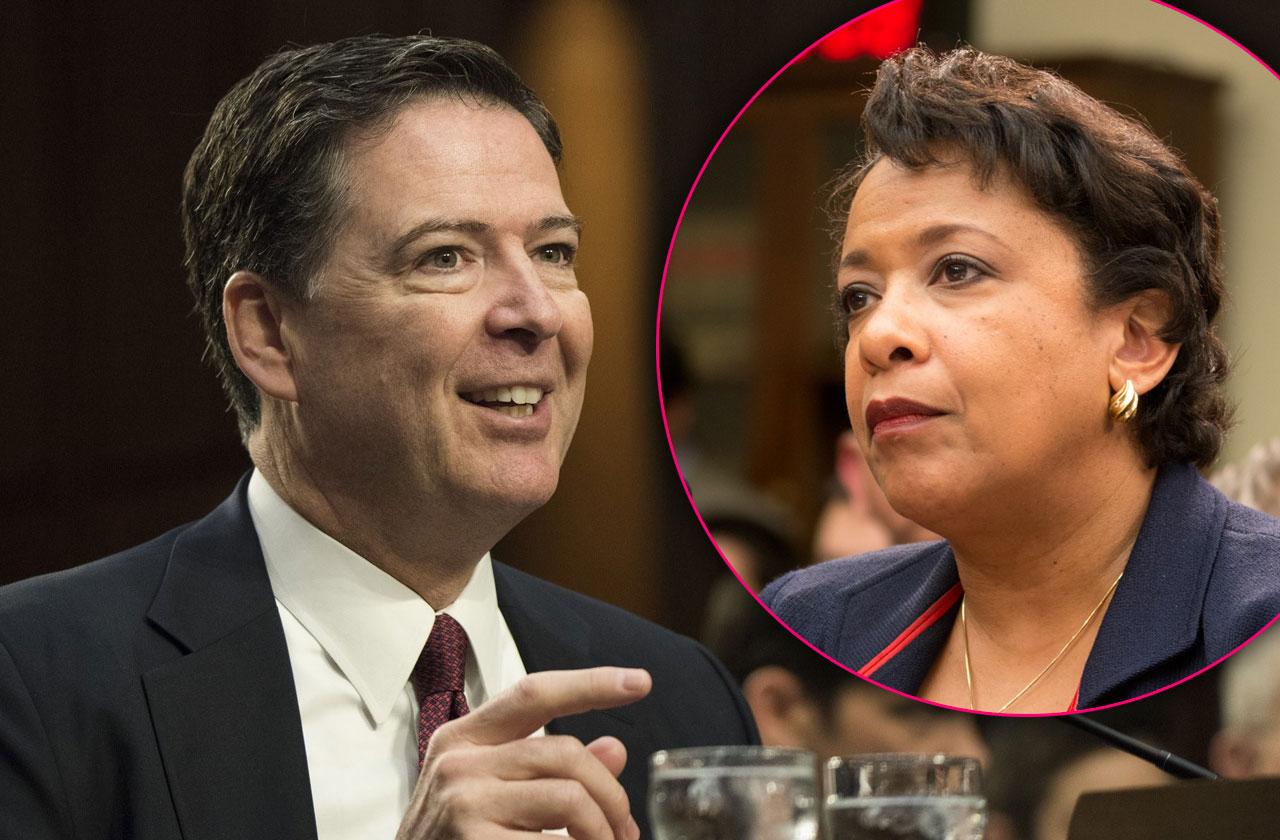 Amid the outcry over fired FBI Director James Comey publicly informing Congress the FBI had re-opened Hillary Clinton's email investigation two weeks before the presidential election, he got an "awkward" hug from an unlikely source — Attorney General Loretta Lynch!
"On Sunday night, October 30, I received an email from the attorney general asking if she could meet with me privately after our Monday morning intelligence briefing at FBI headquarters," Comey writes in his new tell-all autobiography.
Article continues below advertisement
The book titled, A Higher Loyalty, is not due to hit bookstands until April 17, although RadarOnline.com has exclusively obtained it ahead of publication.
"Of course," Comey said he replied to Lynch's request.
He continued: "As the briefing drew to a close, the attorney general, in front of the full conference room of our staff asked if she could meet with me. Which was a little odd, since I'd already agreed to the private meeting over email.
"We went into a private office reserved for the attorney general, just off the morning briefing room. Her staff and mine waited outside, and we were finally alone.
"During the last few days, the outcry in the media had been so intense, especially and understandably among supporters of Hillary Clinton, that I didn't know what I was bout to hear from Loretta Lynch.
"Was she going to scream at me? Threaten me? Warn me? Deliver a message from the president?
Article continues below advertisement
"Everyone in the Obama administration almost certainly was angry at me and fearful that I'd jeopardized Clinton's election. I had every reason to believe that Loretta was among that group.
"I walked into the room first. I turned and waited as the attorney general closed the door.
"She then turned, lowered her head, and walked toward me with arms out wide," he wrote. "This was awkward in a number of respects. Perhaps mostly because I am about eighteen inches taller than Loretta Lynch.
"When our bodies came together, her face went into my solar plexus and she wrapped her arms around me. I reached down and pressed both forearms, also awkwardly, against her back.
"'I thought you needed a hug,' she said as we separated. She was probably right. Although I'm not a hugger by nature, IU felt physically beaten after the last few days. I also probably looked that way.
"She then sat down on the couch and gestured for me to sit in an armchair near her.
Article continues below advertisement
"'How are you doing?' she asked. I detected genuine concern in her voice.
"I told her this had been a nightmare. I explained how I saw the choices I faced and that 'really bad' was better than 'catastrophic.' And then she floored me with another surprise.
"'Would they feel better if it leaked on November 4? she asked, referring to the Friday before the election.
"'Exactly, Loretta,' I answered.
"I hadn't made my decision based on the prospect of a leak, but she was right. Once Justice approved the search warrant, it was likely the world would find out we had restarted the investigation anyhow, and we would look dishonest.
"Was she telling me I had done the right thing? Was she in some way thanking me for taking this brutal hit? She wasn't going to answer those questions for me.
"Moments later, our conversation concluded. Loretta rose and reached for the door, but paused.
"Turning her head slightly toward me, she said, with just the slightest hint of a smile, 'Try to look beat up.' She had told somebody she was going to chew me out for what I had done. What a world."
We pay for juicy info! Do you have a story for RadarOnline.com? Email us at tips@radaronline.com, or call us at 800-344-9598 any time, day or night.