'Red Hot Chili Peppers' Anthony Kiedis Claims Wife Slapped Son & Gave Him Wine!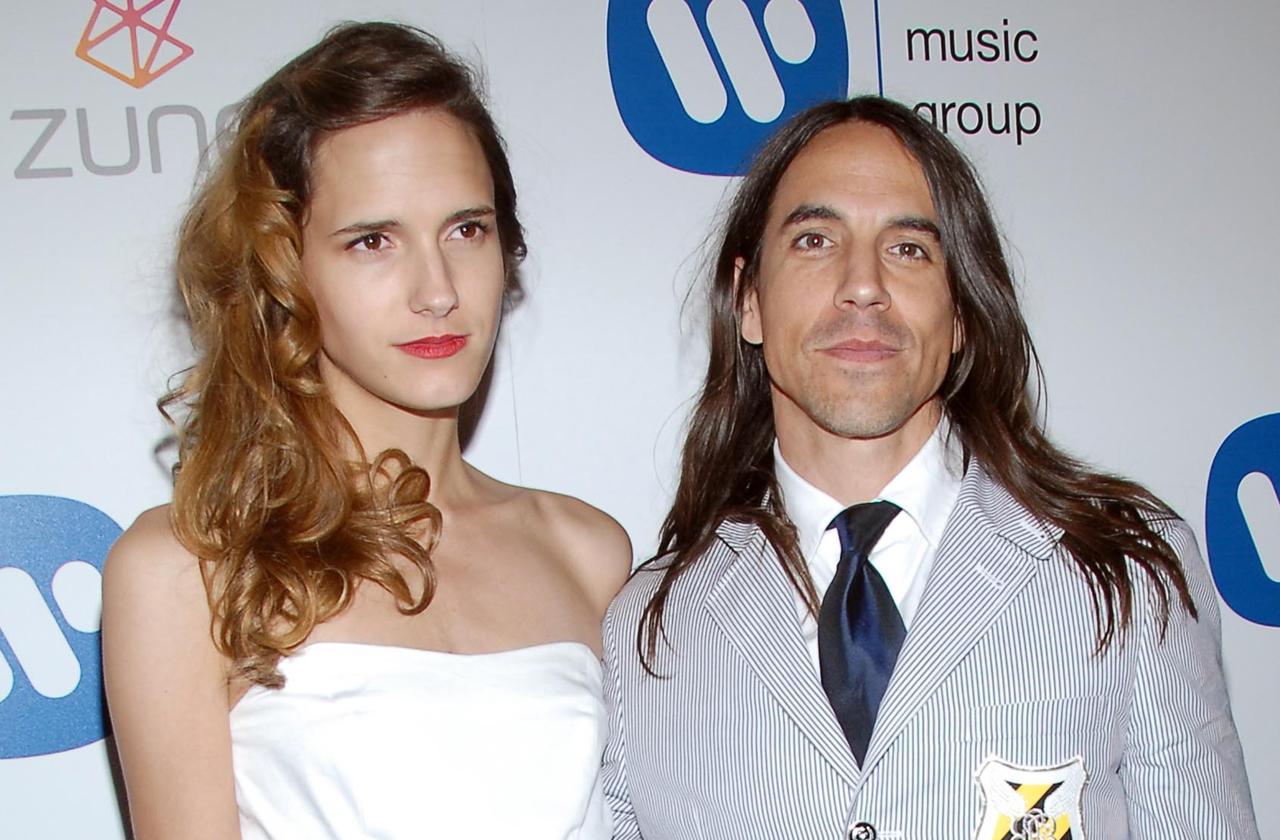 Article continues below advertisement
Kiedis said Christie has been an absentee parent for most of their young son's life, and added Christie left physical custody of the boy to him after she suffered some injuries from a moped accident when Everly was still an infant. Kiedis has said in a July 2008 declaration that Christie's history of depression and alcohol and crystal meth abuse were some of the reasons why he asked for supervised visits to take place at his Malibu home.
In the March 23 affidavit, Kiedis said since Christie moved to Vermont, she has not seen Everly in nearly six months and has spent less than 30 overnights with their son since he was born.
In the petition, Kiedis' attorney, Amanda Harvey, made serious allegations against Christie and said the ex model, "Slapped Everly across the face when the child inadvertently kicked sand on her when they were leaving the beach. During that same trip, Respondent gave Everly wine. Not only is this illegal and a poor parenting decision, it is also in express violation of Paragraph V.B. Of the Conciliation Court Agreement; and Respondent tells Everly that his father 'lies all the time' and that he chases younger women."
Article continues below advertisement
Kiedis filed the application in court asking a Los Angeles judge to block Christie's request to take Everly to Vermont over spring break. The rocker added he wasn't asking for Christie's visitation to be cancelled, but rather have her visit the boy in Los Angeles where she and Everly also could undergo intensive therapy to help the child feel more comfortable to go to Vermont in the future.
The judge, however, denied Kiedis' petition because of a standing custody agreement the ex-couple has had since April 2017. The judge also denied Kiedis' request that would require Christie to participate in reunification therapy with Everly, but left the door open for the singer to make future request for such an order.
In her response, Christie said she is entitled to custody of their son during spring break on even numbered years under the 2017 agreement. Christie also said she had communicated with their nanny of her plans to take the boy to Vermont and return him to California on April 8.
"Anthony is interfering with my time and my relationship with Everly as further shown by Petitioner's emergency request," Christie wrote in her declaration. "He is attempting to interfere with my court ordered custodial time and ruin my plans to come to Los Angeles to pick up Everly and travel with him to Vermont. I previously attempted to attend conciliation court with Anthony and scheduled it for October 30, 2017. On Oct. 27, 2017, Anthony's attorneys cancelled the appointment. I requested the conciliation court appointment to be rescheduled so that we could discuss custody. Anthony refused."
Article continues below advertisement
Kiedis said he has grown more concerned over other incidents, including a time when Christie allegedly locked the boy in a room for hours because she didn't want him to play with her dog. The singer also said Everly told him about a time when his mother gave him wine, which Kiedis said could be an indicator that Christie is no longer sober.
Kiedis added Christie's sporadic participation in their son's life has caused the boy great emotional pain, especially after his ex decided to move to Vermont.
"Respondent's sudden move to Vermont was an event that caught Everly off guard, as he was under the impression that she was serious bout becoming close to him this time around," Kiedis said in his March 23 declaration. "Respondent's sudden reappearance in Everly's life after a few years, followed by her abrupt move to Vermont, caused our son significant mental unrest once again. Each time the Respondent pops back in to Everly's life and then disappears again, I am left to pick up the pieces of our devastated son and help to put him together again. The result of Respondent's years-long inability to maintain frequent and continued contact with our so is that she is a visual stranger to him and he does not trust her."
We pay for juicy info! Do you have a story for RadarOnline.com? Email us at tips@radaronline.com, or call us at (866) ON-RADAR (667-2327) any time, day or night.