Young Mom Disfigured By Brutal Fire, Abandoned By Husband: 'I Thought I Was Dying'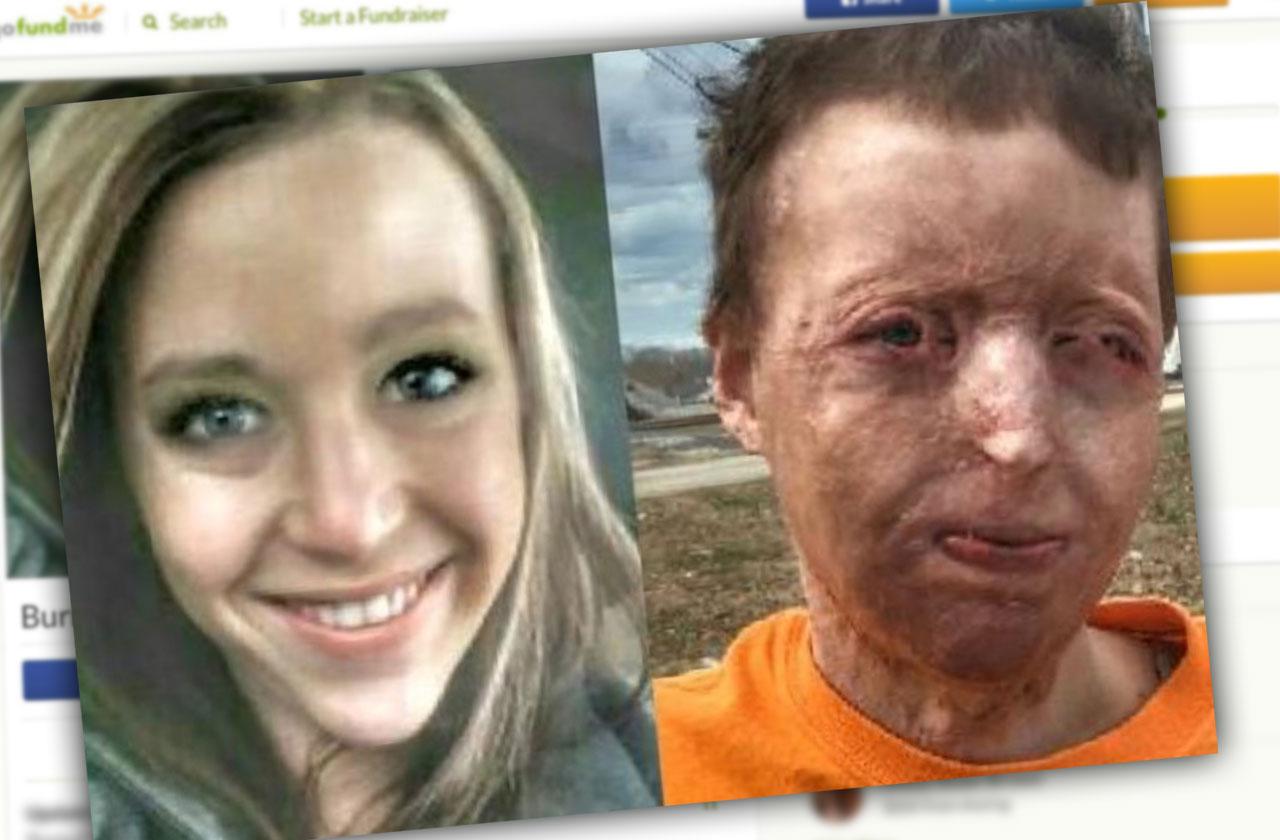 A young mother's face was destroyed by flames in a horrific campfire incident just last September, RadarOnline.com can reveal.
27-year-old Courtney Waldon has spoken out about the moment that changed her life, saying that she is "so blessed" to be alive after having suffered fourth-degree burns on her face and third-degree burns on her hands, legs and feet.
"I felt every inch of my flesh burning off that night," she said.
Article continues below advertisement
Waldon was reportedly cooking dinner in a campfire, when her husband threw gas to increase the flames. Some of it got on her body and before she knew it, she too was on fire.
"I stopped, dropped and rolled while screaming bloody murder," Waldon told PEOPLE. "I thought I was dying."
Luckily, Waldon lived very close to a hospital, which, medicals professionals believe is the reason she survived.
"They said if the ambulance arrived one minute later I wouldn't have made it. I just started praying to God in the ambulance," she said.
Waldon recalled of the accident: "My hands got so burnt because I was trying to put out my face."
"I didn't know what to expect," she says. "I got sick to my stomach and almost passed out," she said of seeing her face for the first time after the incident.
After being put in a 30-day induced coma and being cared for in the hospital for 51 days, Waldon woke up and could think of nothing else but her 5-year-old daughter Caroline.
Article continues below advertisement
"I just wanted my daughter," she says. "She's the reason I live."
She recalled of the first moment her daughter saw her new face, saying: "She looked at me really weird and was standoffish. But then I said, 'It's me baby. It's your momma.' After that she came and gave me a hug. She hasn't let go since."
Upon her return, Waldon's husband left her.
"He said he couldn't handle or deal with me any longer," she said.
"It was a blessing in disguise," she continued. "I think if he was around he would be holding me down. I wouldn't be as strong as I am today and wouldn't have made as much progress."
Apart from her horrific tragedy, Waldon has decided to see the good that has come from her situation, and has vowed to act as a helping hand for people going through traumatic situations.
While Waldon is not working at the time, a GoFundMe has been created to support the young mother.
We pay for juicy info! Do you have a story for RadarOnline.com? Email us at tips@radaronline.com, or call us at 800-344-9598 any time, day or night.