Exclusive
Sabotage! New Claims Obama 'Masterminded' Plot To Ruin Trump Advisor Michael Flynn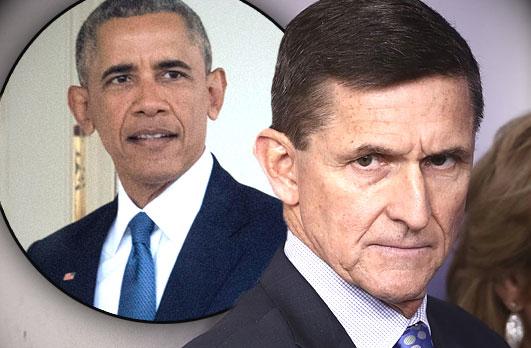 Article continues below advertisement
"Intelligence agencies, on orders from the President, regularly monitor correspondence and conversations by Russian diplomats," a Beltway insider told RadarOnline.com.
"But the difference here is that Obama and the Democrats believed Vladimir Putin meddled in the election, and the Trump team had communication with the Russians during and after the election.
"As a result, Obama ordered — or at the very least he was aware of – the continued monitoring of Russian diplomats in America."
Likewise, members of Obama's top intelligence brass were aware of Flynn's communication with Kislyak in the waning days of their administration. The Washington Post reported that James R. Clapper Jr., the director of national intelligence, and John Brennan, the CIA director at the time, feared that Flynn "had put himself in a compromising position."
Claimed a source, "Anyone who had access to this information could have taken the information with them or known who had it. If their motivation was to destabilize or destroy the Trump Administration, a leak against Flynn achieved just that.
Article continues below advertisement
"This was a coordinated attack from Obama and his team!"
Indeed, The Washington Free Beacon reported on February 14 that national media reports aimed at "discrediting Flynn" in conjunction with the Iran nuclear deal were also part of Obama's ploy.
And now that Obama is gone from the White House, insiders told RadarOnline.com that his remaining staffers are still doing his dirty work.
Dick Morris, a political campaign consultant, told RadarOnline.com that when Flynn tried to downplay his talk with the Russians, Obama cronies at the State Department jumped into action to feed the media a transcript of the wiretap.
"Obama's minions are using their remaining days in office acting as spies to hatch plots and deploy booby traps to embarrass and destabilize the Trump Administration even as it takes office," Morris said.
"Former General Michael Flynn is their first victim. But there will be others."
In yet another example, on Jan. 30, Obama praised protesters who opposed President Trump's controversial immigration order — a move many believe signaled his intent to destabilize the Commander-in-Chief.
Article continues below advertisement
"There is an unwritten rule that former presidents wouldn't comment on what a current president is doing," Dr. Jim Garrow, an ex-CIA agent and Nobel Peace Prize runner-up, has said.
"Obama clearly doesn't care about precedent."
"Obama is seeking the continuation of his left wing agenda to reject anything President Trump does," added Ronald Kessler, a best-selling author and expert on national security.
"Wide swaths of employees disagree with Trump, and some will foment dissent."
Story developing.
We pay for juicy info! Do you have a story for RadarOnline.com? Email us at tips@radaronline.com, or call us at (866) ON-RADAR (667-2327) any time, day or night.