Broke Lisa Marie Presley Moves In With Daughter Riley Amid Ex's Kiddy Porn Scandal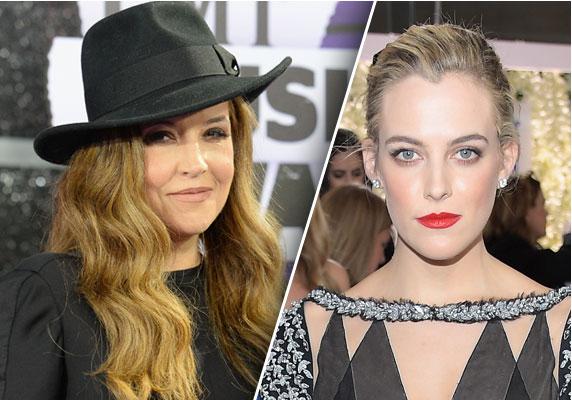 Lisa Marie Presley has been forced to move in with daughter Riley Keough amid her bitter divorce and custody battle with ex-husband Michael Lockwood, RadarOnline.com has learned.
Meanwhile, the former couple's twin daughters have been placed in the care of California's Department of Children and Family Services after the singer allegedly discovered "disturbing photos and videos of children" on Lockwood's computer.
Article continues below advertisement
In new court documents, Presley claimed that her $300 million fortune is almost completely gone as she pays two nannies to monitor her children, Finley and Harper Lockwood, during visits with their father.
To make matters worse, Lockwood is demanding $40,000 a month in spousal support and $100,000 toward his legal costs, claiming he was coerced into signing a prenuptial agreement preventing either party from claiming one another's assets in divorce, the Daily Mail reports. Lockwood also alleged that Presley did not fully disclose the worth of her assets in legal documents.
But Presley tells a different story, stating that she cannot even afford to pay her divorce lawyer, Mark Gross.
"I am considering all options to deal with the massive debt that exists, caused by my former business manager and Lockwood," she said, adding that the 15th century manor she owns in Sussex, England, "is no longer an asset."
Presley claimed she still owes nearly $5.4 million on the home despite its market value of $2 million.
Article continues below advertisement
"It has a negative value as my former business manager failed to make payments and now the taxes owed are in excess of the value of the property. I will be responsible for any deficiencies if the property is seized," she said.
"Currently I derive no income as a singer/songwriter and I have never supported myself from my income as a singer/songwriter," Presley later said in the documents, adding that she has not had "stable housing" since moving back to California.
"I lived briefly with my mother, in treatment, and then with friends rent free," she said. "I currently live in the home of my adult daughter Riley Keough and her husband. I do not pay rent or mortgage in that residence, but I do contribute to the household expenses by paying for Riley's housekeeper as well as additional household supplies."
"In the last year I have not taken vacations or traveled," she added. "Since we relocated in California in June I have not traveled out of state. I have not flown in any airplane, much less a private plane, in over 18 months."
Article continues below advertisement
Presley also accused her Lockwood, also a musician, of earning more than he claims to: "My understanding. . .is that he has been working with a friend of his and composing music for iTunes. I also understand he assists in the valuation, purchase, and sale of guitars. I do not know the amount of his actual monthly income, but I contend that he has some income which he is choosing not to disclose."
She later claimed that her ex had given their daughters extravagant gifts in the last six months, including an expensive fish tank, season passes to Universal Studios, laptops, cell phones, clothes, toys, jewelry, dinners out, day trips and more.
"In the last month I have observed Lockwood driving a new car, a black Ford SUV which he neglected to mention to the court," she added in the filing.
We pay for juicy info! Do you have a story for RadarOnline.com? Email us at tips@radaronline.com, or call us at (866) ON-RADAR (667-2327) any time, day or night.