Exclusive
Sex-Crazed Serial Killer Tried To Eat Me Alive!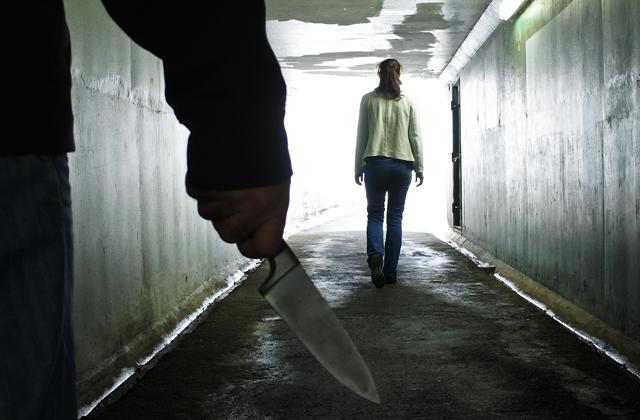 "I was gagging and I couldn't breathe … I closed my eyes because I didn't want to die seeing him."
Those horrific words describe what Jennifer Asbenson feared were her last moments as the then-19-year-old was beaten, bitten and tortured by savage serial killer Andrew Urdiales!
But through her strength and bravery, Jennifer escaped and now — 24 years later — she's sharing her harrowing story.
Jennifer recently returned to the site of the crime, Desert Hot Springs in California, to tell the truth about what happened that ghastly night.
Article continues below advertisement
In a video shared on social media, Jennifer, now 43, tearfully recounts the attack that nearly killed her.
After accepting a ride from Urdiales in September 1992, the psycho swiftly turned on the innocent teen.
"He just started screaming and he pulled at my hair and called me names," she says.
"I remember thinking that it was a joke … And then a gun came out."
That's when Urdiales bound her hands and drove her to the desert, where her hell continued.
"He punched me and he started cutting my shorts ... and ripped my underwear off.
"I remember thinking I was staring into the eyes of the devil."
Urdiales' rape attempt failed because he suffered "erectile dysfunction" but the vicious criminal was only getting started.
After ordering Jennifer to say she loved him, he gagged and strangled her, then dragged her over rocks and prickly bushes.
Then the crazed creep bit a chunk of flesh from her neck —before tossing her in the trunk of his car as she spurted blood.
Article continues below advertisement
Quick-thinking Jennifer broke free of her bonds, unhooked the trunk latch and ran for her life.
As Jennifer thought, "Don't look back, don't ever look back," Urdiales chased her with a machete, but she managed to flag down a car and was rescued from her two-hour ordeal by a pair of Marines.
Urdiales escaped that night but was apprehended five years later — and confessed to eight murders, as well as attacking Jennifer. He was sentenced to death in Illinois in 2002, but cheated the executioner after he spilled his guts in exchange for a life sentence without parole.
We pay for juicy info! Do you have a story for RadarOnline.com? Email us at tips@radaronline.com, or call us at (866) ON-RADAR (667-2327) any time, day or night.