Exclusive
Mary Tyler Moore Was 'Going Blind,' Had Tumors In Last Days, Claims Costar Rose Marie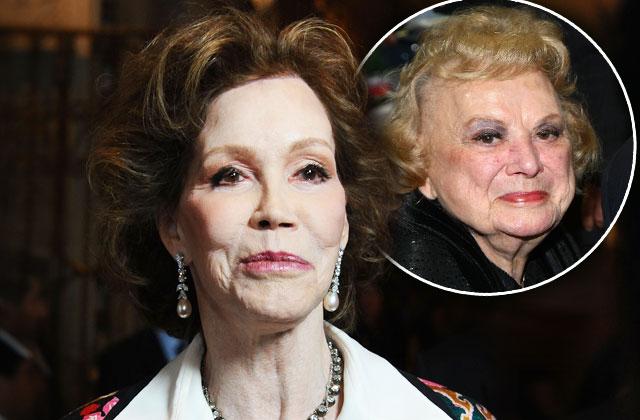 Mary Tyler Moore experienced horrific pain and suffering during her final days, the late icon's Dick Van Dyke Show costar and close friend Rose Marie told RadarOnline.com in an exclusive interview.
"Oh my God, she suffered so much these last few years," the 93-year-old actress said of the Hollywood legend, who died today at 80 years old after a long history of medical crises. "She had a tumor and she had diabetes. She was going blind and she couldn't hear very well, either."
Article continues below advertisement
As RadarOnline.com previously reported, Moore called 911 nine times in 2014 for various ailments and disputes, and was rushed to the hospital the following year twice in one day. In addition to diabetes, she reportedly suffered from Alzheimer's and heart and kidney problems.
Despite Moore's years of poor health, Marie claimed she was shocked by her friend's death.
"I'm very upset right now," she said. "I'm crying so hard, I can't talk. We were good friends and I miss her already. This is very hard for me."
Marie would get so emotional at any bad news, Moore's family called longtime friend Dick Van Dyke, 91, who would later share any updates with the Love Boat star.
"Dick kept me informed," Marie revealed. "He called me last night and said, 'It's very bad, honey. She's going to go very soon now.'"
During her last conversation with her ailing costar, Marie says Moore sounded "very, very sick."
The two reminisced about their good times together in past decades.
"We talked about how much fun we had on the show, the things we did on the show that we laughed about," Marie recalls. "Mary said, 'I miss you so much, dear.'"
"Our beautiful Mary is in a better place now. She's with the angels! It's where she belongs."
We pay for juicy info! Do you have a story for RadarOnline.com? Email us at tips@radaronline.com, or call us at 800-344-9598 any time, day or night.