Exclusive
Shocking Secrets Of 'Magnum, P.I.'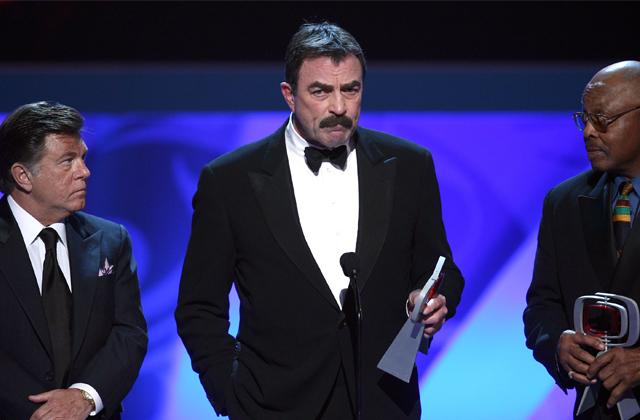 Tom Selleck''s hunky "Magnum, P.I." character always got the girl on the hit 1980s show — but in reality he admits he was "not very good" with the ladies!
But Tom's co-star Roger E. Mosley WAS — and his ability to charm the girls led to him fathering so many children that he had to make sure they were introduced to each other, so none would unwittingly fall in love with another when they grew up!
Those are just some of the fascinating secrets behind "Magnum, P.I.," which debuted in 1980 and left the air in 1988 when Tom, now 72, chose being with second wife Jillie Mack and their daughter, Hannah, over continuing with the Hawaii-set show.
Article continues below advertisement
Tom was married to Jacqueline Ray in 1971, and she supported him as he struggled to find work as an actor. But they split in September 1979 — just before Tom headed to Hawaii for "Magnum" — and stardom.
Although he was shy, handsome Tom was a quick hit with the gals. He found "paradise in the arms of a bevy of local beauties," says one source. But he remained humble despite his breakout success.
"If I'm sexy now, I was just as sexy two years ago and nobody thought so at all," he said during the show's run.
Roger, now 78, didn't even want to land his role as Thomas Magnum's pal T.C., and shot the pilot thinking it wouldn't sell and he'd "make the money and come back."
But the show was an instant hit — which helped Roger support the five children he fathered by four
different women!
He says things were so chaotic in his extended family that he rounded up the kids one day and introduced them to each other — to head off a potential bad situation later, should one marry another. "They looked at me like I was crazy!" he says.
Article continues below advertisement
In yet another "Magnum" oddity, co-star John Hillerman, now 84, played British-accented butler Higgins — despite the fact he was born and raised deep in the heart of Texas!
John honed his accent listening to English star Laurence Olivier, and his accent became so perfect that a British lord once wrote to him and told him, "You are a credit to the Empire!"
John had struggled for years to be a successful actor — until he landed "Magnum" when he was a ripe old 47!
"I lived in a cold-water, walk-up flat on New York's Lower East Side," he says. "There were many months I didn't have the rent. It was a miserable existence."
Once he landed in Hawaii and started getting a regular, and hefty, paycheck, that all changed. John indulged in caviar and bought several new suits a week.
"Playing Higgins on 'Magnum, P.I.' has made me rich, rich, rich!" he says. "So I simply spend the most I can." He's now retired on his Texas estate.
Article continues below advertisement
When he was 11, Larry Manetti, who played Orville "Rick" Wright, was almost abducted by a child molester — which led to him becoming the national spokesman of a foundation to find missing children!
820287
But Larry brought excitement to the "Magnum" crew — especially one evening when he pulled out a gun while having drinks with Tom and some models, and began shooting up the bar!
After Larry, now 69, shot a beer can off the bar, Tom grabbed him and said: "We're leaving! Right now, before the cops get here!"
Larry also loved to "relax" by driving racing cars in his off-hours — but at heart was a family man. He commuted between Hawaii and Los Angeles for several seasons before finally moving wife Nancy and son Lorenzo to the island.
After the show went dark, he wrote a memoir of the show, titled "Aloha Magnum" — and more recently and appropriately has returned to Hawaii and portrayed the character Nicky "The Kid" Demarco on "Hawaii Five-0"!
We pay for juicy info! Do you have a story for RadarOnline.com? Email us at tips@radaronline.com, or call us at (866) ON-RADAR (667-2327) any time, day or night.