Exclusive
Jenny McCarthy SLAMS Mariah Carey Over New Year's Flub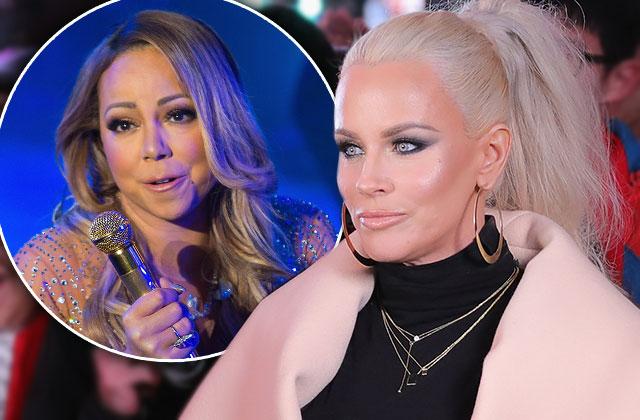 Jenny McCarthy wasn't buying Mariah Carey's excuses over her failed New Year's Eve performance this weekend, coming after the diva star after she accused Dick Clark Productions of deliberately ruining her set.
McCarthy, who had a front-row seat at the show and has co-hosted the special for the past seven years, roasted Carey on Tuesday's edition of The Jenny McCarthy Show.
"Mouths are hanging open, everyone is shocked. We only gave you a shortened version of that. We had to go through another song of her walking around," she revealed.
Article continues below advertisement
"It was just, it was so bad, and then for a moment I said, 'Take a step back, Jenny, and try to find some empathy right now.' And I did. All of a sudden I felt really bad for her, because that bad, it was a complete train wreck. And like my husband Donnie Wahlberg said, being in this business, I know what it's like to have your prompter go out. I know what it's like to have my inner ears go out. It's scary, and it's like your brain malfunctions and you're on live TV. So I was like, you know what, I have sympathy for her. My sympathy stopped, however, the moment she accused Dick Clark Productions of sabotaging her performance."
https://soundcloud.com/siriusxmentertainment/jenny-mccarthy-donnie-wahlberg-defend-dick-clark-productions-1
"Now I do understand our egos of course want to blame everyone but itself for mistakes, but I literally had a visceral reaction to her saying Dick Clark Productions did this on purpose and for ratings," she added. "I mean, let me tell you something. If Dick Clark were alive today, I guarantee he would be on air right now fighting back. He's not, so I'm going to."
Article continues below advertisement
"So for her to defame them was so incredibly insulting for the group of people who work their balls off preparing and rehearsing for their musical guests," she said.
"The truth of the matter is Mariah didn't do a sound check," McCarthy revealed, sticking the knife in further. "She did whatever you would call like a dance move rehearsal holding her gold microphone, and she stood off to the side of the stage while she had a stand-in do a sound check."
We pay for juicy info! Do you have a story for RadarOnline.com? Email us at tips@radaronline.com, or call us at (866) ON-RADAR (667-2327) any time, day or night.